032c Pyrate Society, British Virgin Islands Chapter
A Conversation with Designer Maria Koch about the Wearable Ethos of the Magazine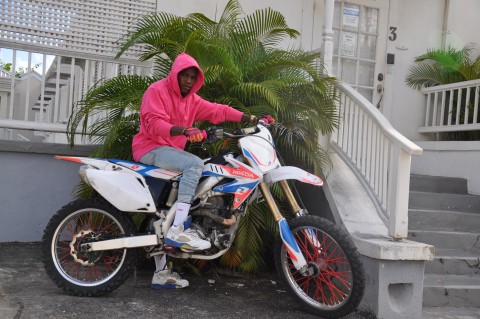 032c can only be defined by its own multiplicity. At once a magazine, clothing line, and a cultural conduit, its identity is tailored to its iconoclastic message. Somehow elusive without seeming evasive, 032c's output "is 100% what we believe to be 032c utopia," explains Maria Koch, the brand's apparel designer. Koch's use of potent icons from pop and subcultures creates relevant and compelling reactions to art, culture, and politics. The latest 032c release features the visual base-unit of anarchist culture: the skull and crossbones. In meta-celebration of the Pyrate Society, 032c set up a pop up shop in the Caribbean, the historical epicenter of pirate activity. Rebecca Storm spoke with Maria Koch about design and viral iconography.
What inspired you to begin a clothing line in tandem with the magazine 032c?
I think 032c is essentially offering an alternative to the status quo. We always regarded it to be more of a platform than just a printed magazine. Sometimes you need an article to express an idea, sometimes an exhibition, or it needs to be a party. Maybe one day 032c will develop a building. But for now our interest is creating apparel. It is the logical consequent step, because the magazine does so much research on fashion that we want to turn it into praxis. I am actually a classic fashion designer for womenswear. I've been involved in the magazine since I knew Joerg. So I had time to really internalize the 032c DNA while I was working for other brands, as well as during my Lectureship. During this time the idea came up to take the strong image Joerg already implemented at 032c, and to slowly begin creating apparel. It is designed by me, and let's say approved by the team. Thus it is 100% "what we believe" to be 032c utopia.
Where did you do your lectureship?The 032c Workshop is in the same building as your home. How does working and living in such close quarters inform your practice?
At ESMOD, Berlin international University of Art for Fashion, Masterclass for sustainability in Fashion, teaching design principles and strategies. And I worked as a womenswear designer for Jil Sander, Prada, Marios Schwab, and am currently a consultant on Yeezy.Only and explicitly positively. It's all in a Brutalist church compound built in the 60s called St. Agnes. The private apartment is in one part and the workshop is in the old community house. So I need a jacket and keys to go from point A to point B. It doesn't feel too close. Plus, I am a hermit and I feel very relaxed when I don't have to non-stop meet new people. Living this routine is inspiring to me. My best setting, when things have to get done, is probably the same favorite song on an extended loop in an empty room. A monk chamber atmosphere.
What are you favorite things to wear besides 032c?You've commemorated the legacy of a couple musicians by creating some honorary shirts, specifically Sade and Arthur Russell. If you could only listen to one of them for the rest of your life, who would you pick?
I actually don't wear that much 032c! I have style-phases. Right now it's the 90s Helmut Lang and Prada minimal vibe with a little Arc'teryx Tech and California Yeezy Apparel. For the evening, I'm up for very high classic heels, some latex pants from Alyx (good friends) and vintage shirts from Yves Saint Laurent. Or a t-shirt borrowed from my husband.It would be… No! I can't decide.
What about these musicians, or music in general, inspires you to create these wearable commemorations?Do you have a favorite musician? Will we see their face on a 032c shirt one day?
We mostly do this as a dedication. The musicians we really like inspire these kind of utopian shirts. They have a certain status for us, because you could say that they have profoundly shaped our experiences of both the past and the present.Yes, definitely! But I can't reveal it now...
How did you perceive the clothing brand No Fear in the 90s? What inspired you to re-appropriate that slogan and state of mind?Besides the attacks in Paris, are there other events that have inspired you to create something in response?
It has nothing to do with the old surf brand. It was a slogan that our team used at the workshop after the attacks in Paris. It was about not being afraid to continue to express our principles and our way of life.Maybe not as explicitly, but the designs are affected, as we are, by cultural and political facts—quotes (like "no fear," "the beatings will continue until morale improves" or "don't dream it's over") and symbols aren't used because of an edgy visibility or sound. They hit a certain spot, so we just try to make them very attractive, hardcore and sexy.
Can you talk a little bit about the pop up shop in the British Virgin Islands? How did that come about?Why the Caribbean?
We just thought it was a super cool, fun and meta way to celebrate the pyrate society collection: BVI Chapter. It's a self-fulfilling Prophecy.My brother has lived on BVI for five or six years and I was visiting him there. I am fascinated by the island itself, the intense beauty of the nature, and on the other hand, the strong pirate "heritage".
In a world rampant with Ed Hardy, how did you make the skull and crossbones tasteful?
I have all the needed respect for the work of Christian Audigier, and along the same vein Philipp Plein. They are maybe not on the same aesthetic track as we are, but business-wise they are incredibly strong considering the common sense fashion scene is a little amused by them and don't take them seriously. In my reference system, the skull is not primarily associated with brands like Ed Hardy or Philipp Plein, nor Alexander McQueen. To me it's truly more left-wing youth culture: demonstrations, street riots, underground soccer clubs, etc. We combined the skull with a very powerful sentence we came across: "The beatings will continue until morale improves," as well as a political symbol, the red-black star. Red stands for Communism, black for Anarchy, and it is an associational symbol against Fascism.
How do you feel about replicating or borrowing from older designs?Why is it important to remove your socks before sex?
Picasso once said, and Steve Jobs referred to it as well, "good artists copy, great artists steal." You see? Super pirate-esque! He meant that every artist is influenced by what has been done before their time. We are all a product of our time, and have the benefit to learn from those who have already walked the similar paths we are now on.It is not at all important! It's more a simple gag, which plays with the cliche that it's weird when you have sex with socks on.
What's on the horizon for 032c? What are some items you hope to add to the collection in the future?
We are slowly, slowly implementing more product categories. We now have caps, socks, and pins. And we are doing a beautiful jacket with Carhartt, embroidered and lined with fur. We're working on more ready-to-wear styles, like a simple canvas coat. Our apparel has very high quality standards, absolutely not typical for usual merch. Our fabrics are specifically woven for us, patterns are made by us. Ultimately the main goal is to not get sucked into the Merchandise world. Our core ambition is that 032c becomes the most important Apparel brand out of Germany in the next three years!
With consideration to this goal, is it important for you to have merch that is affordable, or do you think that quality products should have a high price?I know when Joerg is doing interviews, he likes to ask this question: Are you a dog person or a cat person?
I think a realistic approach is very attractive, a comprehensible price structure for a certain quality. When a product is too cheap or too expensive, I quickly start to dislike the product or even the brand. We want the 032c apparel to be the same quality of cut, fabric, and design as the magazine.[] I am the doggiest person in the world! Every morning I watch at least 15 minutes of dog videos—rescued dogs, puppies, working dogs, etc.
Does this mean there will be dog merch in your future?Will your dog Toastie be famous?
Dog gear is definitely on our list, yes.Cute little Toastie should be extremely famous, yes—she deserves it! In a way that every dog loves attention.