1 Granary is a Trade Magazine for the Fashion Industry
Editors and Central Saint Martins Grads Olya Kuryshchuk and Aya Noël On The Labor of Learning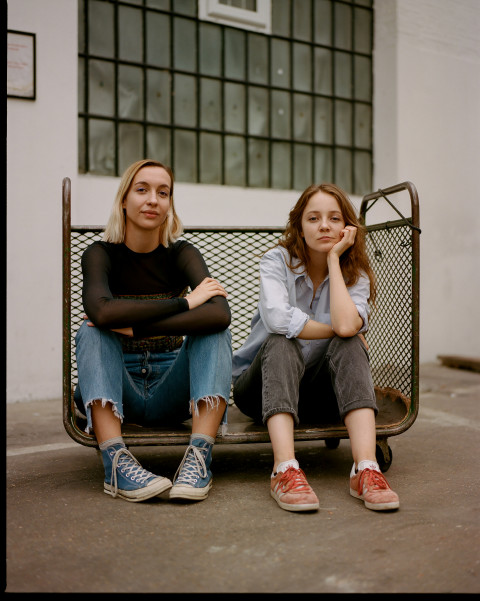 The fashion industry is mysterious and inscrutable—that's part of the fun. But there is something to be said for a magazine that offers readers a peek behind the curtain, allowing them to draw their own conclusions rather than making them feel removed, and absolved. "We're not a fashion magazine," Aya Noël, the editor-at-large of tells me. "We question the context in which design is made and promoted." I met Noël and editor-in-chief Olya Kuryschuk at a café off East London's Shacklewell Lane, the weekend their new issue was to go to print. Kuryshchuk, then a fashion design student at Central Saint Martins by way of Kiev, founded in 2013, partly as an excuse to talk to the people she passed every day in the corridor. "Luckily, or sadly, I was very lonely," she says, "and I don't smoke or drink so I had to think of a different excuse to meet people." Six years later, they run the magazine, in addition to a yearly fashion exhibition called VOID (pairing young designers with legendary imagemakers), and a showroom for emerging brands that is functionally somewhere between an agency and a union—which makes kind of like a trade magazine for the fashion industry.
"When I was at CSM I constantly felt like I wasn't educated enough, or I didn't know the right words to show my cultural knowledge," Kuryshchuk says, as we discuss self-doubt. "I just felt like I couldn't use the words in the right way," Olya continued. "Then I met people who could and they sounded so incredibly erudite—like everyone knew the culture being discussed already." I thought about that for a long time: so much of participating in culture is about having arrived, rather than the (often embarrassing) effort through which you get there. If we all act assured, do we forget to ask questions? Do the publications we trust have to have all the answers? Do we all have to agree? I sat down with editors Olya Kuryshchuk and Aya Noël to discuss money, magazines, and measuring success in the age of exposure.
The theme of your new issue is "process." I want to look at the process—it's an interesting time to think about the conditions that enable someone to make a print magazine. When you first started, how were you paying for it? And how do you pay yourselves now?
OK: Initially, it was sponsorships. For shoots, often photographers put in their own money, but the magazine needs to provide production. We'd say, "Okay, break down exactly what you need." We were cooking for the teams on set, cleaning the space. We did all the shoots for online in my bedroom. We rented the equipment from uni and it was me on my knees taking all the pictures. During fashion week I was awake for 36 hours posting, to make sure our traffic went up. Now it's anything that comes in—advertising, sponsorships. What I'm trying to achieve is that it's independent so that we don't ever need to rely on it as a source of income, or think about what brands are involved or how often you need to release it. And I don't want whoever is reading this to think that it wasn't insane luck throughout—even the way Comme des Garçons came to sponsor us—we just emailed a sales person in the store.AN: The way we work, you can easily exchange your way around money. But it was also possible for me because my parents supported me at some points. It's important to be transparent about that. Neither of us would have this position if we hadn't gone to CSM. We work really hard, but it's very difficult to break into the clique system in fashion and we already had an in.
That's important to say, because when money is existential, you don't necessarily have the same amount of creative energy.Do you pay your writers?
OK: Of course, and that raises so many other questions—do you need to start everything in your twenties or can you first make a livelihood and then start when you're 35, 40?AN: We discuss privilege in the office a lot, but it's a difficult question because everything gets covered under blanket classism and any nuance is lost. No one wants to have the hard conversation, they just want to show that they know that it's wrong.OK: Also there's a culture in England where everyone pretends they are poorer than they are.AN: The way the language of fashion media is currently structured, whenever someone is from a less privileged background, it's mentioned in the first sentences of the profile. Then it's straight into listing all the awards they've got. It singles them out as exceptional while at the same time saying, "Look, it's easy. Anyone can do it!" One designer said in these anonymous interviews we did, "I know why editors love me so much, it's because I'm from a poor background and so many editors are really posh. They love pretending to be the good Samaritans and I have to stand next to them and show how giving they are." Fashion has a real problem with fetishising the working class, and it's often a way for the industry to apologize for itself.OK: We pay everyone who's full time. Everyone on the team knows every pound that comes in, so it's clear how the magazine's getting paid, how I'm getting paid.AN: I do want this to be a priority for us moving forward. For the moment, we try to make sure that there is at least a learning element.OK: You get people coming to us like, "I just worked for McQueen for free for half a year, so now you really have to pay me." People come from or Condé Nast and say, "This was my second or third unpaid internship and I can't continue working for free." I'm not justifying us but I'm not sure that's the logical order. And of course there you get the name but, what's the quality of writing you do? I always say, tell me your dream, who you want to meet, what type of writing you want to do, and we will help you. When you look at where people went after us, Osman (Ahmed) became a critic with Tim Blanks. Sara (McAlpine) became deputy editor at System. Steve (Salter) from i-D once told me, "Olya, of course we're poaching. Why would we even lie about it." Which is also why we feel a massive responsibility towards designers because if you endorse them early on, you have to make sure you don't set them up to crash.
In the sense that you might push them towards the fame machine?Magazines are competing for the same, depleting readership pool and working with the same creatives. But there's also a tacit understanding that you shouldn't break the narrative.
OK: I do a lot of consulting, and [a lot] of young designers tell me something like, "I was just selected by VFiles to do a show in New York," two weeks before the show. And I ask, did you plan to start your brand before they called? "No." Do you have an idea why you're starting a brand? "No." Do you have a team? "No." Do you have any money or can your family support you? "No." Do you know what you're doing next season? "I have no idea." Why are you doing it? "It's such an amazing opportunity. I will have New York fashion week and I'll have my show." And I'm like, "It's suicide."AN: When we put someone on our Instagram, we know it will be picked up by other London-based magazines, so the chances of them being selected for VFiles will be higher.OK: How do we make sure that what we do is ethical and has value? We don't really have all the answers at the moment. Are we responsible for designers' well-being or not? One of my biggest frustrations with a lot of magazines is, 90% of the work that's endorsed is very mediocre. And I think it actually really damages those designers. So many CSM students now, they become famous before they even graduate. And everything becomes about daily interviews, they are at every event, and they stop designing. They miss every deadline. If they are already a genius after two years of education, imagine where they could be in a few more years.AN: How come so many magazines and platforms and editors are eager to point out who the new genius is? It's not because they want to help someone, it's like, "If I recognize greatness, I associate myself with it."OK: Who creates this narrative? You open a magazine and every shoot is done by the girlfriend of the fashion director, the best friend, flatmates. In one way, this is a beautiful way to work, you bring friends, we work as a family. But if you claim that you represent culture, it can't be done by a little group of people that don't hang out with anyone else. And then you end up in a situation where no one wants to say that the emperor is naked. If a hyped designer makes a bad collection, it will take a good seven seasons before anyone says, "Actually, this is bad."AN: Or the only way to critique is through callout culture. Another aspect of "process" we explore in the issue is originality and copying, which we started looking into after a conversation about Diet Prada and how superficial their analysis is.OK: It goes against everything you study in fashion school for like six years, about how referencing and research works. Without references the work isn't even considered good.AN: As our response to that, we spoke to four experts—in media, education, law, and art history—about the concept of originality and copying in fashion. Angelo Flaccavento talked about how the number of similarities you now see on the catwalk is the result of the system getting faster and faster, and design teams having no time to do proper research. We talked to [Donna Karan Professor of Fashion at Parsons] Shelley Fox, and she was saying that every student starts by copying, and that's where the most interesting things happen, in your interpretation of work you're inspired by. We tried to get to the core of what originality means, and how the idea of authenticity has very high commercial value. What Diet Prada does is point out the symptom, without understanding the problem, and it doesn't propose a solution. It's just bullying and kind of righteous.
What is your criteria for good design? How do you approach deconstructing something visually? You both seem to have a strong and fast sense for what you consider good work.But isn't that important too? People look to fashion for glamour, for that energy.I understand why you want to focus on design rather than theatrics, but fashion, as an industry, relies a lot on those theatrics. On creating desire and exclusivity, and making people aware of it.But the aspect of creating an illusion in fashion is kind of essential, to me.
OK: Well, I'm very arrogant [laughs]. I look at whether it's a good idea, if the message is clear. Is the collection actually designed or is it mainly styling? I go to London Fashion Week and after the shows lots of editors tell me, "It was amazing, I loved the energy."OK: You can look for anything, but don't call that person a fashion designer. Art director, stylist, performer, sure. You came to see a performance and that's great. I mean most people at the helm of a big brand aren't designers—they are creative directors. Virgil says all the time that he's not a designer. That, I understand; you don't have to be a designer to run a company. But you need to be clear about what the job means because otherwise it loses all meaning. And I'm not saying you need to go through fashion education to be a designer, you can do an apprenticeship or be a seamstress or watch lots of YouTube in your room, but there has to be a level of craft and making. The fact that we promote those who can't design is where, for me, the fashion industry is most implicated in climate change—I don't see great clothes that have a reason to exist.OK: I don't think there's anything wrong with exclusivity. I wish there was more exclusivity! Like you come to a brand and it's their own, very specific aesthetic. And you go to another show and it's completely different, and they have their own group of people and you almost have to earn the right to be there. What I find problematic—not problematic, but boring and weird—is that at every single show, it's the same people, the same models, same influencers, same cool kids from art school. Then they all sell this idea that they create a completely new world, a different culture for other people to want to be a part of, which isn't true.AN: But this illusion can be something different to what it is now. Craft can also be an illusion. We're not naive enough to think that we're going to create a whole new fashion system. It's more that if we're going to do a magazine, and we're going to contribute something to this system, what will it be? We spoke to tutors from all over the world, and they all said the same thing: systematically, students are getting more stressed, more afraid to fail, afraid to the point that they can't create any more. We want to evaluate the idea of success in the fashion industry.
Maybe the stakes have become higher, or more public—are you meeting the benchmarks in the right way? Are you achieving things at the right age?What does success look like to you, then?
OK: But achieving what? Last year, I was on the BOF 500. And it was great, and exciting. But you go to the dinner and the food is bad and it's kind of boring. Then you go home, and your bank account didn't go up and you're like, "A hundred people are going to email me with job opportunities!" but nothing really happens.AN: I mean, I still want to be on the BOF 500 [laughs]. I'll be very proud when this issue is finished, but what makes me feel successful is the contact we have with our audience.OK: The thinking must only be long-term. I think this desire to succeed tomorrow is what makes it difficult. How can we be here in 30, 50 years?
Dazed.