100x: Build-A-Bear
A Closer Look at This Season's Most Covetable Coats and Cub-Friendly Aesthetics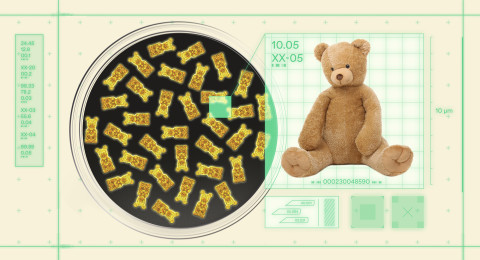 In 1997, long before fashion familiarized the retail-as-experience model, Maxine Clark opened the first Build-A-Bear Workshop, where customized teddy bears could be built in an interactive store. More than two decades later, as shopping environments continue to convert into more emotionally immersive spaces, our approach to dressing has followed suit. Forget about the factory's "stuffing station," this season's runway was the place where every bear assembled. Social media feeds have been bursting at the seams with fleece, cartoonish silhouettes, and references to childhood. Cozy, plush, symbolic of a hug—there's a reason we're totally wrapped up: self-branding as a bear is a method of pulling on people's heart strings. In comfort-seeking times, depicting softness and generosity, and preserving moral goodness, the cub is a cure-all by way of costume.
Streetwear and luxury designers, for whatever reason, are suddenly devoted to the teddy bear. The Palace x Polo Ralph Lauren collaboration gave us a fresh take on the classic Polo Bear with a skater teddy sweater and matching stuffed toy (which can still be yours for $600+ on Grailed). Moschino previewed its SS19 "Teddy Shoes" with a video showcasing their squishy bear soles through a performance of footwork and ballerina hops. Max Mara reached teddy triumph offering multiple new versions of the caramel coat made for cuddling. If it's true that with every season emerges one omnipresent it piece, the teddy jacket has become exactly that. The ideal item for those retiring their pool slides and bicycle shorts to slip into. While bordering on basic, it holds the same qualities as a wool beret or patent leather boot—sophisticated-cute, projecting an image of being wholesome but also slightly ostentatious. Like a paparazzi shot of Julia Roberts, wearing a polar bear coat paired with polka dot tights and brogues. Or Kim K, sporting a Balenciaga shearling jacket over sweatpants and a neon pink bra top with heels. The look strikes the balance of demanding attention and being modest about it.Beyond teddy outerwear, we've begun curating entire teddy system wardrobes. Like life-sized collections of Barbie clothes, but for bears. Chunky knit sweaters, childish sneakers, corduroy pants, pouches and rolled beanies—the uniform for the ex-Hypebeasts. Following the tired, unfussy "dad" aesthetics of the past few seasons, dressing like a toddler is the new approach to getting away with things, the breakdown of a differentiation between adult and kid consumer. Imagine the closets of today's style icons—Jonah Hill, Shia Labeouf, Mister Mort, etc—portraying authority and goofiness all at once. Kind of dorky, even, and corresponding well with fashion's fidelity to layering, technical materials, and heritage brands. Or perhaps it's a nod to the rise and fall of fleece (The North Face, Patagonia, Sandy Liang) altogether?
According to Emojipedia, the teddy bear emoji, which was released last fall—distinct from the bear face emoji, instead sitting slouched like a human with a bashful grin—is now taking off on the trend charts. The entire plot of 2018's critically acclaimed premised on the innocence of the anthropomorphised bear. From Kaws and Sesame Street to Uniqlo and Disney, children's fixtures have made endless appearances in brand collaborations this year. In a culture more ethically-driven and concerned with morals than ever before, we gravitate towards the teddy bear's harmless, gentle nature. They appear like little tokens of good deeds, from Burberry's bear keychains and Ambush's gold teddy charm necklace, to Online Ceramics' Grateful Dead tie-dye teddy t-shirt. Their very etymology is rooted in kindness: when President Theodore Roosevelt had a turn of heart on a hunting trip and refused to shoot an American black bear, a cute stuffed cub was given the name "Teddy's Bear." And as fashion shifts to be more free of animal cruelty—with faux fur on the rise, even making its way into art installations—we stand in solidarity with the bears.But the teddy has a dark side, too. It has a way of sneaking up on us via brand logos, in sponsored ads on social media, to sell us things. A mere mention of a peanut butter sandwich will have Kraft's eerie bears haunting every corner of your browser. Advertisers seem to believe that placing a furry "friend" behind a message is the way to the consumer's mind. And it works—think Snuggle, Coca Cola, SugarBearHair, Gund, Klondike. There are many unforgettable, adorable bears, with whom we now associate to an ordinary product. Teddies possess the ability to make even the most mundane acts charming. Like the Charmin Bears' toileting, or Seth MacFarlane's —the beer-drinking, pot-smoking, bear best friend to Mark Wahlberg—they can be equal parts crude and loveable. It's what makes them so relatable."Put a chain around my neck and lead me anywhere," Elvis Presley sang in his 1957 hit single, "(Let Me Be Your) Teddy Bear." Somewhere on the spectrum between romantic and totally desperate—a nod to the King's rep as a teddy bear lover—the song's lyrics have evolved into somewhat of a sartorial motto for our times. Perhaps it can be best understood through Build-A-Bear's momentous "heart ceremony"—the phase of bear-making intended to "bring your friend to life." Before a teddy receives its heart, the silky red fabric is rubbed on its owner's head for intellect, wiggled and danced with for happiness, and finally sealed with a kiss for love. If the clothes we wear possess the power to charge our emotions, transmuting into a teddy, the age-old provider of simple joys and comforts, only makes sense. Stitched with love and care, satisfaction guaranteed.