100x: Titleholders
Subverting the Status Quo of Pageant Queens With Miu Miu Bows and Simone Rocha Crowns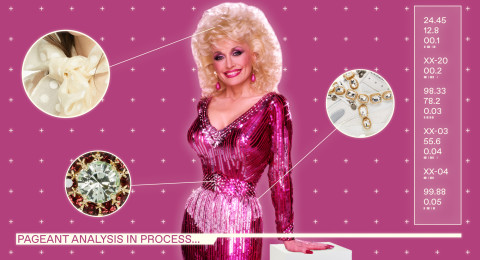 "I would never stoop so low as to be fashionable," said Dolly Parton in a clapback to a 1977 interview prompt about her appearance, "That's the easiest thing in the world to do." Wearing a head-to-toe turquoise silk ensemble, her perfectly-teased platinum blonde wig embellished with a matching blue-green rose, she continued: "Show business is a money-making joke and I've always liked telling jokes." Decades later, the fashion world—in all its irony—seems to be emulating the country legend's sense of humor: Parton-style pageant-wear has been steady on the rise for FW19. With an endless stream of stage-ready looks flooding the runways—exaggerated bows courtesy of Balmain, maximum volume Rodarte dresses that look more like decorative cakes, and crowns comprised of crystals (not to mention Parton's own face appearing on several pieces of Gucci's SS19 collection)—designers are basking in beauty queen garb.
Following the trend charts has become a relentless task, and major houses are instead returning to their historic roots. Earlier this year, fashion saw "the comeback of couture." No garment solidifies the need to slow down like a custom, handcrafted gown. Valentino's Haute Couture 2019 gigantic yellow bow dress brought Celine Dion to tears. Tears that went viral. Thierry Mugler, who could be considered somewhat of a fairy godfather to pageant-wear—lest we forget his Spring/Summer 1991 show, in which he sent models down the runway in Barbie-esque plastic wigs bearing pageant numbers—has taken over everywhere, from Cardi B's dramatic arrival on the Grammys' red carpet to Montreal (where he flew in Kim K to attend a pre-opening viewing of his current exhibition, Couturissime). Giambattista Valli, Miu Miu, Molly Goddard, Off-White; Balenciaga scarves worn as statement sashes. Simone Rocha's girl looks like a pageant queen not necessarily in training, but perhaps in mourning: tiaras, bibbed pearls, black satin feathered slides, flouncy yet glam-staid silhouettes, or Chloe Sevigny in a gothic princess frock. Even Converse, ever versatile at trend-adapting while never veering too far from their classic appeal, has offered up their take: scalloped and frilly-trimmed, Chuck Taylor's for the prima donna. It's all about upping the ante from FW18's prom-chic trend, and celebrity stylists certainly aren't hesitating to partake in the party: pageant pink was the most prevalent palette of this year's awards season, and Billy Porter's velvet tuxedo gown embodied what it means to be a .Unlike the self-effacing Batsheva dress, or the pared down, sleek and staple slip dress, presenting oneself as a pageant contestant brings to mind the imaginative richness of childhood dress-up. More costume than clothing, it's a reflection perhaps of our performative generation. What has social media done for Gen Z beyond provide a platform for one massive beauty pageant? When you're up against algorithms and the bleak void of "content," a minimalist approach no longer cuts it. Standing out requires strategy—the bigger the better. Viktor and Rolf meme-inducing gowns (perfectly timed for this year's Camp Met Gala), disproportionately large floral appliques, sequins, and puffy sleeves. Shiny swimwear in the brightest of hues and gemstones, gemstones, gemstones. There's an appeal to portraying oneself as somewhat of a present to the world, a treasure—becoming a so-called "role model" by dressing in sheer decadence. Like the epitome of , perfecting the flawless, unapologetic selfie is like winning a competition you never entered.
The shift ties back to fashion's recent fascination with theatrics. Chanel's latest "Take a Chance" ad documents a real-life audition to land a starring role in a dance performance. The Serena Williams x Nike Queen collection served up glittery sneakers and graceful dresses—with Off-White's merging of athleisure and formal attire, tutus have even dominated the tennis courts. Martha Stewart-inspired bedazzling was all over Gucci FW19, punctuating purses and hairpins. Right down to this season's beauty looks, with Vivienne Westwood and Junya Watanabe's shows looking like they were inspired by Hole's iconic Miss World-themed album art, we return to late-90s/early-2000s, melodramatic glitz and glam. Even Glossier, notorious for its no-makeup approach to beauty, has launched a new line called "Play,"—a costume-y stray from their standard, with bright glossy lipsticks and glitter gel eyeshadows. It's a genre with plenty room for controversy—think both the largest and skimpiest of outfits: swimsuit round vs. evening wear. Steve Harvey mistakenly crowning a runner-up. The Miss Universe organization's departure from Trump ownership. It's no wonder we wish to follow the footsteps—or rather, the high-heeled strides—of all the iconic women who participated in pageants prior to finding fame and fortune: from Michelle Pfeiffer and Priyanka Chopra to Sophia Loren and Oprah.There is, of course, something to be said about the dark side of glamour in a moment where cancelled plans and evenings spent at home with documentaries about failed scammer festivals have become the norm. When the entire state of society needs a makeover, why bother getting ready to go out? You can fake evidence of being anywhere anyways. Becoming a beauty queen only to take to the bathtub is new the black—channeling Lana Del Rey lyrics and Beyoncé's bleeding mascara in "Pretty Hurts." Lykke Li's "So Sad So Sexy." Like self-care gone wrong, it's about appearing pampered and dolled up while being unprepared to actually enter the world. is no longer a complaint, but a tool—or tulle—for avoidance.
SSENSE