5 Moncler Craig Green: An Ancient Future
The Genius Collaboration Merging Heritage Utility and Modern Artistry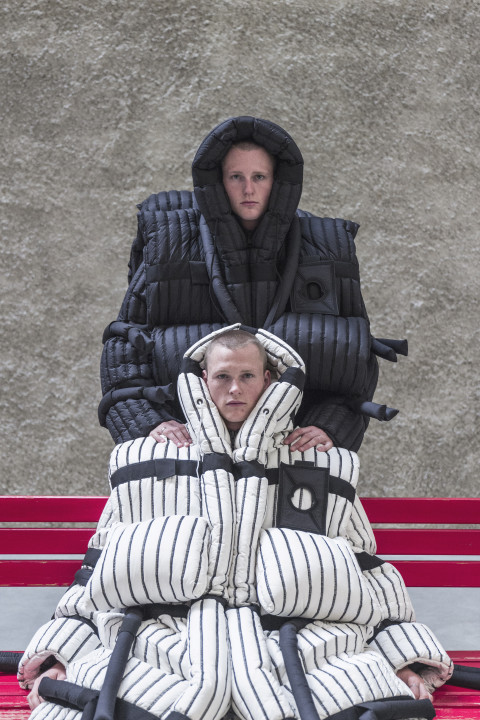 Design and function have always merged seamlessly in Moncler, the French heritage brand that has been a pillar of high-quality, luxury outwear since the early 1950s. The latest chapter in the brand's exploration of creative innovation finds expression in the Moncler Genius project, conceived by CEO Remo Ruffini as a future-facing platform for cross-generational design collaborations, each geared toward creating clothing and consumer experiences for the digital age. Moncler selected eight designers to launch eight unique Genius collections over the course of the year, each one lending new, experimental vision to the label's functional heritage.
Few designers are more equipped for the task than Craig Green, one of the most talked-about young talents of fashion's new guard. The recipient of multiple British Fashion Awards, Green swiftly made a name for himself after completing his Fashion Masters at Central St. Martins, developing a brand known for a utilitarian, futurist vision that nonetheless retains a sensibility for timelessness and classicism. Riffing off of Moncler's history of outfitting alpine mountaineers with tents, sleeping bags, and quilted jackets, the Moncler C Craig Green collection presents sculptural down-filled suits in a palette of white, black, and midnight blue. With stitching that creates a pinstripe effect, classical menswear elements are found here, reworked into clothing-habitats that are at once soft, human, and protective as they are futuristic, alien, and formally extreme.
Photographer Julien Boudet and 032c Fashion Director Marc Goerhing took the collection's padded garments to St. Agnes, a converted 1960s Brutalist church in Berlin that proved the perfect test area for Green's architectural designs. Against the church's concrete walls, the defensive sensuality of the collection is amplified in an updated treatment of man vs. environment. VR artist Simon Speiser was commissioned to create 3D scans of the collection, taking the radical suits even further into a realm where technological and functional advancements meld organically with human touch.
To coincide with the launch of the collection, SSENSE MONTRÉAL launches its newest installation, , an atmospheric recreation of the project's Milan Fashion Week showcase. Now on view at 418 St. Sulpice in Montreal until September 10th.