A Guide to the Future and Next Season's Products
The SSENSE Spring/Summer 2018 Trend Report: Part II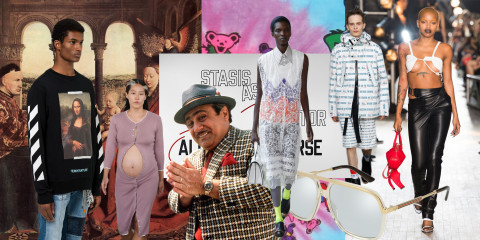 Each change in season presents us with new fashion forces. As the attitudes and approaches of the industry's most influential designers shift, we gravitate towards (and sometimes repel against) particular trends as a result. For Spring/Summer 2018, the SSENSE editors share with you their two-part preview of what's in store.
There is nothing like a new, obsessively used and zeitgeist-y app, to capture just how dark things are right now. Consider Kirakira (which means sparkly in Japanese), the app that adds cartoon-like Cinderella glitter to images and video. Everybody's using it. Everybody's looking just a little bit sequined. Just a little bit Petra Collins-ed. Human disco balls, if you will, shining bright, repelling the blues, the doom. Just look at the runway. Comme des Garçons Homme Plus collection: those basketball shorts and blazers. Frank Ocean on the cover of 032c. Or Paco Rabanne's glitter-rich, tinsel landscape and Gucci's studded shades and glammed-up, slinky, Jessica Rabbit silhouettes. It's time. Go forth! Unleash your outer sparkle.
Here at the SSENSE Labs™ we believe it is no coincidence that with weed legalization on the rise, tie-dye has started working its way back onto the runway and into our wardrobes. For Spring/Summer 2018 Gosha Rubchinskiy, Kwaidan Editions, Baja East, Faith Connexion, and more, all celebrated this beloved psychedelic print. One must wonder, in a world where everyone's stoned, might it change our sartorial sensibilities? Might we all find ourselves drifting toward beads and Birkenstocks? Will a canvas drawstring bag with a faded portrait of Bob Marley on the back become 2019's it-bag? Who knows. But something about staring into a turbulent, kaleidoscopic vortex of color (especially after 2017) just feels good, man.
Finally, a look that doesn't shy away from the fact that we are all tasked with the job of perpetually selling ourselves, whether we want to or not. And if we are all in sales, we might as well own it. The ill-fitting suits you might have tried on from your parents' closet have marched out from hiding and are back on the runway. But think more hyperbolic silhouettes and 80s palettes, and less smart, tailored minimalism. You can't trust clean-cut sincerity anymore, but a clear suitcase shows you have nothing to hide. Get salesman smarmy—when every day is casual Friday, exaggerated suits and sunglasses are basically, somehow, the new punk.
While politicians ranging from Leon Trotsky to Ronald Reagan have famously referred to the "Dustbin of History," few have stopped to consider what time's trash actually looks like. During our present moment, in which news moves a pace faster than most can read it, the sudden appearance of shiny black plastic in the collections of Sies Marjan, Kwaidan Editions, and Helmut Lang (dare we say, trash bag chic) shows a fascination with holding onto the mountains of information we now constantly leave in the dust. Nostalgia remains a total bore, but dumpster diving in recent history could yield interesting results.
Fashion's fascination with fine art continues in Spring/Summer 2018. This season, the source material runs the gamut from the most ubiquitous of ubiquities, like Off-White's print pieces, to lesser-known critical favorites, like Sacai's use of work by Lawrence Weiner. Are these art-fashion crossovers gestures of earnest appreciation? Purely aesthetic proposals? Comments on the commodification of artistic practice under advanced capitalism? They are all the above, and sometimes all at once. And whatever the impetus behind them, they tend to be great conversation starters—that's why the art-fashion crossover remains such a persistent design strategy. Our suggestion? Wear your Off-White x Da Vinci "Masterpiece" hoodie to the next gallery opening you attend and feign ignorance about the image's origin. Trolling is the 21st century's purest art form.
Photographers, art directors, and stylists are always scheming to come up with some weird new object for a model to pose with. Something totally different that no model has ever posed with before. Exotic cars, exotic plants, exotic animals—Spring 2018 gives birth (literally) to a new accessory: Human babies. Down the Balenciaga runway hand-in-hand with a model-Dad, or cat walking straight from mummy's tummy for Eckhaus Latta, fashion tots are sprouting up everywhere this season. Our cultural obsession with projecting a meticulously curated life is now bequeathed unto our offspring, with no regard for the fact that they will outgrow their Balenciaga sock booties faster than you can say "North West."
"If I've gone overboard then I'm begging you to forgive me," is what the guests might say upon revealing their looks at the upcoming "Heavenly Bodies: Fashion and the Catholic Imagination" themed Met Gala. It's also the lyrics from Dave Matthews Band's "Crash" a song which peppers the soundtrack of , the uber-successful coming-of-age film about a Catholic schoolgirl. While it may be a forced connection, one thing is clear—sacrilege is somewhat of a recurring theme this year. Too-short schoolgirl skirts, bibs, and harnesses showcase the wearer's heavenly body, while exaggerated shirting and pious robes conceal, sort of. Celebrate your own heavenly body by revealing however much of it you want in 2018—it's something for which you should never have to ask forgiveness.
The all-black ensemble passed away last season, leaving behind thousands of New York minimalists, grunge kids, and street urchins. Predeceased by the normcore phenomenon and survived by a return to neon and primary colors, monochrome black lived a life of controversy. As Ann Demeulemeester once said, "Black is not sad. Bright colors are what depress me," yet others would disagree—when asked what she would never wear, Anna Wintour responded, "head-to-toe black." Whether or not you were on-board the trend, you are invited to show your condolences this season in color. Anything is the new black.