A Timeline of the Japanese Design Avant-Garde
Writer and Editor Jeremy Lewis Goes Back to A.D. 250 to Explain the Wonders of Japanese Design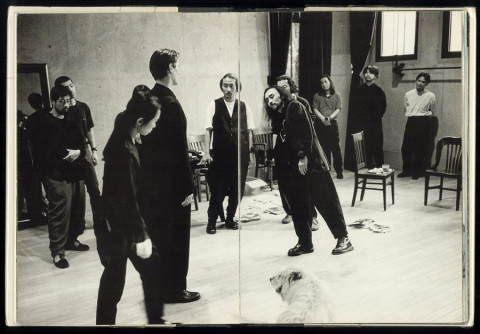 Japanese design enchants and inspires the world of fashion and has given rise to some of the most masterful designers the medium has ever seen. But its reputation for innovation was not achieved overnight. Instead, it is the end result of a slow and meticulous evolution that broke down cultural barriers, and in the process reshaped the global boundaries of East and West. Here is a brief and incomplete history of how it came to be.
The earliest (though slightly contentious) records of Japan's history begin here. Settled by Chinese and Korean colonists, the costume of the early Japanese is similarly based on flat and loose squares of cloth stitched on the edge that sit away from the figure. The later introduction of Buddhism via Korea endears the Shinto-based culture to a more "continental" look.
A dispute of succession between Shogun Ashikaga Yoshimasa and his younger brother leads to a merciless civil war. By 1473, the Shogun grows weary, passes on his responsibilities to his son, and retires to Kyoto to dedicate his life to aesthetic experiences. Coinciding with the emergence of Zen Buddhism, and perhaps in reaction to the violence of the war, he takes to modest, rustic décor and a new cultural appreciation for simplicity is born. While it is not the only prevailing aesthetic of its time, it is uniquely Japanese and will inform much of the country's visual identity for centuries to come.
The era of Shogun ends with the practical powers of state returning to the emperor, who before served only as a figurehead. Spurring this revolution is the need to modernize, which is made clear in 1853 when an armed American fleet lands on Japan's coast—eager to open the isolated country to trade by any means necessary. In consideration of the ways of the West, the concepts of (Japanese dress) and (Western dress) come to a head as the latter moves to outpace the former. Japan struggles to reconcile years of feudalism with the technological prowess of the West. Long story short: Japan's embrace of European costume begins here.
: Japan defeats Russia in the Russo-Japanese War. The speed of Japan's modernization under the Meiji Restoration shocks the world.: The Namiki Dressmaking School is opened to teach young women clothes-making in the European tradition and answer the vogue for Western-style garments among Japan's wealthy elite.: The Namiki Dressmaking School is renamed Bunka Fashion College.: Issey Miyake is born. Kenzo Takada is born the following year.: Rei Kawakubo is born. Yohji Yamamoto arrives a year later.: Kansai Yamamoto is born. No relationship to Yohji.: Issey Miyake witnesses the dropping of the atomic bomb on Hiroshima. He survives with a lifelong limp and a never-ending search for utopia.: Hanae Mori opens an atelier designing costumes for Japan's bustling film industry.: Kenzo Takada enrolls at Bunka. He is one of the first male students to be admitted to the traditionally all-female school.: Kenzo Takada graduates alongside future Japanese fashion design stars Mitsuhiro Matsuda and Junko Koshino.: A trip to Paris, and a fitting at Coco Chanel's couture salon, puts things into perspective for Hanae Mori. She soon begins work on her own ready-to-wear collection. Mori becomes the first Japanese designer to be recognized on a global level, dressing women from Tokyo, to Paris, to New York. Though her clothes are far more conservative than what her countrymen will later become known for, she is a pioneer and lays a path for others to follow.
: Kenzo Takada moves to Paris and begins working as a designer for hire.: Issey Miyake graduates from Tama Art University in graphic design. After viewing a local art fair, he questions why fashion design wasn't included. Miyake moves to Paris to study haute couture at the École de la Chambre Syndicale de la Couture Parisienne.: Yohji Yamamoto unenthusiastically graduates from Keio University with a degree in law.: While apprenticing in the atelier of Hubert De Givenchy, Issey Miyake witnesses the Paris student riots. Inspired by the spirit of revolution, he makes his way to New York to study ready-to-wear under Geoffrey Beene.: Yohji Yamamoto more enthusiastically graduates from Bunka.: Kenzo Takada presents his first collection in Paris and opens his first store, called Jungle Jap. Miyake returns to Japan and establishes the Issey Miyake Design Studio. He shows his first collection the following year in New York.: Kansai Yamamoto debuts his collection in London. He serves as a foil to the dark, intellectual reputation Japanese fashion will eventually earn. Colorful, decorative, and humorous, the appeal of his clothes resides in their high camp and pop appeal. He becomes a pop figure himself. David Bowie loves the clothes.: After studying fine arts and literature and working in advertising for the Japanese textile giant Asahi Kasei, Rei Kawakubo takes to designing clothes and opens Comme Des Garçons Co., Ltd. in Tokyo.
In the early 1960s, the haughty world of haute couture—where Dior and Balenciaga reign supreme—gives way to the Space Age machinations of Cardin, Courrèges, Rabanne, and Ungaro. But about a decade later, their dream of hi-tech glamour in turn gives way to a considerably more down-to-earth approach. In Paris, student riots challenge the conventions of the status quo, the Vietnam War leaves many with an uneasy feeling about global politics, and second wave feminism gives women a new, more empowered gender identity. The 1970s see fashion's prerogative shift from untenable fantasies towards a beauty inspired by vital and tangible realities. With a unique vantage point from the East and freshly established businesses, Kenzo Takada and Issey Miyake are more than happy to oblige.With their inventive cuts, embrace of multicultural costume, and a highly exotic aura, Takada and Miyake conquer fashion. They quickly ascend to its upper echelons, becoming key tastemakers and trendsetters within a matter of years. They join an elite group of international designers who are breaking new ground in ready-to-wear and who, through their bold and cunning designs, are proving that this traditionally lesser form of clothes-making can be as creative as haute couture. Fashion will no longer be the sole domain of the French. This group of young mavericks includes Sonia Rykiel, Thierry Mugler, Jean Charles de Castelbajac, Claude Montana, Walter Albini, Giorgio Armani, Gianni Versace, and Ottavio and Rosita Missoni, among others.
1977: Hanae Mori becomes the first Japanese designer (and Asian designer at that) to be admitted into the Chambre Syndicale de la Haute Couture. Yohji Yamamoto presents his first collection in Tokyo. Tsumori Chisato begins working for Issey Miyake.
The soft and easygoing nature of the 1970s passes, and the 1980s see a return to hard-edged, ostentatious, and overtly conspicuous glamour that would make even Balmain appear modest. Having designed and shown their clothes in Tokyo for some time, Rei Kawakubo and Yohji Yamamoto decide to head to Paris. The result is "catastrophic." Awkwardly dubbed "Hiroshima Chic," the pair obliterate the niceties of Western fashion and unwittingly rewrite the rules of the game.Kawakubo and Yamamoto propose a startling contrast to the excess of the 1980s: cerebral, intellectual, deconstructed, raw. Their clothes are like existential puzzles rendered in tattered scraps of black, enveloping the wearer in the cascading folds of a dissected kimono. As aggressions against the conventions of Western beauty, they exude an air of disagreement that is as satisfying to indulge as it is to reject. The fashion establishment is quickly organized into two camps: those who get it and those who do not. Most fall into the latter. And so Comme des Garçons and Yohji Yamamoto become the unofficial uniform of the in-the-know fashion editor.
1984: Junya Watanabe graduates from Bunka and begins working at Comme Des Garçons.1988: Issey Miyake begins his experimentation with pleating. Jun Takahashi enrolls at Bunka.1990: Tsumori Chisato leaves Issey Miyake and goes out on her own. Chitose Abe begins working at Comme Des Garçons.1993: Issey Miyake launches Pleats Please, an innovative sub-line that marks a new period of clothes-making for the designer based in textile engineering. Junya Watanabe, backed by Comme Des Garçons, begins designing under his own name and showing his collections in Paris. Jun Takahashi founds Undercover. Kenzo Takada sells his company to LVMH.1999: Kenzo Takada retires to pursue his interest in art. Issey Miyake exits the world of fashion and hands over all design duties to Naoki Takizawa in order to focus on research. Chitose Abe launches Sacai.2003: Jun Takahashi and Tsumori Chisato begin presenting their clothes in Paris.
By now, Japanese fashion is highly regarded around the world for its distinct innovations in blending Eastern and Western dress. Unhampered by convention, the fashion industry now looks to Japan as a source for new ideas as it once did to French haute couture. Already Japan's impact is noted in the work of the Belgian designers Ann Demeulemeester and Martin Margiela, who took to the work of Yohji Yamamoto and Rei Kawakubo with great enthusiasm. In the years since "Hiroshima Chic," a new generation of Japanese designers has emerged: the first to be born after World War II and raised in the comforts of an economically strong Japan. Their outlook, though charmed in comparison, continues on in the spirit of their predecessors. Junya Watanabe leads the pack, but is later joined by Tsumori Chisato, Undercover's Jun Takahashi, Sacai's Chitose Abe, and others.
2013: Hard at work with his Reality Lab, Issey Miyake releases Homme Plissé, his long-awaited men's version of Pleats Please.2016: Issey Miyake mounts a full retrospective at the National Art Center in Tokyo. It is the first comprehensive look at his oeuvre and innovation. Rei Kawakubo shows a collection featuring punks reimagined with 18th century pomp and pageantry. Her unpacking of Western beauty continues. Yohji Yamamoto is still a badass muthafucka with some of the best cutting skills in the business. And fashion is still divided between those who get it and those who do not.