Alexandre Mattiussi's Secret Recipe
The Creative Director of AMI Is Pursuing the Good Life and Good Sweaters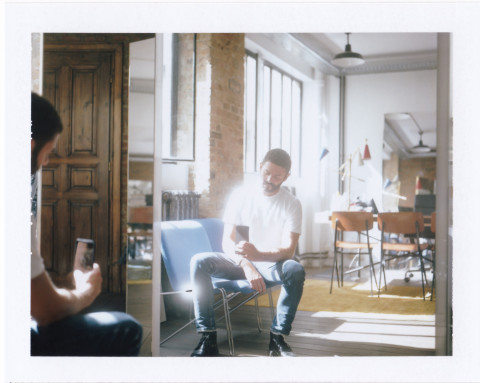 Alexandre Mattiussi is seated in a dark corner of an old lounge. Only a dim light illuminates our conversation. But he seems comfortable talking about craft and his philosophies on fashion in the darkness, perhaps because he is literally blending in, wearing a black sweatshirt and black pants. The outfit is simple—signature AMI, the menswear brand he is founder and creative director of.Mattiussi, 37, started AMI's current incarnation in 2010, and his vision strives for a zen-like purism in which simplicity and affordability reign supreme. The same adjectives appear constantly: real, natural, easy, Parisian, economical, and most centrally, democratic. The label's title translates to, "friends."In conversation, he offers thoughts as to why his sensibilities developed this way, toward a message so practical and simple. He grew up in the slow country of Normandy, France. His first love as a boy was the elegance of ballet. And his creative process, he says, is most similar to cooking. We end our evening with a smoke outside. When he leaves, he blends back into the night.
How do you like this bar?That's why I Iike this place, too. What are you getting? I'm having a martini.When was the last time you shaved off your beard.You've been in teams at Dior, Marc Jacobs, and Givenchy. You could have settled for comfortable careers at all of them. Why leave?
I like it. It is very dark. I can barely see you.I had some pinot noir last night that got me tipsy, but I'll have a glass of red wine.A very long time ago.Because now I'm free. I don't have a boss. If a big fashion house I respect calls me and wants me to design for them, I'll surely take it. But now I'm building my own house, my own company. It doesn't need to be the biggest. I could open 100 stores today but I don't want to do that. I don't need to just be a cash machine. I follow the natural rhythm of life, and that's probably in part because I was born in the countryside.
You grew up in Gisors, Normandy. Countryside filled with pastures and castles. What do your parents think about what you do for a living?What is your creative process like?You sound like you're having fun. Do you think about the future?
My father was a cabinetmaker. As a young man, however, he wanted to be a photographer, but he had to go into the family business. He had just turned 16 and he had to forget his passion. It always frustrated him. Years later, when I was a boy, I told my parents I wanted to become a dancer. My mother said, "You should go do that. Your father did not get to pursue his passion." My father felt the same way and he encouraged me. So, my childhood was much like ; a boy with big dreams out in the country. My parents were supportive from the beginning. Today, my father, Renato Mattiussi, is at all my shows. So is my mother. They've been divorced for 20 years but I put them together for each show and they sit and they talk.Fashion is about choices. Long or short? Black or white? I'm making those choices every minute of my life. I give a list to my team and we work from it and find the right direction. For me, it's like cooking. Maybe I need more vinegar or salt. Then I start to see it as high notes and low notes. It becomes very harmonic. Sometimes I just want the point of a shirt. I might see a 70s style shirt, and really like its color, and focus all my inspiration on that. I am also drawn to the little mistakes—the "maladroit"—the things that are disrupted and clumsy. I'm not interested in perfection. I'm interested in realness. Day after day, I feel like I'm getting better and better at what I do. And my favorite period is the start of a season. That process involves erasing everything that I knew and starting all over again.I don't know if I'll do this forever. I want this to last but I also feel that when you don't like doing something anymore, when you have too much pressure, you have to quit. Like everything in life, of course. But I'm still at a time where at AMI we're still having lots of fun. Everything is still natural.
Every creative industry has faced change. Tell me about what you've noticed in fashion.Fashion photography has changed, too. Steven Meisel no longer shoots every Italian Vogue cover, Franca Sozzani passed away, and David Beckham's teenage son shot a Burberry campaign. Is the era of the legendary fashion photographer over? Do successful young designers like yourself still care to work with such photographers?Haute Couture. Irrelevant?Who are your biggest influences?
When I started 10 years ago none of this existed. I had only my little Franco-Parisian point of view and I only cared to please the 10 fashion journalists I knew. Now, I don't want to please just those people. If I get a bad critique of a show, I don't care as much because there are 1,000 people around the world who do like it. To say, 'Good or not good,' doesn't depend on just one person anymore. That may be the biggest change of them all.For me personally, yes. Because I'm very respectful of heritage. If Inez and Vinoodh or Steven Meisel wanted to shoot my clothes, I'd be honored. I still believe working with those people instantly gives you credibility. And what brought me to fashion was that golden era specifically. I was about 16 when I was watching the Thierry Mugler winter show on television with my mother on the sofa. The journalists were Viviane Blassel and Marie-Christiane Marek, who were two of the earliest style journalists at the time. The show lasted one hour. Now, shows last ten minutes. And the photographers were on the runway at this time. Now the guests are in the front and the photographers are in the back. But I was thrilled by the whole mood. I had goosebumps. I try to bring that mood to my shows. I once had a show with fake snow and models walking. That classic concept has been done about 20 times before, but I felt I could still share that emotion with people.No. It's like wine or gastronomy. And we French savor such things. I don't know if it still means something at the end anymore like how it did, but it is wonderful and beautiful.Christian Louboutin is a big hero of mine. You can play by the rules or make your own and he plays by his own rules. He doesn't follow standard marketing rules. Even when he does a perfume he does it the opposite way. I want to be like that. Also Azzedine Alaïa. He's still there on his sewing machine and the clothes are still his life. I met him once at the Château de Versailles. It was late night. He was at the dinner and I went to him and I introduced myself. I said, "I'm Alexandre," and I said, "I love you." He said. "I love you, too. Moi aussi, je t'aime." Hedi Slimane is also an influence. His work is so intelligent.
You've become a known entity. Are you more tempted to leave your brand's democratic message?You've said fashion is ultimately a commercial vocation. What is your philosophy on where art meets commerce?What of the economics of fashion? Your brand has a welcoming message, but there are still men who might consider lines like yours too expensive.
More than ever I want to keep that message. I had amazing experiences at big brands but everything has changed. But I was frustrated then. I could not afford the clothing I was designing for the brand. As soon as I quit and started thinking about AMI, I wanted to make the clothes more about who I really am. What good is something if it looks good, but you can't eat it? I still feel this way, and if anything, my message now has more support, so I can try more new things.Gareth Pugh. He was the "it" designer ten years ago. Like, Madonna. But he never really sold much. So, it's all about where you want to be and what you want to do. I know I don't want to be that. What excites me most is actually seeing someone wearing my t-shirt when I'm at a cafe. It's like a book. I want someone to read it and I want to be in people's life.We're not going to change the world, but let's make a good sweater.
Alex Vadukul writes about the city for and is the U.S. Editor of Magazine.