An unwillingness to settle for mediocrity is writer in her DNA.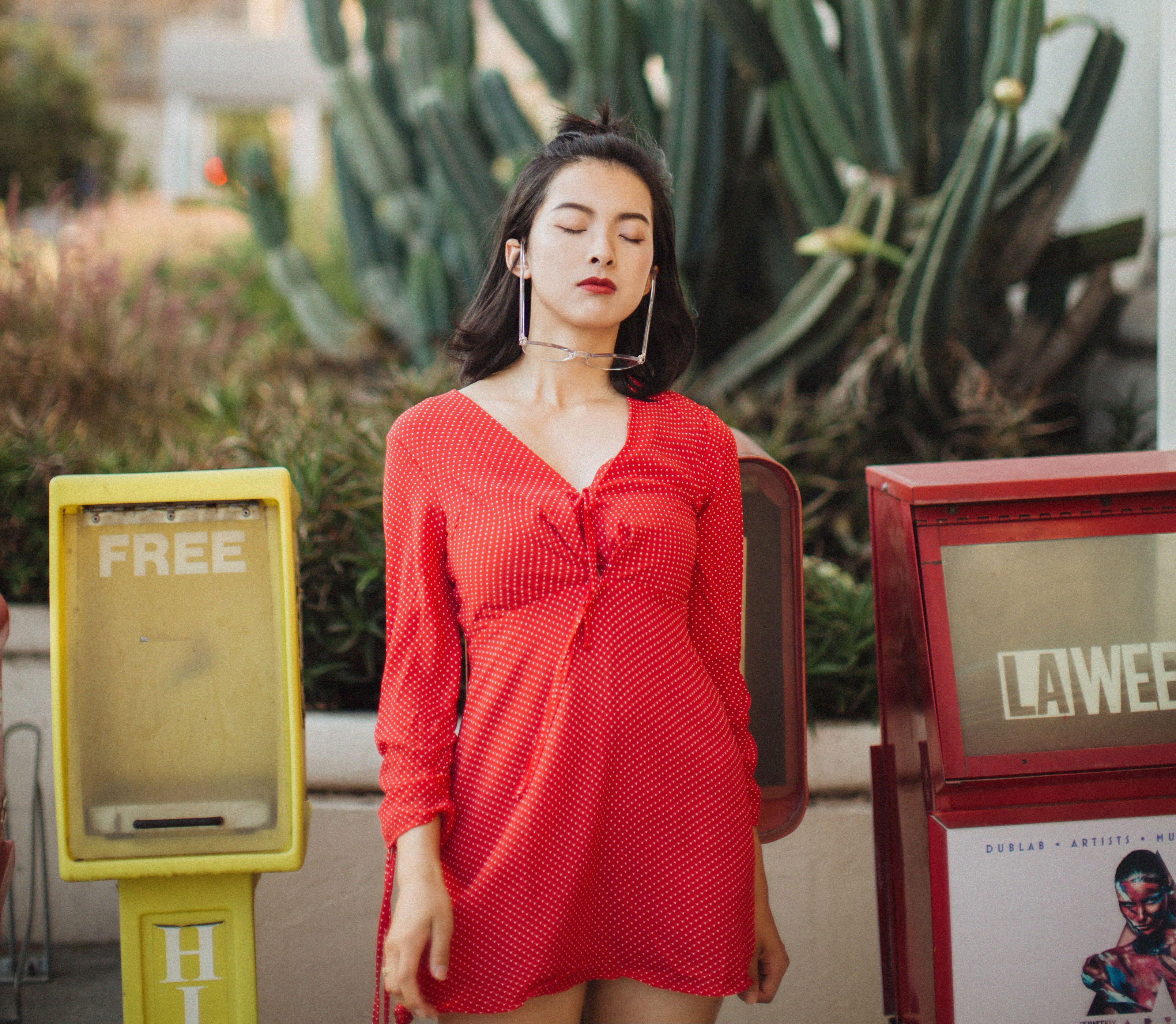 Click picture to enter @queenaqin_'s wardrobe
Everyone comes to this world with unique abilities, whether it's a natural gift with music, extremely coordinated, color sensitivity, even left-handedness. The Modestar @queenaqin_ and her unique talent is with fashion. She's been passionate about fashion since the day she was born, as a child her family often reffered to her as a "fashion magazine collector", and as time went on became deeply involved with her own fashion. From a young age, her dream was to become a full time fashion designer and editor. Let's get to know her and her take on fashion a little better below.
GENTLE MONSTER
Black Love Punch Sunglasses
SJP BY SARAH JESSICA PARKER
Fawn Pointed-Toe Pump, Black
ModeSens: What drew you to fashion at such an early age? What does fashion bring to your life?
@queenaqin_: It's hard to believe that some hobbies are innate, something one is born with, but for as long as I can remember, fashion has been as important to me as eating. When I was young, seeing such grandiose and stylish designs and costumes on runway shows on TV, I knew instantly that that was the world I wanted to live in. At this time, I collected European and American fashion magazines every month from ELLE, VOGUE, and BAZAAR, as well as the Japanese magazines mina and ViVi. Now, I'm constantly following fashion bloggers throughout the world for the newest micro trends and inspirations. I don't want to miss any opportunity to understand any fashion quirks that are popular throughout the world, and how I can build off of those quirks to inspire and evolve my own style.
ModeSens: What is your ideal lifestyle?
@queenaqin_: Pretty simple really, just be in a place that I love, and live off of my hobbies.
ModeSens: As a ModeStar, what do you like to buy normally?
@queenaqin_: Doesn't matter in particular what I'm buying, as long as I'm buying (haha). I am very enthusiastic about niche items, actually, whether it is accessories, bags, shoes, clothes, or skirts, I'm always searching for really unique and one of a kind pieces.
RAY-BAN
Aviator Large Metal Sunglasses
DANSE LENTE
Mini Johnny Leather Top Handle Bag, Black
SAM EDELMAN
'Loraine' Horsebit Metallic Leather Loafers, Soft Silver Leather
ModeSens: What is fashion to you?
@queenaqin_: For me, beyond just a hobby, fashion has brought me to make a lot of realizations about life in general: "First, in most cases, when trying to find the right products, you have to always be willing to try new things; secondly, with limited economic reach, how can one appease the desire to constantly get more, get better, get greater pieces? Deciding between fashionable purchases and rational purchases is sometimes very conflicting, so I think ModeSens's price comparison function is very user-friendly and can be used to find something just within one's budget. The next thing is figuring out what to do with the pieces that just don't fit in your wardrobe or style. The goal really is to maximize the utilization and worth of each piece, regardless of it being a one season or one outfit piece, or a lifelong staple." Really, if a hobby or a passion can make you have a much deeper and intimate understanding of yourself and the world around you, then the more the better. Nowadays, fashion is no longer what's "beautiful" and "popular", for me, it is a way to find oneself and understand oneself. Knowing that one really likes fashion is to be different from the others and to be suitable to oneself.
ModeSens: Which brand and designers do you like best?
@queenaqin_: ALEXANDER WANG and VERSUS are my favorite brands. The brands that have always attracted me most are ones with asymmetrical and irregular cuts and silhouettes, simple color schemes and the usage of metallic elements.
ModeSens: What is your favorite style of dress? Do you prefer to follow the public or create your own style?
@queenaqin_: I feel like fashion is a way to express myself. I love finding different ways to style the same piece, or finding pieces worn by popular models, stars, and bloggers, and finding a way to style it in completely new ways.
ModeSens: Is there any good recommendation?
@queenaqin_: COMPLET Handbag, Keywords: niche, simple design, elaborate, cute; DIOR LADY DIOR, Keywords: classic, wild, temperament, worth collecting; URBAN OUTFITTERS' various accessories, sunglasses, hats, scarves, inner rides, etc., are the most fashionable and diverse styles.
ALEXANDER WANG
hybrid shirt
VERSUS
Asymmetric Wrap Skirt, Nero
COMPLET
Valery Mini Clutch Bag W/Shoulder Strap
ModeSens: What street shooting techniques do you have?
@queenaqin_: The best technique is to just not be shy, communicate with the photographer more.
ModeSens: What good bloggers would you recommend to everyone?
@queenaqin_: I love a blogger named Carmen Hamilton.
RENÉ CAOVILLA
Crystal-Embellished Satin And Leather Sandals, Beige
ModeSens: First impression or experience of ModeSens. What is the difference between ModeSens and other platforms?
@queenaqin_: I like ModeSens operation, very easy to understand, and full of features. The UI design of the platform is also very clean. Looking for a single product is also very convenient, whether its sold out and when it will be restocked are all really easy to track.
KATE SPADE
Stone Hinged Bracelet/Rose Goldtone
CULT GAIA
Natural Bamboo Large Gaia'S Ark Bag
The thought that Fashion brings to ModeStar @queenaqin_ is also a question that we think about. Many people talk about fashion, but really only on a surface level, but fashion can be a big industry that promotes social development. It is not just for you to like. What's more, we look forward to how fashion can change your lifestyle! As she says, if a love can make you have a deeper understanding of life and self, then this hobby is worth pursuing headlong. So we are always looking forward to more people to share with us their stories and looking forward to seeing all of your outfits!
If you are passionate, positive, and have an opinion on fashion, you can be our next ModeStar!
ModeStar is an exciting fashion influencer program only on ModeSens, dedicated to discovering and enabling a new wave of fashion tastemakers and rallying them together to mutual expand each individual's influence in the fashion world.
Join the ModeStars program — become an official influencer partner with ModeSens
- Get original content opportunities with ModeStar. Earn a verified ModeStar Badge and become official influencer partners with ModeSens.
- Have opportunities to work with and gain exposure through all ModeSens platforms — homepage, original interviews, content & product exclusives, and more ongoing benefits.
- Connect with other ModeStars, cross-promote to grow audiences together. Enjoy feature opportunities on ModeSens' Instagram, Weibo and other social and digital platforms.
- Receive exclusive invitations to official events and parties by ModeSens or by partners, such new product announcement/try-on's, fashion weeks, and more.
-Gain access to exclusive tools such as publishing Blogs, Collections, affiliate programs and other advanced web and app features.
With so many exciting benefits, begin sharing your everyday style Moments on ModeSens to receive a select invitation to become the next ModeStar.
If apply for ModeStar, please contact bella@modesens.com. Final interpretation is owned by ModeSens.