Ann Demeulemeester Moves Forward
Sebastien Meunier's Quiet Revolution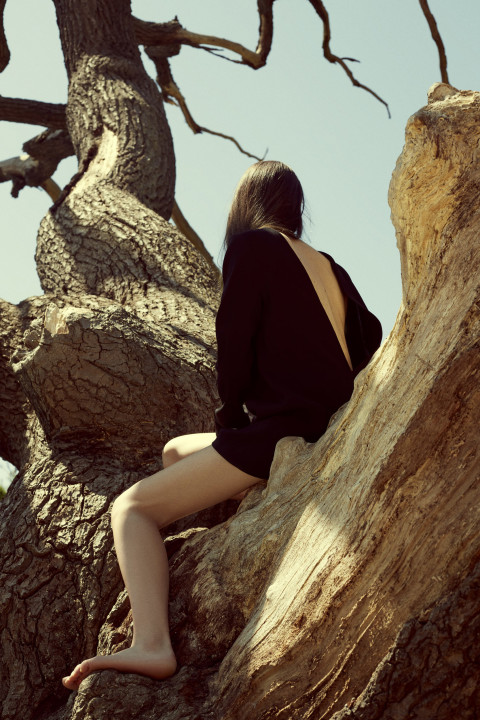 Certain aesthetics are so evocative of their time and place it's tempting to view them as set in stone. Ann Demeulemeester's is one of these: a virtual stand-in for the grunge elegance and sober artistry of early 90s Antwerp. But only the most powerful endure with continued relevance.
To welcome the arrival of Ann Demeulemeester's womenswear at SSENSE, creative director Sebastien Meunier spoke with us about how he's leading the label forward.
"A rock attitude brought into romance and poetry. This is the core of the Ann Demeulemeester spirit." This is how Meunier puts his label's ethos into words, and they're ones he understands intimately. He joined the label as head menswear designer in 2010, and by the time he took over as creative director in 2013 was well versed in the house codes. They come to mind easily: the Edwardian jackets, pirate blouses, biker boots, and fluidly draped shifts. The leather jackets and long gloves. The punk-inflected suiting. The moody, Belgian black.
Together, they make an intense combination: an emotive and darkly-tinged aesthetic rooted in a world of poets and musicians, with the wild vulnerability of an epic rock album. Meunier has no desire to reinvent this formula. But in the subtle and persuasive manner of his label, he's poised to put his own spin on it.
"I can't continue exactly what Ann did because it belongs to the past, and fashion is in the present," Meunier explains. "She was speaking about her emotions, her crowd, and I can't speak about that – because I have my own emotions, and my own crowd, and I speak about those."Meunier's trust in his own sensibilities speaks to his quiet confidence – and the ways he's making the label his own. "My personal design is definitely emotional," he confides. "I am definitely more body conscious. I don't have muses. I get inspiration from my friends and lovers." Where Demeulemeester referenced subculture icons like Patti Smith and Arthur Rimbaud, Meunier has instead channeled graphic inspirations drawn from visual arts. Gabriel Orozco's hypnotically patterned sculptures of prehistoric skeletons were the point of reference for Fall 15's black and white op-art prints, while the German photographer Katharina Sieverding's self-portraits lent their ghostly, wavy lines to curvilinear draped jackets and wide-leg trousers – not to mention a gown in a particularly dramatic shade of red. Meunier's increasingly sophisticated color sense was given even freer reign in this Fall's menswear, and though black still predominates, it points at a different and intriguing direction.
"I don't have muses. I get inspiration from my friends and lovers."In response to the challenges of taking over a label so closely associated with its founder, Meunier is practical, pragmatic, and philosophical. "Working day by day is the answer. It is better than to be frightened by a big challenge." Demeulemeester's exit was regarded by many as another casualty of an industry whose accelerating pace and ravenous demands are claiming more and more victims. Meunier wisely understands that in this climate, staying grounded is crucial. "We don't search to answer to the fashion pressure," he continues. "My way to speak about today is to focus on my own reality. This is my way to bring the codes of the house into today's life."
Then again, Meunier excels at reconciling opposites. "Duality is something that for me is essential to create a tension in a collection. I like dual people, like I am," he reveals. It shows in the armorlike zippered leather obi belts that layer over jersey maxi dresses, or the plunging necklines and sharp lapels that give his languid tailoring bite. Evoking sensuousness and severity in equal measures, Meunier's military cuts and skinny leather pants appeal to his warrior women and punk-poet men alike."I like dual people, like I am."
Androgyny has long been an element of the Demeulemeester aesthetic, and as it develops into one of the year's most dominant trends, Meunier sees the blurring of genders as a move towards acceptance – self and otherwise. "I think people are more and more comfortable towards their bodies and sexualities, so they can handle the androgyny better and better. Soon, it will maybe not be a question anymore."
With the down-to-earth mindset Meunier brings to his craft, he's in a good position to look to the future. His sensitivity is sure to yield transporting results. But perhaps the specifics are less important when Ann Demeulemeester is a brand that, above all, conjures up a feeling: brooding, lyrical, quietly rebellious. As is customary, Meunier won't ruin the surprise of what's coming for Spring 16. But the hint that he does give speaks volumes: "I am in a mood for love."