Archiving The 20teens With Ayesha A. Siddiqi
On Track Pant Globalism, Alternative Nationalisms, Crisis Palettes, And More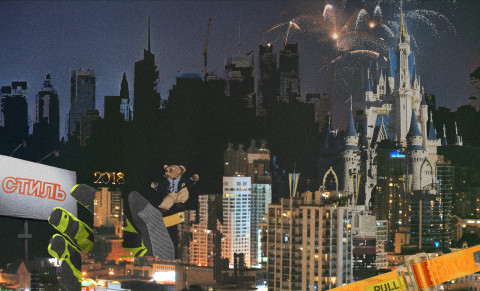 It's strange to still participate in the tradition of year end lists, of reviews and summaries, at a time like this. Recollection feels like the ritual of a simpler time, this was a year ignorant of history. 2018 encompassed an era—transformative shifts that typically take much longer to unfold established themselves faster than they were named and traditional record keepers couldn't be trusted to keep track. Cable news networks were white noise machines. Pundits and columnists debated questions the answers to which are already abundant in the injustices of the world. National papers scrambled to give Nazis the benefit of the doubt, the suits employed at legacy media outlets identified more with the authority of fascists in neckties than with the people targeted by them. In the meantime, the only industry keeping a healthy sense of the times was fashion—an industry rarely credited for having a healthy sense of anything. Perhaps the intuitive collective choices of its community around the world, has yielded a usable record for this era. If the future can be read in tea leaves, the present can be read in how people get dressed.
A track pant is the single article of clothing as likely to be worn in a refugee camp in Calais, or by a south London DJ, an Asian grandfather on a walk, or a supermodel. Today's track pants are not a "new trend," they're a culture shift. Like denim jeans before them, which were once only strictly for cowboys, we've reached full saturation of the tracksuit. For an object to permeate all society it needs to undergo two steps; genre collapse and genre reinscription. Both were seen in their cycle from the race track to leisurewear uniforms of various working class subcultures in England, France, and Russia—questionably labeled "chavs, racaille, and gopniks" respectively. Today's track pants have lost their specificity and are the jeans of the late 20teens: available at every price point and fit, no longer strictly an identifier for anything except the times.
The track pant, now available from Gucci for $1250 to Adidas for $30, becoming iconic to this moment in time is replete with ironies. A garment with athletic origins is a reminder that the right to movement is a protected luxury for the few, and a fraught aspiration for the rest. Unlike natural fabrics, polyester doesn't vary enough to be stratified by quality. Yet it is now, by price. A polyester garment from Walmart or from a luxury designer will use the same petroleum to create the same reaction between acid and alcohol. The tensile result is unnatural, and thus less vulnerable to erosion from wear and washing, or decomposition once discarded. The prevalence of these fabrics marks 2018 in ways that will be visible long after the trends have passed.The coated polyester sold as "vinyl" this year, while often compared to the coats in , is reactionary, not nostalgic. Like the coated cotton-blend trench from Calvin Klein 205W39NYC, nicer in beige, for Spring/Summer. After years of high definition media we crave the slick and shiny, the uninterruptedly smooth. The recent highlight and glow driven makeup trends migrated onto clothing. Put aside the well-worn corduroys and dad hats. Forget the patina of vintage, it was time to glow—literally.Highlighter colors gave way to iridescence and synthetic materials, think of the back of CDs and the "atomic purple" Nintendo 64. Best done by Sies Marjan. What would have seemed tacky in 2016 is now satisfyingly tactile, like sequins, or completely frictionless, like polyurethane and PVC: looks designed to hold your eyes but let your grip slip. Vinyl is facetuned polyester with highlighter on. And coated in candy colors, like this M&M green Marni vinyl coat or this Twizzler-red MSGM vinyl dress. If we do go up in flames, we'll resemble an Instagram slime video. Amidst all these flammable fabrics, Margiela opted to create looks in the silver of fire blankets.
Before our technicolor pre-apocalypse, there was a brief moment when soft desert-colored suede dominated the fashion zeitgeist. Yeezy had just launched, and Urban Outfitters and Zara followed suit with beige hoodies and olive leggings. On runways there were pastel silks, figure-hugging stretch knits, and furs. Survivalist luxe that envisioned the dystopian future as a glamping expedition, palettes with none of the aggression. This year was dominated by a less optimistic fantasy: battles that required a look like an anime protagonist instead—with sharp lines and fully saturated hues. Cherry reds and Barbie pinks, egg yolk yellow, and cerulean, all among Fisher Price colors that dominated the year. Ader Error, Marine Serre, and Martine Rose were all designers who enjoyed raised profiles this year thanks to an appetite for the preschool color palettes they offered.Most of these colors can be found in the chunky electronics and electronic toys of the 90s. Sony Sport yellow. Hasbro pink. Nokia blue. The retro tech futurism of the 90s is an appealing era to mine for aesthetics now because the future as imagined from the 90s was so safe. All the electronics were colorful and hardwearing. A deep contrast to the millennium we did reach, where our screens are spies ready to slice our thumbs with their shatter prone cracked glass.
The transition from the 20teens into the 2020s has been expressed through the palette of crisis. And from inside the precarity of cityscapes being over developed into luxury properties: construction worker color palettes. Traffic cone orange (Heron Preston) and neon limes (everyone else). Boiler suits and matching sets, thick workwear cotton, and ripstop nylon. The highlighter-hued and utilitarian-accented clothing of today pulled from the only source of inspiration in big cities that aren't models or bankers: city workers. Globalized business still maps the creation of wealth across colonial lines, but urban financial hubs are a more relevant political unit than the nation state (just ask post-Brexit London). That—along with the "War on Terror" —is the point of origin for the tension and violence wrecking the globe today; violence organized primarily around various forms of "border defense." Fascism is a backlash to the growing irrelevance of the nation state as a political body in shaping the world, combined with extreme wealth disparity that breeds anxiety across all classes—the anxiety of poverty on one end and the preemptively violent anxiety of guarding loss on the other.
After being failed by the ruling class, bigots want the only remaining frontier that will never be their exclusive dominion: the future. Meanwhile, people in cities around the world wear designer logos like team mascots: the Nike swoosh, an Adidas stripe, the four letters of FILA, even the almost medieval manuscript of Champion's cursive. High end brands followed suit. The logo driven designs we call "streetwear" were always more merch than fashion. Once luxury brands gave themselves license to act like merch too, people responded by repping hard.The color schemes of 90s sportswear mimic that of flags, corporate brands are a more relevant alliance than one national borders offer. The vain announcement of a logo and the sincere appreciation of it as a design element is the healthiest patriotism we have. It's an alternative nationalism for a post-nation state future. Regional but decentralized, Empire is laundered in the uniform of branding. Sportswear logos present an international legibility. Why fly the Stars and Stripes when you can fly stars and stripes.The last time this many people were decorated in Tommy's tiny flags, was during the economic boom of the 90s, when many of the neoliberal policies that have failed us were in their infancy. Today Cyrillic script and sportswear logos have been established as the icons of an emergency era.
And for everyone for whom a Russian language remains opaque, Cyrillic functions as cool as any graphic logo with an insurgent air, a trait advantaging Gosha Rubchinskiy and the more thoughtful Yulia Yefimtchuk. Even American designer Heron Preston preferred the style of 'style' written in cyrillic instead. Emaciated Eastern Bloc models provide the fantasy not just of a white working class, but one whose alterity is vaguely ethic, who look like the future we were told we escaped by trusting America's vision for the world. The popularity of Cyrillic script and Eastern European designers during this tail end of the 20teens is being called 'Post Soviet,' but it's more accurately Post America. The imagined Eastern Bloc is the last place an image of the glorious West lived.
What a relief then, to finally be able to mine the iconography of a country whose foundation and current existence produce so much violence. This year's prairie skirts, western shirts, and cowboy boots do not connote nostalgia for "the frontier." We're witnessing the clearing house sale of a fallen empire. White Americana was always just kitsch with delusions of grandeur. Its tropes were invented as a therapy and propaganda for fears over every kind of border, geographic to racial. As this country comes down from the final chapter in the War on Terror—its own replay of the western film genre told over the deserts of the Middle East instead of its own—and as the world has grown numb to the countless casualties that resulted, western wear is so unserious as to be fresh. It's finally time for these looks to feel meaningless. This isn't Ralph Lauren selling us (new) American (old) money. It's the rest of the world appropriating the aesthetics of empire and rendering them dandy, even cosmopolitan chic. The ruffled prairie dresses of Batsheva are for cocktails not fantasies of cattle ranching. The collars on Calvin Klein 205W39NYC's "Western" shirts are meant to stay sharply pointed, not wrinkle with sweat or carry a handkerchief. The new Western wear is inspired more by desert music festival after-parties than a real prairie. Even Raf for Calvin's American flag t-shirt looks funeral. John Wayne was a racist draft dodger with military awards. If you're going to appropriate headwear at an outdoor concert, his hats are the ones improved by missing their belief systems.
As the relevance of locations shift so do the value of their attendant aesthetics, leaving many this year choosing to dress like tourists instead: T-shirts tucked into jeans and track pants, chunky sneakers, and nylon bags. Looks for road trippers in Orlando. The most politically protected person in America might be the White Florida Dad, and as our bodies search for safety, we're cosplaying him.Florida is to the Trump Era what California was to the Bush era. We're living in Bush era redux, which means it's only natural that the anti-California would trend. Screen prints from a gas station t-shirt rack, dripping in color and post-ironic animals and spaceships, like the Christian Riese Lassen t-shirts for Opening Ceremony, plus, hunting camo, khaki, bucket hats. This is American Gulf Futurism, drawn from Floridian motorcross and NASCAR, Cape Canaveral's NASA, and Disney (which will feature even more heavily next year). It's a manifestation of a flip in America's source code, but it isn't the only source of inspiration.
From Balenciaga to Gucci, editorials are increasingly looking like the faded family photos of those that immigrated from the global south to the west in the nineties. Micro floral prints, plush blanket textures, ill-fitting suits. And heavy jackets not sized for the wearer but perhaps sent second-hand from family members already settled who'd warned us about the new cold we'd face. Outerwear has always been layered, but this year's mismatched sizes and coats on top of each other evoke having to wear what you can't carry. The trend peaked with Balenciaga's seven layer parka, a "combination of plaid shirts, jersey hoodies and technical fleeces." A wardrobe in an outfit is usually only the necessity of those forced to travel without luggage. Producing these looks anew creates a feedback Möbius band between the global north and those trying to escape to it. The inspired designer results look too new, not worn in yet—and exist forever in parallel, unlikely to make an eventual journey back to the places that originally inspired the object.The lounge pant that has appeared in almost every luxury brand's collection this year isn't the velour of Bush era glam. Bedazzled Juicy suits were about flaunting your leisure. Today, all the pants composed of synthetic fabrics that aren't trousers or jeans, that have elastic waists and drawstrings, aren't about being suburban royalty. They're about not being WASPs. Who is more likely to step outside the home in slides and slouchy pants, your immigrant dad or the snobby white neighbors? Hypebeasts decided long ago who'd they'd rather emulate. The concurrent prep revival and luxury logo appeal is the bougieness of international students, not WASPS.The dress codes of previous generations seem as quaint as their attempts at exclusion. The uniforms were for private spaces that no longer enjoy much caché. And the outfits left in the wake are styled better on others. Skiwear now passes as acceptable winter street clothing and the prep of polo collars, tulle, plaid skirts, is unhitched from its points of origin to arrive in the 20teens as a genre with no one's exclusive claim on it, even Ralph's bear is a skater too.The most famous country club right now may be Mar-a-Lago, a symbol of tacky decadence where people who would otherwise just be unsophisticated are now also the sycophants of a head of state. The popularity of fabrics like herringbone, glen plaid, and hound's-tooth offer a wry commentary on the spectacle.Elsewhere, tactical wear re-established itself as a chic accessory. While Hungary ran out of barbed wire, the fashion conscious recruited themselves into a facsimile not of a military, but of a militarized police force. Cargo pockets, buckles, berets, tight fitting thermal layers, and waist belts with more pockets. Inspired by the swat teams, while riot responses around the world prompt wondering if there's any meaningful difference between police and an occupying army. Can you write about fashion when the woods are full of policemen?
A few weeks ago, in a secret warehouse in Calais, I sorted through boxes of clothing to be distributed to the people living in refugee camps that are periodically razed by police, which necessitates frequent replacement of belongings. Among my tasks was to ensure none of the clothing bore military logos or violent imagery, or out of respect for their experiences, images of boats. Between the high vis-neon, durable synthetic fabrics, camo print t-shirts, cargo pockets, and over-layered outerwear, 2019 runways look a lot like the clothes of those on the run.These high fashion facsimiles will likely end up on resell sites sooner than donation bins. The material realities diverge where the aesthetics converge. In the early aughts it was fashionable to ironically wear t-shirts referencing small American towns. The kind that could be found at a Goodwill. This year, the logic of that style was extended to global charity sloganeering and cleared of irony. Balenciaga made "World Food Programme" tees and hoodies. The advertisement of a hunger charity on members of the world's differently skinny elite seemed like a sight gag—an apt conceit for the year, a context collapse that affirmed strictly separate contexts. The more popular t-shirts this year were less fraught.
After years of "basics," people are ready to wear statement tees and sweatshirts. Remember when everyone was trying to deconstruct cotton oxfords? They only proved that the classic cool of a good button down could not be exaggerated in origami shapes—sacrificing practicality killed what made it good. This year (and last) a number of brands chose to debut redesigned logos. Saint Laurent, Céline, Diane von Furstenberg, Balenciaga, Rimowa, and Calvin Klein all opted for sans serif all caps heavy weight typography. Instead of luxury brands, everyone wanted to look as clean as a sticker or tech brand, i.e. more merch-ready. A t-shirt is the perfect home for the statement. Today's t-shirts are roomy and boxy, with prints that are either logos or references to objects turned into logos. T-shirts are back in a way they haven't been since mid aughts when people were wearing graphic tees under blazers, band tees under leather jackets, and ironic tees on their college campus. All those looks have returned but with a keener sense of play and exaggerated proportions. This isn't the bloghouse neon and ironic graphic t-shirts that were the cockiness of the Obama era—when Americans were convinced of their stability. This is real raver ware.
In Berlin in May of 2018, 70,000 people and over a hundred clubs organized a counter protest opposed to the fascist AfD ("Alternativ für Deutschland") party. Headlined "No Dancefloor for Nazis," the protestors raved, and heavily outnumbered the anti-immigrant party that had planned to show its force that day. The neons, wide leg pants, and mesh layers of today shouldn't just reference the club, they should recommend its lifestyle. I don't know what Matthew Williams or Balenciaga had in mind when they put the word "Techno" on their clothing, but I know what I'm referencing when I wear the 2017 Alyx t-shirt. There's no better time to take the anti-discriminatory politics of club culture into broad daylight.During a crisis, whether the AIDS epidemic or anti-immigrant hysteria, the most courageous people can be found underground, creating safety for others by risking their own. Debating fascism is a precious waste of time, bass might be a more effective strategy of drowning it out. The silky-slouchy pants with side stripes, thick wool blazers, cropped knits with sleeves long enough to tie around your person. Ruthlessly efficient athleisure is over, the comfort-flex reigns. Hoodies, oversized outerwear, chunky sneakers, all layered haphazardly. The primary color palettes offer Osh Kosh B'gosh for adults. The overall effect is both infantile and menacing. While the future is being gambled away by preceding generations perhaps it's defensible to act childish, and even better to look insolent.We're being told to go to war with those we should stand with, with those whose fate we might share had we been born on opposite ends of the global cycles of production and consumption. Speaking on the rise of far right extremist parties that push anti-immigrant and anti-LGTBQ policies, Hillary Clinton recommended Europe prevent migration in order to appease the right wing. But the record is kept on bodies, and they aren't wearing trophy jackets.Those of us that pay attention to fashion participate on the softest edges of an economy rendering large swaths of the planet uninhabitable. And we're all being conscripted. From our vantage points in global metropolises, we're told by suits both elected and self-ordained that enemies are approaching, over deserts and by sea. Border panic is the projection of those who live in utopias built through creating apocalypse for others. The powerful fear a reckoning, and want us to mistake their interests for ours. If you want to dress for the weather, where you're willing to place your body will matter more than what's on it. The season for doubt has passed.