Are Loewe Lookbooks the Antidote to Fast Fashion?
Printed Matter from the Jonathan Anderson-helmed Label Draws on the Lasting Appeal of Tactility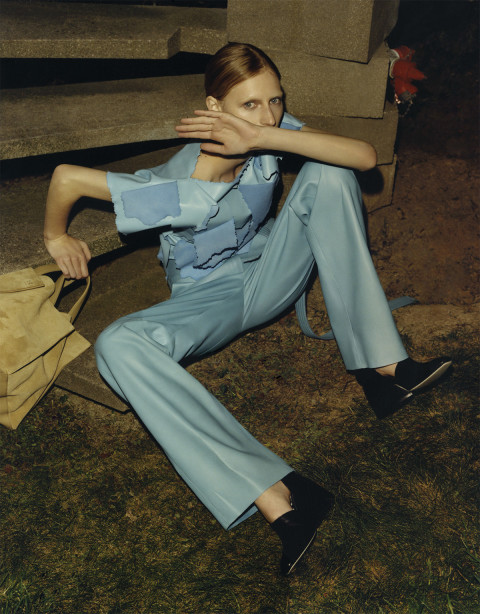 The indexical is back in vogue. So is poetry—at least for now. As Jonathan Anderson, the designer at the helm of the 170-year-old luxury house Loewe told the Guardian, these things are almost always temporary: "We live in the era of content. We put something on Instagram and it gets reposted and it's everywhere and a minute later it's gone, over. I don't see that as a negative thing; it's the way my mind works, too." With this, his wisdom—let's say—to let the whole thing burn if need be, it makes sense that Anderson has kept pace with the feeds of the most committed fashion martyrs. The designer has become a modern day Scheherazade (author of One Thousand and One Nights), telling one story after another, keeping us too immersed in twists to ever give him the axe. Still, in this economy of rapid-fire cultural production, objects that slow things down and crystallize something that is otherwise too fast are also coveted. Enter the lookbook.Lookbooks have become somewhat of a "thing" in the world of brand machinery. And it makes sense: These highly collectable and tactile vessels operate much like fashion. Their seduction comes in the way they objectify, suspend, and make permanent something that is by nature always melting and transforming. Many brands are entering the ring, but the house of Loewe is using their lookbooks—photographed by Jamie Hawkesworth, styled by Benjamin Bruno, and designed by M/M Paris—to create a contrasting rhythm. Instead of focusing on each collection's exotic materials or opulent myths of construction (by hand, no doubt in the mountains of some European principality where if it were not for Loewe, an ancient tribe of humble craftsmen would die), these lookbooks riff on the formal structure of a book itself and the components that make up the story sequenced within its pages.When Anderson first met with LVMH's Delphine Arnault to discuss taking over Loewe, he brought a book filled with hundreds of images, the first of which was a Steven Meisel photograph from a 1997 issue of Vogue Italia. It pictures a group of alabaster youths reclining on white sand. Drenched in blinding light, each casts their gaze past the boundaries of the frame into the infinite. With this, a familiar scene of youthful leisure is no longer contained. It is recast as something restless, ready to be provoked. Meisel's image would go on to be used in Anderson's first campaign for Loewe, but it would also outline an attitude reflected in these curious books and have a heavy influence on their earlier editions. In one such lookbook, the frontal framing of Hawkesworth's photography captures the same suede ensemble—a material the brand is known for—over pages and pages. The model's pose adjusts slightly with each photograph while her gaze darts in every direction. It breaks boundaries and repeatedly meets your own. If you don't engage, the contents of these pages lie suspended on an aesthete's coffee table. They are activated only by your interest and touch.
Recent lookbooks are becoming more narrativized. They still retain a fleshy quality—for instance, a folded-back poster revealing the book's creamy linen skin still jackets each edition—but places, product descriptions, and even how one reads are taking on increasingly fluid rules as well. Anderson described Loewe's Fall/Winter 2016 menswear collection as "going into the wilderness." This is mirrored in its corresponding book, which chronicles a trip to Cuenca, a Spanish geological site known for its mushroom-shaped rocks. Bedecked with leopard print shearling hats, two boyish nomads explore the landscape in a hallucinatory excursion that feels dislodged from rational purpose. It makes sense that La Mancha, the home of anti-hero Don Quixote, is only miles away.A poem is buried somewhere within each book, like a talisman, to help navigate between its pages. You have to be prepared to . Product descriptions about the length of a tweet float ambiently on otherwise empty white pages. It is conceivable to wonder, "Is 'Nutria Cream Shearling and Caramel…' a poem or beverage?" The language will need some finesse before it summons the aesthetic of Tristan Tzara with as great a fluidity as this season's shattered mirror dress does. However, these gestures point to the of literature: literature as the house of ideas, and therefore opportunities—to disturb, to influence, to change. This carries over into fashion. Beyond the hype and vanity, the clothing you wear is saying something.There is no text in fashion, after all. No spoken words; just labels. Not yet, at least. Design houses by and large have not yet broached the full-scale productions of opera, but until they do, brands like Loewe are beginning to bridge this gap with their lookbooks. They highlight the seduction of our ideas, especially those ideas that are new and often in conflict. Playfulness, passion, and curiosity are the crimes we commit. To reference the motif of a D.H. Lawrence poem in Loewe's Spring/Summer 2016 women's book, it is a mosquito whose prick is barely felt, yet leaves a welt the next day whose itch is felt for some time. Discipline tells you not to itch, but passion demands it.