Beautiful Macabre: Ryon Wu's Morphing Makeup
Meet the Artist and Kiko Mizuhara-Collaborator Subbing Beauty Standards for Dark Optimism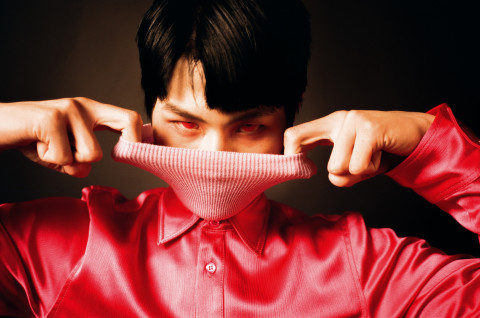 When I meet Ryon Wu, the 22-year-old makeup artist with a cult following and cutting-edge career, it's a seasonably bright and balmy morning in Los Angeles. He arrives wearing baggy pants and an oversized black sweatshirt, its hood cinched tightly around his face. A medical mask conceals most of his features (which he's famous for transforming beyond humanist ideals), and his eyes are lined with rings of soft rust shadow. This is everyday Ryon. I sense his smile through his gentle voice and warm greetings, and we immediately begin connecting over our shared appreciation for dark, twisted glamour. He's into fake scars and mini sclera contacts, which he applies "with a death grip." I'm a sucker for green lipstick and bleeding mascara.
While his peers are busy perfecting the art of contouring and creating campaigns promoting "no makeup makeup," Wu's been hard at work turning singer-songwriter Mac DeMarco into a lizard man in the eerie music video for "Nobody" and collaborating with model-turned-industry-mogul Kiko Mizuhara on her latest Halloween drop. Exclusive to Opening Ceremony, the collection included costumes for nurses, witches, devils, and maids, which Wu brought to life with loads of rhinestones, false lashes, and face-painted flames.
Growing up in Rialto, California, Wu landed his first job at his family's local noodle house, where he still works today—when he's not juggling his side career modelling, or morphing into a gothic mutation of Mickey Mouse for . While he admits the best part of his gig at the restaurant is the quality time spent with his parents and two brothers, he also views it as a hub for visual references, finding inspiration in unexpected places like patterns on food packaging. From mastering the chemistry of every product he employs, to presenting artful compilations of perfectly-skewed proportions, Wu's self-taught practice (via Google and YouTube) relies on his attention to detail, regard for tradition, and knack for innovation. In a time where culinary jargon and edible ingredients are surfacing as mainstream beauty phenomenons, Wu's focused on the craft behind both worlds.Over Krispy Kreme doughnuts and organic kombuchas, Wu tells me about how his art and makeup practices keep him open, how he stays away from beauty vlogger drama, and what it's like to work with Kiko Mizuhara.
On Toy Store MusesOn Freedom from SkepticismOn Dressing the Part
I would always beg my parents for Bratz dolls, I loved the clothes and makeup they had. I liked looking in magazines and seeing the more conventional beauty, but I also found weird stuff really pretty, too. I loved horror movies, and the same genre of video games: single-player, first-person shooter games. Games with a story.At first, my family wasn't having it. They thought it was really weird. Same with my friends—they didn't really say anything, but I could tell when I went out in a look, they'd be uncomfortable in places with a lot of people. I just stopped hanging out with them.I like to go window shopping at Barney's, H. Lorenzo, malls like Century City, or Rodeo Drive. Online, you don't get to feel the fabrics or see how the light catches the clothing. With every makeup look, I try to find something that matches, in the same realm. If I'm doing a cute look, I'll try to wear more childish clothing. If I'm doing a scary look, I'll find industrial-looking clothes with lots of hardware. Xander Zhou is one of my favorite designers, his clothing is set in its own world.
On Con ArtistryOn Curing Depression with Cringe CompilationsOn Tools and Techniques
Sometimes with my hair, the front will look good but the back will be all messed up. It makes it easier to catfish people. []I watch a lot of compilations on YouTube, meme videos: "Memes I watch to cure my depression," or, "Memes I watch when I'm on the toilet for too long." Some of them are good, but some are made by kids, so the humor is very young. Every now and then I strike gold. When you watch someone do something embarrassing, it hits home because it reminds you of something you'd do as a kid, or things you still catch yourself doing. I love Weeaboo cringe compilations, too. I'm not hating on it, because I love anime, but people who dress up in cosplay...there are some videos deep in the web that are good because they're so cringey. It's one of the few real things in the world.In my daily makeup, I use a bit of shadow around my eyes, a little palette from Daiso that costs $1.50. It's my favorite, and one day the color was sold out and I heard the company was closing, so I drove around to every single Daiso and stocked up. I've been using a lot of the old stuff I've had, or things people have given me, and making that work. Recently I've been into super glittery looks and sparkly lids. I have a tiny mirror that I work with all the time—I scatter everything everywhere and afterwards I always have to spend at least an hour organizing everything. It's chaotic. One day it would be nice to have a big vanity with drawers for all my makeup so it's not just like....
On Industry InclusivityOn Beauty Vlogger TurmoilOn Collaborating with Kiko MizuharaOn Dark OptimismOn Lessons from Mom
Sometimes I'll see something that seems insincere. It's clearly a checkbox.I watch those videos, they're so entertaining. At least with people I work with or follow online, they're always nice and supportive, I don't hear of any drama in my circle.There's this company named UNIF that I modeled for a couple times. We went out to a party a few years back, and that's how I met Kiko. We've kept in contact through Instagram. For the project we worked on together, it was for a Halloween collection, and she asked if I wanted to do makeup and model. I was like, "Hell yeah!" I knew there was going to be a maid, a nurse, a witch and a devil, so I brainstormed looks and sent them in a group chat. I created custom lashes for each look with three or more pairs Frankensteined together and glued little gems on them. She flew me and my boyfriend out to New York which was super sweet because he'd never been. She's an icon, and I love working with her.I'm really into apocalyptic, dystopian, futuristic aesthetics. I feel like it's more fun to work with. When I think of a futuristic utopia—everyone being the same, robotic, scary.If she doesn't do anything else, she'll have her brows done. That rubbed off on me.
SSENSE