Blondey McCoy Revisited
The Pro Skater, Artist, And Designer Is Settling Down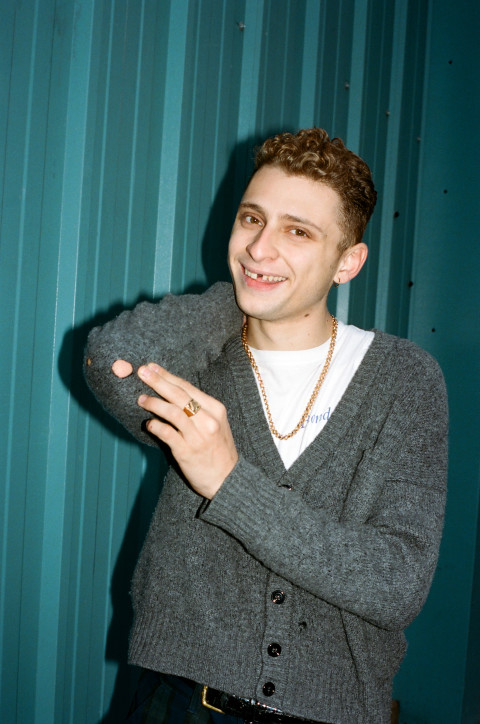 Blondey McCoy is off Martin Scorsese.
I ask him why.
He tells me a story from two years ago, New Year's Day.
"I'd tried so many times before, but I decided in mid-November, I'm going to quit drinking for sure. So I decided, from now until [New Year's Day], I'm going to make myself sick from it. I'm going to drink to the point I can't stand the sight of it anymore."
I've only just met Blondey—the 21-year-old London skater, artist, streetwear designer, and Burberry model (handpicked by Kate Moss to be represented by her agency)—and yet, his compulsion to carry out any task, devotedly and never without antics, is already felt. I get the sense Blondey is baited by some interior greediness for extremes. Or maybe—it's very possible—I'm persuaded by the charming flaw of his missing front tooth. (He lost his gold cap the previous day riding a roller coaster in Hyde Park's Winter Wonderland; it fell out of his pocket.) Blondey's tendency to speak in an exaggerated fashion—his words magnified, maximal—only add to this notion. His observations are measured in the , the . His certainty is frequently claimed with a casual .
Blondey continues his story.
"So I'd done the classic Eve, Eve, Eve, all-nighter. Really pushed it right 'til the end. Come New Year's Day, a two-month hangover just dropped on me. The sky was black and Bruno's was closed, and I don't know how to cook. The spa was closed and I didn't have any hot water."
"I listened to an audiobook at Pizza Express all on my own, drinking Coca Cola's."
"I was meant to meet my friend to go the cinema. But he stood me up. So I said fuck it, and went on my own. I knew we were meant to see a Scorsese film, so I assumed there'd be action, a good soundtrack, you know, I'd be entertained. And I fucking get there, having not read the blurb…and it was . It's nearly three hours. It's just Christians getting beheaded and having to renounce their faith. You get the picture in the first 10 minutes and then really, it's a slow-paced form of torture. Since then—Scorsese—I can't. I don't trust him."
Blondey pauses.
"It was just so bleak. Honestly, I was like, if I can get through this, on a rainy day, being stood up by everyone, I can get through anything."
Blondey is used to being alone. The youngest of three, he describes his childhood growing up in the London suburb of New Malden as happy, . "No one paid me attention," he says. "I was starved for it. My parents were basically already not together by the time I was born. Ten years later, when they told us they were getting divorced, I was more surprised that we were all in the same room. My brother was distraught, and sided with my dad. My sister sided with my mother. Whereas I couldn't care less." Blondey experienced his parents' separation and his siblings' split move as an opportunity for total freedom.He began skipping school, eventually dropping out, and discovering instead his own—and far more fun—type of solitude (and family), one that appealed to Blondey's obsessive character. He started skateboarding at London's iconic Southbank, and later, Slam City Skates. The way Blondey tells it, his young life began, or rather—he felt for the first time latched on—once he started skating and hanging out with Rozza, Nugget, Chewy, and then later, Lucien, Edison, Carlos, and Missy the dog. At 13, he achieved what he calls his then "personal Everest." A wallie backside noseblunt slide. What that trick means or even looks like, I couldn't tell you, but Blondey holds, it's the hardest thing he'd ever worked for.
"It's pure physical, mental, long. To be a skilled skateboarder, it needs to be your absolute everything, 12 hours a day. I love it because it's not something you can hide."
"You can't argue with it. If someone's good at skateboarding, then they're good at skateboarding."
It wasn't long before Blondey went pro with adidas and was riding for the cult skate label, Palace. In his section of Palace's 40-minute skate video, (2017), Blondey's entrance is a beautiful near thing. There he is, two-thirds of the way through, skating in a grey adidas x Palace sweat suit. A couple seconds later, Blondey is struck by a taxi cab and launched off of his board. He rolls onto the car's windshield, hits the pavement, rebounds and runs off, like he's made of rubber. Passerby's who witness the accident look stunned. The driver exits his car, mad. Blondey rejoins his team and for a brief moment, as he's walking towards the camera, we catch a glimpse of his lifeblood: the scandalous delight of appearing unfazed when your audience remains horrified.
"Too much adrenaline to know. It's not pain. Most people would tense up and get really hurt. I land. If there's one thing I'm good at, it's getting hit by cars. Or actually, getting away with it. People seem more impressed by me smashing my face on the floor, than by anything I've really poured my heart into. It just is what it is."
In 2012, he started his own label, Thames, which in 2015 went on to partner with Palace. He was 15, and a Creative Director—riding the culture's wave of slacker-entrepreneurism. Thames was a natural progression of Blondey's first passion—drawing, art, collage. Graphic t-shirts, hoodies, and jackets, designed with illustrations and bold scrawl, inspired by London iconography and British kitsch, the monarchy, Disney, schoolboy curiosities, cheeky heritage, Katharine Hamnett, Princess Diana, Fred Perry, the pop-textures of newspaper print, argyle, currency, vintage smut, and satire.While Blondey's career as an artist has been fairly prolific, his recent work has been directly inspired by his sobriety. (2017), his fifth solo show and companion art book, explored the relationship between art and therapy, following an overdose and Blondey's subsequent quitting of prescription drugs. "Anti-drugs and pro-art" read the show's press notes. "The fruits of a project fuelled by hyper-productivity as a means of combatting depression…The show's making has been a revelation in accepting the need to treat bipolar as a blessing rather than a curse." featured a collaboration with Damien Hirst; a five-foot-tall spin painting elaborated on with images from Blondey's archive—a medley of past vices (pills), pop imagery (Mickey Mouse), and cyphers of time passing (dead flowers).As of last year, Thames is on hold. Blondey's new focus is his solo eponymous label, which he describes as art merchandise: "The thing is, most people that pay attention to me, they're not going to buy a sculpture or a painting. [The t-shirts] are a way of distributing my work. It's accessible."
"Basically, I was business partners with Thames and I kind of operated on a system that wasn't my own. In recent years, I've found that I can apply a certain quality control to everything else, like my art, but not my clothes. Thames was good enough but not excellent."
Blondey, the label, is Blondey's bid at control. It's also his course correction to the work he's produced up until now. He's grown cautious of what's his to claim. How image citing and streetwear-souvenir aesthetics—without meaning—evoke little. "I mean, if I scanned any image of Diana and printed it on the back of a hoodie, with just a logo on the front, I'm sure it would sell enough and I would wear it. My rule with the Blondey products is that they have to be real artworks before being featured on clothes. I am now in a comfortable rhythm of producing art at the rate you are expected to produce clothing, with zero pressure from anyone other than myself."He considers his new label, personal, even a little sentimental. "I make a lot of artwork on the theme of celebrity, super fandom, and false idols. But my own heroes, my biggest—and have been my entire life—are my grandmother and my grandad. Not my entire family, just those two." They feature prominently in his designs. For instance, a photograph of his grandmother is printed on the "Salma" tee—she's young and carrying a crucifix to the school disco. His grandfather, Heni, died a couple weeks before I meet Blondey. "I have never been so heartbroken," wrote Blondey on Instagram. "I truly believed that the entire world would end sooner than you would ever leave us." Many times during our day spent together, Blondey shares stories about Heni. He visits his grandmother regularly in Wimbledon, and has begun wearing Heni's cologne, Declaration By Cartier. He plans on resizing his grandfather's ring, that was left to him, and wearing that too.Born Thomas Eblen, Blondey is half British, half Lebanese. He's gone by Blondey since the age of 11 or 12. "If you don't have a nickname as a skateboarder, something's really wrong," he says. "It's a dumb name, but it's not as dumb as Tom. I hate the name Tom." Everyone calls him Blondey except for his grandmother, his mother, his sister, and brother.Plenty of hearsay exists as to Blondey's background. "That's one thing that has plagued me," he says. "People think I'm a rich trust fund kid. There's this one rumor that my real name is Leonard and that Damien Hirst is my dad, and I've got a billion pounds waiting for me. Just lies and stuff, the comedy and the hurtfulness of it has worn off, though. I often get accused of being a posh person who's pretending to be working class. If anything, I've pretended to be posher than I am. I'm privileged but I'm not posh, and I'm not working class. I've leaned into being a Victorian posh person, more than a contemporary rude boy."
I ask Blondey what his parents do.
"My dad's a lawyer, and my mom was an accountant, and now works in a haberdashery, selling knitting stuff like wools, part time. My dad's still a lawyer."
"Don't know. No clue. That sort of side of his work, I've never asked about. He works very hard and always has done."
Blondey lives with his girlfriend, Lotty, who is 29 and works as a set decorator in film and television. "Big Hollywood productions," he tells me. "Millions of pounds to spend on sets." , , to name a couple. "She's perfect, I love her. We're very compatible," says Blondey. "She's very good at, when I get swept up in bullshit, telling me to shut the fuck up. She doesn't have Instagram, and doesn't care about fashion shit. She ticks all 100 boxes.""I'm a fanatic," he says. "Completely obsessive about certain things. I don't care about 99.9% of pop culture or things in the world, but there are some things that I could talk about for hundreds of hours without getting bored, or without having the self-awareness to realize I'm really boring someone." (Briefly, these things include: Abba, Wham!, The Smiths, Harry Potter, Francis Bacon, kitchen sink dramas, Ealing comedies: " is my favorite film of all time, by a country mile," he says.)When we meet, Blondey is on an Evelyn Waugh kick. On Instagram, he posts sun-speckled pages from Philip Larkin's , like "High Windows," where Larkin, in the poem's final stanza, demurs to the idea of youth and its promise of euphoric abandon. .Those aforementioned "ticked boxes," together with his two years of sobriety, have developed in Blondey a burning resolve to start a family. "I'm desperate to, I really want to put a rush on it. I kind of can't relax until that happens." He clarifies. "I'm only 21 but fucking knackered." Somehow, this variety of early-onset, multi-hyphenate burnout has persuaded Blondey that children are the remedy. "I want the ultimate excuse for not going to parties anymore. It's not the only reason for having children or family, but it's certainly a valid get out of jail free card."
Their home, where I meet Blondey, is located in Central London's district of Belgravia, adjacent to what could be described as a hamlet of embassies (Côte d'Ivoire, Ireland, Bahrain, Serbia), not far from Chester Square (past residents include Mary Shelley and Margaret Thatcher). A short, 10 minutes' walk from theirs is Pont Street, described in Waugh's as associated with the quirks of British upper class snobbery. One character, Julie, holds a "fascinated abhorrence" for anyone who typifies the 'Pont Street' profile: "It was Pont Street," she notes, "to wear a signet ring."The couple's living room is sparsely decorated. A large fish tank, some knickknacks on the mantle, two mid-century armchairs—blue velvet with white pipping, like fancy slippers—and a pool table that doubles (at least for today) as a free surface to toss stuff: wads of cash, Blondey's assortment of gold rings (one depicting the Cedar Tree of Lebanon, a couple others from his Thames collection with jeweler Stephen Webster).We don't stay long. We're meant to head over to Bar Bruno, a greasy spoon in Soho (next to Supreme, not far from Palace, and around the corner from Blondey's studio). He's a regular at Bar Bruno, often ordering . "They do everything there," he tells me. "And it all tastes the same. The food's all beige." He often uses the spot, not just to eat, but to stage, as if Bar Bruno is his unofficial sponsor. Blondey posts to Instagram from there, announcing for instance a new drop: his 'Fairytale' collection featuring a photomontage of a young Shane MacGowan (of the Pogues) and collaborator Kirsty MacColl (Blondey has her name tattooed on his upper right arm). Late last year, Blondey shot a video for at Bar Bruno, having been recognized by the publication as Style Icon of the Year. In a segment for the BBC, Blondey is skating at Southbank wearing a Kelly green Bar Bruno polo.When he's not skating, Blondey walks everywhere. He doesn't ride the tube. He can't remember the last time he might have, though he does recall going underground, not long ago, to catch a glimpse of an ad he modeled for. After spotting it, Blondey exited the platform and returned above ground.It's easy to picture Blondey waiting for a train. He has the cool, restless energy of someone who's always jingling around loose change in his trouser pockets. He often yawns, mid-sentence; has a fluency in getting side-tracked; fancies himself a tour guide (meaning: he possesses a keen repertoire of facts and anecdotes for every corner in Soho, pointing to streets and storefronts—like the green-tiled deli in Mike Leigh's —providing little conversational detours as we chat).The rhythm in Blondey's studio is equal parts calm—there's always tea being made—and chaotic. "We're constantly 95% done with nearly 10 projects at a time," he says. Thames skateboards line the walls. Piles of manila padded envelopes—hand-signed by Blondey and stuffed with merchandise—are waiting to be mailed. His glass coffee table is obscured by countless Princess Diana postcards.He tells me that since quitting smoking cigarettes—12 days when we meet, "My grandad gave up smoking the day I was born, so I gave up smoking on the day of his burial"—Blondey finds it hard to stay in one place for very long, even in his studio. He used to smoke 30 to 40 cigarettes a day. "I feel lighter," he tells me. After eight years, he's gained back his sense of smell. "The other day, I smelled like 10 things in a row. My girlfriend always lights candles, and they'd always been just decorative, serving no purpose. I smelled a dog, too." Blondey loves dogs and fears cats. He sought the help of a hypnotist to overcome his fear, but it didn't work. He also loves horses. As we walk along Buckingham Palace Gardens towards Piccadilly, we pass a parade of Horse Guards during Changing of the Guard. Blondey stops to admire them.
Since becoming sober, Blondey has had to develop new ways for spending time. "When I stopped doing drugs, a lot of people who I thought were my best mates in the world…turns out they really weren't that good friends. I lost a lot of friends. I'm not going to hang out with loads of people, sitting around a coffee table as they do drugs, just because I miss chatting to them. I feel alone, like an outsider. It's not a cry for help, I know what I have to do, and I know what makes me happy." Besides making art and skating, I ask Blondey what he does for fun."Roller coasters. And karaoke. Those are my two vices. I go to karaoke on my own a lot. I do two hours, twice a week, normally. I go at least once with a friend, and he's the only person I know who will admit to liking Robbie Williams. Our only rule is that it starts with "Angels," and two hours later, the closing is "Come Undone." And everything in between is 80s power-pop ballads. I know it sounds quirky that I go to karaoke twice a week, but really, it's a simple, chemical thing. A really good time."Blondey dabbles too in luxury fashion, having modeled for Burberry and Valentino, and walked for Virgil's Louis Vuitton debut, wearing a very serious face and an arterial-red set of shorts, jacket, shirt, and sneakers. "I was waiting for the big…" he trails off, trying to find the words to capture the feverish attention that surrounded the show. "But it was a bit like being in school. Being told to line up, and then For fuck's sake! But I'm glad I did it."His own style, as described to by his close pal, the photographer, Alasdair McLellan, is "very much part of that terrace-casual Britishness." Blondey romanticizes old, even clichéd things, like James Dean, like Milan in general, or like Ray Liotta's style in . He even misses the old chalkboard at Bruno's that's since been replaced with something shinier, more permanent and printed. Blondey's whole look brings to mind wall-to-wall carpeting, wood laminate televisions, brass trimmings, Larry Sultan's photography.The day I meet Blondey, he's wearing navy blue Palace corduroys, a grey Prada cardigan, a white t-shirt from his own label, and black Prada Cloudbust sneakers. He tells me the sneakers were recently purchased on a trip to Milan, where Blondey often goes to skate. He tells me he swam in them, brand new. "We drove to a lake, and the beach had sharp rocks, and I thought they're probably like scuba diving shoes."That's the thing about Blondey, he does stuff and says stuff that feels boyish, free and easy. He'll tell you a story if he's feeling antsy. This last one was my favorite, not because it paints Blondey in a positive light—it doesn't, not really—but because it's honest and conscious. The way dark memories—the more preoccupying (and valuable) ones—often are.
The story goes, he says:
"I got in trouble so much in school, mostly for not going. But then I did go. And I stabbed this kid in his head with a compass. I stabbed him really hard, by the lockers."
"It was over such a trivial matter of honor. I honestly can't remember but I think it was something like, I said, 'If you touch this again, I will stab you with a compass.' And he did it. And I thought, well, I said it, so I have to do it."
"I was like nine or something. It was on the face, proper. I got suspended from school, and rightfully shamed, and from that point, all the kids' parents saw me as a bad influence on everyone. I was to blame for everyone at school who got into trouble. But then, quite soon after, it was Sports Day. And I turn up, and all the parents come to watch their kids race, jump, throw javelins. It was my first day back from suspension and I was at the high jump. And basically, they kept putting it up an inch at a time, and everyone was getting eliminated except for me. I broke the school record for high jump, which I'd never done before."
"I honestly remember, and this is so evil, and I don't know why I'm oversharing with you, but it's the truth. I remember winning and getting a kick out of looking at all the kids' parents that didn't like me. And from that day, I realized I liked doing things I was good at in front of people that don't like me. That was an important day."
Durga Chew-Bose is the Deputy Editor at SSENSE.