CLOUTY WITH A CHANCE OF HYPE: THE WEATHER GIRL'S EXTREME WINTER WATCH
Your Guide to Surviving the Season with SSENSE Meteorologist and Fashion Outlooker, Erika Houle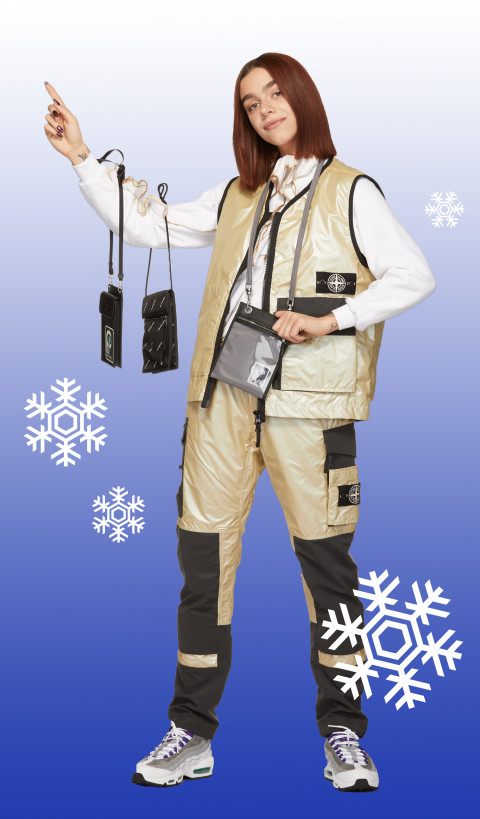 Hi there! Welcome! Reporting to you live from SSENSE, chief meteorologist Erika Houle here, back to bring you another fail-safe forecast for the season ahead. The days are getting shorter, the temperatures are dropping. Winds are picking up. Protective measures must be taken—." As flurries fill the air and sheets of ice coat the ground, we have to rely on our wardrobes to become our shields, safeguarding us from things like frostbite and questionably-colored snow. The demands of getting fully geared up to go anywhere can make hibernation seem tempting, but don't fall off yet! My expert trend insights will prepare you to conquer the wilderness like the most fashionable beast. Follow along, the closest you'll be feeling to cold is totally !
Logomania has peaked, plateaued, and plummeted. Unlike most trends though, logomania—perhaps by virtue of its high-branded build—looks and is, regenerative. It just won't die, lampooning what can only be described as a "blotchy" enthusiasm for words. Words everywhere! In mixed fonts! At weird angles! Words on sleeves; tattooed on sneaker tongues; holographic and stitched; embroidered and appliqued. Slogans converting the consumer into the marketer, blurring the lines between who owns who. Like fruit stickers en masse. Like invasion of the body patches. Like a Vetements racing bomber. Like whatever Balenciaga is up to. Like Off-White's preoccupation with sardonic detachment. Like Gucci's insistence and Prada's proud heritage engraved dutifully throughout, even on eyelets. Logomania, like a sign of the times, or a time for signs, signs, signs.
The mid-2000s trope of hipsters dressing like lumberjacks was a trend that doesn't need to be revisited. Still, we clearly haven't overcome our nostalgia for perceived "simpler" times. While the word "hipster" has long since fallen out of favor, the sartorial trappings that define this demographic live on. Red Wings and Frye boots have been replaced by Off-White hiking boots and Salomon's—suitable for, say, trekking through the Wyoming grass at Kanye's album release party back in June. The eponymous red and black Woolrich plaid button up has received the Vetements treatment, sized up into XL proportions with tassels hanging from the sleeves—think , Lloyd Christmas in Aspen. Polar fleece has become a staple, from mainstays like Patagonia to Napapijri by Martine Rose. Whether you live in the city or the suburbs, the "heritage" aesthetic still has us dressing like we're headed to the chalet, every day.
It's true that not all heroes wear capes, and in the case of Fred Rogers, his alternative choice attire only made him more luminary. But his simple, nonchalant sense of style shouldn't be categorized with the modern "grandpa" fashion moment—he did it first, thoughtfully. Take his iconic canvas sneakers, for example, which were a conscious pick to create less noise while puppeteering and navigating sets. And his classic red cable-knit cardigans? All hand-made by his mother. In times where the world desperately requires Mister Rogers' careful lessons in kindness (or even just the pure joy of Tom Hanks playing his character) we can all channel his spirit by way of his approach to style—and of course, through his lyrics too: "You'll be welcome every place/And you'll win the fashion race/If you're wearing/And you're sharing/A real smile upon your face."
Despite its odd moniker, the fanny pack has evidently been the bag of 2018. This is exactly why it's time to forget about it—because with the changing of seasons, comes the changing of bags. And while we can't always predict the weather, we most certainly can try to predict the bags best suited to enduring it. Most of what you'll be carrying, you'll already be wearing, which is why in lieu of the pack it's time for the pouch. Simple, and with a very long strap, it's a go-to wearable pocket for your keys and important bits, that won't synch your style like its short-strap predecessor. Need more room? Wear more pouches! From the All-over Logo Explorer Pouch, to the Security Pocket Pouch, exposing how little you have in terms of freight is maybe to be expected when your puffer is already the size of a truck cab.
The rate at which hotly-anticipated drops sell out online is like the speed of light, or more exactly just like the speed of high-speed internet. Any rational understanding of time goes completely out the window when you compare that speed to the glacial rate at which time passes in a drop line IRL. Factoring fluctuations in drop-rate, you must dress accordingly. Be prepared at any moment to shift velocity, from Real Time to Net Time. A fanny pack will help with aerodynamism, while insulated North Face moon boots keep your feet planted in case of line surge. Bring a seat for when it's slow and be versatile in all-weather coveralls. The Undercover x Space Odyssey astro-puffer may also help to smooth the effects of drop-rate time dilation. DO NOT forget your supplemental battery pack, it is essential to remain charged at all times.