Color Story: "Manatee Blue"
Rebecca Storm on the Shade of Eco-Anxiety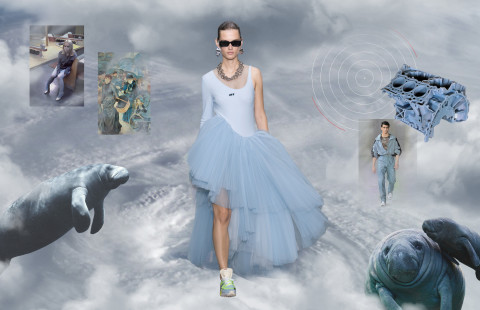 A single blue dress punctuated the Off-White SS19 runway in Paris. Its color, which appears more like a tint, is a shade of blue that has permeated our visual lexicon over the course of the last year. A blue that is pale at times, distinctively murky at others, depending on how it's draped, photographed. The blue of 3D printed prototypes; of stonewashed primaries; of cigarette smoke; of industrial dye baths; of dirty, worn out denim.
A shy blue: .
In the wake of the UN Intergovernmental Panel on Climate Change report published in early October of this year, and in a time when our reefs are dying, our temperatures intensifying, climate change denied under the guise of, "climatologists are acting on their own financial interests by causing undue alarm about a changing climate," fashion has become increasingly ecologically topical. Raf Simons for Calvin Klein 205W39NYC SS19 sent models down the runway in neoprene wetsuits and Jaws iconography. Pop meets prey meets predator, all playfully invoked. Chanel SS19 was presented on a beach—a fake beach. The type of beach we'll have fifty years from now.It's possible that Manatee Blue is the color of a burgeoning eco-anxiety. Like ripples on the water, it undulates in hue—sometimes deeper-darker, sometimes shallow-light. Veering away from past seasons' use of ultramarine, lapis, and teal, houses like Balenciaga, Off White, Erdem, Eckhaus Latta, and GmBH, have all diluted collections with the same, grayish off-shade of blue.Just as our oceans aren't blue, Manatee Blue isn't really , either—it is an optical illusion. As easy to ignore as it is engaging. As pacifying as it is anxious. Goethe says that blue is a "contradiction of excitement and repose." In , worn out and infertile handmaids, as well as women who have "misbehaved," are sent to live out their days working in the colonies. Here they mine toxic earth, their protective attire all the same noxious shade—baby blue under a shroud of yellow sulphuric smoke: a clinical blue that's been sullied. Manatee Blue is utilitarian, clean enough to wear to work, resilient enough to get dirty. It is the blue of workwear and of industry. It lends itself to dystopia.
There is a vintage quality to Manatee Blue. It betrays a failed human attempt to create sky blue. It is the faded suggestion of luxury in a pale blue 70s Oldsmobile sedan; a brocade, rayon dress; the curtain in the back of an old photo booth. Or in , Christina Ricci's Manatee Blue dress the photo booth, her Manatee Blue eyeshadow, spanning time. At the forefront of 50s and 60s rock, musicians navigated the stage with an almost insolent masculinity. In contrast to these conventionally handsome philanderers, the late Roy Orbison—whose trade was of a vulnerable, more subversive variety—stood out. It is rumored that Roy, insecure about his pale, ruddy complexion, dyed his hair black and obscured the distorting effect of his heavy prescription bifocals by wearing darker lenses. A misunderstood troubadour who sang of crying, dreaming, and loneliness, Roy has over a dozen hits whose titles contain the word "blue" (in a capacity other than ). In 1988, mere months before his death, Roy stands on stage, his voice spilling from his mouth with the same inadvertent ease as a train of bubbles might leave one's lungs underwater. "Dream, when you're feeling blue / dream, and it might come true." With his slouched shoulders and curious air of benevolence, seeming almost bashful in the spotlight, Roy Orbison bears an uncanny resemblance to the manatee. It is more than coincidence then, that last month, Roy Orbison's hologram kicked off an American Tour.Like the blueish cast inherent of his hologram; like the photo booth curtains; like the color of instant messaging; like a thriller's filter that renders red blood black; like thick, chemical smog contaminating a cerulean sky; Manatee Blue possesses an equally synthetic quality. Which makes sense—the presence of blue in flora and fauna is nearly obsolete, unless it's suggesting the simultaneous presence of a toxic substance—the poison arrow frog, or bruised psilocybin. To wear blue, then, is to be existential: am I of nature? Or am I synthetic? Manatee Blue pioneers a new AI: artificial intrigue. The hue of cyborg soma, suited to our electronic appendages and malware minds. Manatee Blue is the unsettling smell of rain on asphalt—petrichor, but with synthetic intervention.In 1966, Stewart Brand petitioned NASA to release photographs not of the moon, but of the whole Earth, from the moon. Wishing to direct the gaze back at us, rather than toward literal infinity. Manatee Blue is not exclusive to the scant speck that is a human on Earth—it is the color of Earth. Of zoomed-out satellite images that confirm the melting of our glaciers, of the increased heat the darker sediment brings to the Poles by attracting the light of the sun. Of hurricanes photographed from space, of wildfire smoke above Malibu—we are living in an era of topological images, of big blocks of Manatee Blue. The color has moved from provincial to continental, from the single organism to the big picture. It's come full circle. The maxim "too big to fail" slowly evolves into "too big to fix."As Manatee Blue is increasingly a cipher for change, for impending tragedy, we have begun to analogue with it in an attempt to understand it. Folding it into our means of self-expression, wearing it in an attempt to grapple with the implications of it. Being nearer to that which does not make sense is, perhaps, a very human way of trying to reconcile it.Maggie Nelson's is an ode to all blues but manatee: "I must admit that not all blues thrill me. I am not overly interested in the matte stone of turquoise, for example, and a tepid, faded indigo usually leaves me cold." Qualities like matte and faded suggest a lack of saturation-zeal, which matches Manatee Blue's tendency to present as gray. Yeezy operates in this realm of desaturation, with dusty beiges, and blacks so worn they're charcoal dust, giving a suggested air of experience. A topographical palette—the colors of our changing climate, of solastalgia. Manatee Blue appears in Yeezy FW18 under the name "glacier" blue, but also in the dull blue of reflective material (in repose, when it isn't reflecting).
Manatees were, until 2016, an endangered species. They have since been downgraded to threatened, but this is palliative relief for the armchair environmentalists. Manatee Blue's presence on the runways now suggests that an increasing sense of ecological urgency is not unfounded. Our approach to sustainability is similar to the temperament of a manatee—docile and earnest at best, but fundamentally too slow, simple.The Impressionists believed that no shadow is black. Instead, blues and indigos were implemented to give a sense of depth, or a lack of light. Renoir's Bal du Moulin de la Galette imagines a sun-dappled luncheon scene with dancing and chatter. Isolate the shadows and you'll find Manatee Blue. Or Degas' dancers, the white tulle of their skirts Manatee-Blue'd to accommodate the shadow of their outstretched arms. The color of Nike's Blue Zoom Fly SP Fast Sneakers bears the title of "obsidian blue"—another occasion of blue disguising itself as black, or vice versa. Goethe observed the gloominess of blue, too "Blue: as yellow is always accompanied with light, so it may be said that blue still brings a principle of darkness with it." This phenomenon of overcast blue-gray can be seen in the antiquated film grain of the sky, or the faux-grain sky of Kim Kardashian's Instagram filters.In what I'll happily consider more than a coincidence, Molly Goddard included in her Spring Summer 2018 collection the Rebecca dress—gauzy swathes of Manatee Blue. It's worth noting that, despite its dreaded last-season-anachronism, Manatee Blue is perhaps all the more relevant for this. It reaffirms its sluggish, temporal subsistence: the color of an afterglow, a dream, of smoke. If you watch footage of the California wildfires for longer than a minute, and then close your eyes, your fatigued cone cells will reveal flame orange's contrast complementary: Manatee Blue. It is seemingly the pantone for macro change, an ambient plea for action—the specter of 2018. Could we argue then, that in light of Manatee Blue's growing presence, things have gotten darker?
SSENSE. Editorial Magazine.