Color Story: "Sporty Pink"
Durga Chew-Bose Forecasts a Worthy Adversary of Millennial Pink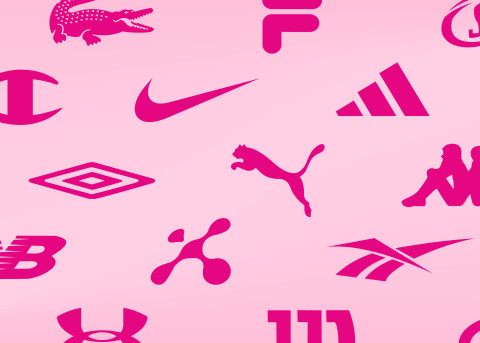 At the start of (2003)—the second installment in the action film franchise—Suki, played by Devon Aoki, street races her custom pink convertible southbound on Biscayne Blvd., swerving past the American Airlines Arena, and finally, launching herself full tilt across the Miami River, clearing a bridge jump while exclaiming mid-flight, "Smack that ass!"
Suki lands hard, clinching second place—her decal-emblazoned Honda S2000 suffering minor wear. Thrilled, she pulls up behind Brian (Paul Walker). They exchange a nod; Suki glowing pink like her car. Pink like the fiery boost of its nitrous. Pink like the sparks that fly off her bumper as she joyfully careens around corners, scraping metal against blacktop. This shade of pink in particular—which director John Singleton designates to Suki, keeping his vision of South Florida mostly grey, cream, baby blue, and orange—is what I'll call "sporty pink." It's a color that feels, to put it plainly, so familiar. Nostalgic but from the future. Not quite 3M and lighter-hued than T-Mobile, sporty pink is the Yamaha of pinks. It's slick, sharing chromosomal ties with magenta, hot pink, fuchsia (on steroids), and hex code's "deepink." Pantone's "Pink Flambé" and surrealist Italian fashion designer Elsa Schiaparelli's "shocking pink" also come to mind.
In Kassia St. Clair's , the London-based author notes that Schiaparelli characterized shocking pink as "bright, impossible, impudent, becoming, life giving, like all the lights and the birds and the fish in the world together." Sporty pink intimates a similar taxonomy. A blend of pink that gives you a contact high. Cartoonish in its way—a bougainvillea in bloom were it animated by Studio Ghibli.More so, sporty pink connotes not just mood but materials: neoprene, silicone, the gripped comfort-touch of disposal razors, urethane, PVC and satin (the entirety of Beyoncé's Hype Williams directed "Check On It" video), cotton-Lycra, rip stop, the rubber touch of rhubarb stems, and whatever thermoplastic substance is used to make mouth guards. The word, "sporty"—dated, certainly—serves less as an attribute and more of a nickname. Like Mel C. An outmoded notion in these athleisure times, adding irony and nervy attitude to the color. The way lip gloss—despite its shine—can be used to perform disinterest. Sporty pink is, after all, the opposite of a matte lip.
Predating and perhaps even bookending millennial pink's half-decade clean sweep of all things fashion and design, or rose gold's Apple-influenced cloying decadence—"…gold for people who already have enough gold gold," wrote Rebecca Mead in in 2015—sporty pink is a caliber of pink. Whereas millennial pink was popularized by Glossier-branded minimalist visuals, sporty pink—while not explicitly maximalist—is less preoccupied with aesthetics of self-denial or curated Instagram austerity. A still life serves no purpose for sporty pink. The color's sweet spot is motion, stretch, the deceptive appeal of pleats. Sporty pink is irremediable and not merely because of its bright properties, but because sporty pink is stubbornly, lastingly connotative. It plays for keeps. Like any trend cycle, colors follow patterns of repetition that count on our penchant for growing tired of anything that turns mainstream. While a color's ubiquity might not necessarily depreciate its value, our impatience for what's next mixed with, it's worth noting, qualitative reactions to the times, means that the process of color forecasting—along with collecting and evaluating data—involves a good measure of clairvoyance, observational finesse, and above all, a sensitivity to the very function of the element of surprise: creating strategic advantage. Once a color has been dormant, gone from people's radars and even purged from the frenzied facsimiles of fast fashion racks, it resurfaces on the runway, reorienting the course of whatever chromatic tendency administers the next season. So, think pink! Sporty pink.
"When I hear , I think of 'the girl's version,'" says writer and editor, Ayesha Siddiqi, whose fashion and color forecasting, on Twitter, correctly prophesizes—by observing how trends interact with hype culture, presidencies, systems of revival, and socio-political movements—what shade of green, or pylon-orange, or pink, for instance, will soon occupy the runway and eventually rule our closets. "In our childhood, which was the 90s, every toy or character had its female analogue in hot pink. Whether it was a bike or a Power Ranger. And like the Pink Power Ranger, I think of white girls, who, as a 'female analogue,' are presented as neat and tidy, and…'sporty.' Sporty is the nonthreatening 'cute' alternative to athletic. Sporty is diminutive. I don't relate to diminutives. My lack of investment in white American femininity has largely paralleled a rejection of pink, maintained more recently by how unappealing I find 'millennial pink.'"Siddiqi agrees that sporty pink, unlike other pinks, prompts two conflicting chronologies. "That's because it has a place in both timelines. Colors don't need to change to take on new meaning, only our associations do. I think neons will always be an attractive color, in doses. I don't care for pink until it becomes electric, which matches my attitude towards sports, too. I don't think I'm "sporty"—I'm occasionally athletic, but I've never been the type described as sporty. There's something upbeat about it, a swinging ponytail instead of the repose more natural to me. But those distinctions feel dated. Pink is for everyone. So are sports. I'm down for a sporty pink stripe."
Last February, in New York, Paris, London, and Milan, sporty pink continued to sprout. Not elaborately, but sensibly (and sometimes sneakily). At Sacai, Chitose Abe sent models down the runway in compound outerwear: shape-shifting fusions of wool trench coats, collegiate blazers, quilted liners, puffer jackets. A hyperbolic—yet classic—interpretation of fashion's preoccupation with hybridization (which Abe pioneered), Sacai's collection seemed to harmonize with sporty pink's future-nostalgia, incorporating the color with circus stripes on tiered coats and punching-up pendulous sweater sleeves. At Adam Selman, inspired by the work of 80s image-making artist Cheyco Leidmann, the designer's graphic collection included fantasy-rich loose and flowing sporty pink frocks—one-shoulder and caftan-cut, respectively. And in a redux of Melanie Griffith in , Alexander Wang interrupted a mostly black, white, and grey collection with sporty pink Chanel-inspired tweed fitted-jackets. Demna Gvasalia's Balenciaga treatment of sporty pink was strong and skin-tight (a gloved, crushed velvet turtleneck) while also playful and psychedelic (an oversized Muppet fur coat and matching shopping tote). Finally, at Valentino, Pierpaolo Piccioli's romantic silhouettes were a study in movement and concealment: a sporty pink oversized blazer and a sporty pink shroud topped with a gathered hood. Like something from or Middle-earth.
Since its arrival in the 80s and 90s (think: belted one-piece ski suits, Tonya Harding, DJ Tanner, Donna Martin, the New Kids on the Block, the boy band's font, too, and so on, and so on), one could argue that sporty pink never totally left. While some colors exit the mainstream, others—with their association to childhood and teenage memories—are granted the rare privilege, at least in the fashion world, of low-level longevity.Sporty pink is perhaps color most linked to the notion, formed young, of best friends. The symbolic kind (the bracelet, necklace, Claire's accessories variety) of best friendship. That is, a concept we outgrow or rather, reconsider in adulthood, seeking more meaningful, less declarative connections. Still, I text my best friend and ask her what "sporty pink" brings to mind. Sarah responds: "Britney for Skechers." Accurate, I think to myself, though a quick search of Britney's early-aughts ad campaign for Skechers produces zero sporty pink. So why did Sarah's response seem true? Conceivably enough, sporty pink isn't purely a color. It seems to locate a period in time and a tier of celebrity, even lapsed celebrity: manufactured and strictly pop, with Americana derivation. As writer Doreen St. Felix noted last month, tracing Britney's career-long relationship to fashion and recent sartorial comeback as the face of Kenzo's La Collection Memento, "Part of the vitriol directed at Spears during the time of her public breakdowns was driven by her perceived proximity to the white working class." Sporty pink—its name and tint—suggests a lifestyle that might elicit judgment or is entirely dismissed, but that ultimately sells. Like celebrity fragrances.
On Twitter, I follow this account called "colorschemer" (handle: @colorschemez) that tweets color triptychs, classifying each panel with a name. The groupings are random, by no means authoritative. And the nomenclature—if one can even call it that—is odd, fluky, and often seems lost in translation. Recent combinations including shades of pink relevant to sporty pink: "billowier hot pink," "homeliest hot pink," "positional neon pink," "higher barbie pink," and "Belgian hot pink." The latter, perhaps, having something to do with a variety of Belgium Chrysanthemums or what they call "pink autumn" in Bruges (though apparently, the pink appears far more shocking in photos than in person).Long after scrolling past it on Twitter, one panel in particular is, I'd venture, the title-holder. In the tweet, @colorchemez characterizes a shade of pink as "carpophagous light magenta." As in: fruit-eating magenta. Like if magenta were a bat. While I can't totally identify why, distinguishing a shade of pink as being frugivorous feels definitive. As though the color is somehow sticky—thriving in temperate, tropical climates. A pink that feeds on figs, mangoes, dates, bananas. Bat-pink. An pink. The sweet, candied, entirely pop-category of pink.In "The Lure of the Dark: Contemporary Painters Conjure the Night," a group exhibit at Mass MOCA, the artist Sam McKinniss is currently showing a new painting titled . In it, Lana Del Rey is wearing a white sleeveless top, a white skirt, and classic Chuck Taylor All Stars. As if praying, Del Rey is holding her microphone with both hands. Behind her: a confetti shower. A spectral pink aurora borealis. McKinniss' portrait of the performer emphasizes the conspicuous impact of pink. Of this shade in particular. How it simulates mood, night, paradise, glucose. How it enhances while also attending to our recent-pasts. It's a shade of pink only the wearer can possess. Britney in 2004, honeymooning in Kentwood, Los Angeles, beaming in her "I Am The American Dream" t-shirt. Jesminder in her sari, triumphant at the end of . The nocturnal dawn of Lana's divine power. And of course, Suki's airborne ecstasy when she makes the jump.
SSENSE.