Cottweiler's Fall/Winter 2016 Collection Research
The London-Based Designers Explain How They Distilled a Hyper-Minimal Vision of Menswear from Rural Themes and Internet Fetish Videos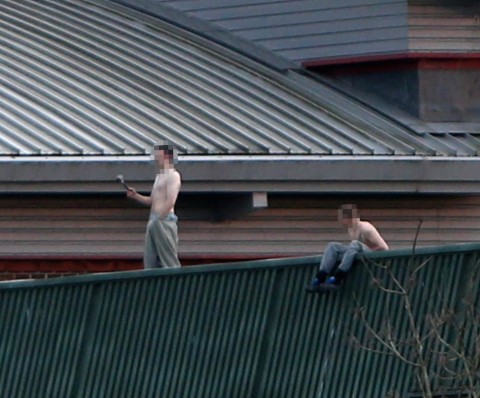 "The future isn't glossy," says Cottweiler co-designer Matthew Dainty, "Years ago everyone thought the future was a touchscreen phone. Now everyone's walking around with a touchscreen phone with fingerprints all over it and dents and smashes in it."
Sourced from the brand's internet-based research practice, Cottweiler's Fall/Winter 2016 collection is infused with references from agriculture and prison roof riots, as well as mud and quicksand fetish videos from online forums. It is not the most obvious source material for an independent label known for high-tech fabrications and uber-minimal takes on contemporary dressing. Yet their self-developed imagery—which includes catalogues of research and content behind every runway show—is the extension of a new type of relationship between fashion and subculture. Centered around the urban uniform of the tracksuit, Cottweiler's collections propose a reworked vision of authenticity.Designer Isaac Penn spoke with Cottweiler co-designers Matthew Dainty and Ben Cottrell, who shared the research behind their Fall/Winter 2016 collection.
Where do you find your images?Can you explain the community on mudboyuk.com?
MD: In the past, a lot of it has come from YouTube groups. These groups use tags and keywords, so you start to work out what kind of words they use in order to present various fetishes. The new collection was about guys who submerge their footwear—either trainers or boots—in mud, or various types of outdoor scenarios. When we started researching the YouTube videos, rather than actually just lifting those images straight off of YouTube, we recreated it ourselves in our own kind of way. There's also a big relationship between Flickr groups and the YouTube community, and a lot of users who use both sites exclusively. It's a way for us to get involved in the reason why these kinds of material objects are fetishized. Therefore we just do it ourselves, basically, but in our own way.MD: It's a bit of a hidden community, and that's what we like about it. A lot of people wouldn't see it as something sexualized. So, it's really about the viewer—about the viewer understanding the references.BC: I guess it could almost be misunderstood as product testing as well, because they're similar to product testing videos.MD: Yeah, they're very similar to product testing videos. If you're going to purchase a waterproof boot or something, you're going to see it being tested in water, in mud, and other outdoor scenarios. But the video will be titled with the full name and model of the footwear instead of some "mud" tag.BC: This whole community is kind of geeky-technical in a lot of ways.MD: There's a list of tag words that you're always looking out for, depending on what you're looking for, so you kind of start to link with guys who are linked with other users who use the same tags in order for the YouTube search to bring up just their videos. But it's quite obscure and quite hidden.
But the people who are making these videos, are they middle-class laborers, or from the countryside?Your older videos showed boys showering fully clothed, and now you're working with this mud aesthetic. How did this idea of moving things from a clean silhouette to maybe getting things dirty come about? It's kind of like a taboo, especially in sneaker culture.
BC: I think it really varies.MD: Yeah, and I think that it's quite important to say as well that it's not necessarily a gay fetish. I think a lot people automatically assume that "fetish" equals something that gay guys are into. But we've reached out to a few of the community members over the years and they come from all walks of life. And all ages. It could be people that have an obsession with working class culture, which tends to be a Nike sort of fetish. But there's also older German men who are really into water-sealed outdoor wear—more techy things.BC: Or young lads that work on farms, who are maybe 16 or 17 years old. They're in the fields anyway, so they start to film themselves, probably a bit out of boredom? []MD: A mud fetish is actually quite a common thing—there are a lot of sites, like porn sites that show that kind of thing. But this is obviously different because it's not pornographic in any way. For us, we've started using it as a way of considering how technical materials can work with natural materials and textures. For Fall/Winter 2016, placing textured bouclé knit with cellophane was our interpretation of envisioning these kind of technical, waterproof materials being submerged in natural, dirty materials.
If a mood board is like a form of language for a designer, how does yours translate from content to product?
BC: I think it's pretty literal in a lot of respects, especially color palette. The mood board is always reflective of the color palette and the textures we're going to translate in the fabrication.MD: Also, we do a lot of research into clothing industries that are not related to fashion, like chemical protection, workwear, safetywear, even stuff that's worn for catering industries. And a lot of the time in our research, those companies and those products tend to be on our mood boards. We always end up collaborating with one of them. Last season, for example, we used these cement finishing shoes, and that was one of the first items that went on our mood board.BC: There's always a lot of home interiors as well.MD: If we're looking at a particular wall finish, we would try to find a similar texture or finish in a fabric, and make it wearable.
In the last collection there's the landscape of wheat, the landscape of glass, and the landscape of roofs, which are all monochromatic environments. There seems to be this idea of uniformity even in the environments you choose.
MD: Yes, except the difference and the contrast is with something like the wheat, there's no order to how it grows. It's more of a feeling of nature and disorder. In contrast with the modern materials, it's really about our perception of what the future is. The future isn't glossy, clean materials, you know? Years ago everyone thought the future was a touchscreen phone. Now everyone'
Your collections are serial, they use similar patterns, and some of the aesthetics don't really change. I'm interested in the uniform of these environments with the uniform of your garments. There is something so personal and private about your process in research and design. But in contrast, there is a greater communication between your ideas and a larger group.
MD: We've always worked instinctively, and quite spontaneously as well. Having said that, over the years we've tried to understand why we're instinctively drawn to certain aesthetics. And I think from taking that point of view, it has created a pattern and uniformity from season to season. It's our identity, and that never changes, it just evolves. And so the pattern sort of has the same rules, but grows and develops with us at the same time.BC: Well, I think it's because we draw inspiration from stuff that's familiar to a lot of people, you know? We never just pluck something out that nobody's ever seen before, it's always got references to home or everyday life.MD: Yeah, and I guess that kind of plays into the whole cult thing. We're interested in groups and how groups form and what they use to relate to each other.BC: And educate each other.MD: And so there's always a common doctrine between a group, or a sort of common theory that they follow, whether that be Hare Krishnas, skinheads, these YouTube groups, etc. Everyone has these common interests that they get really into and obsessed with. And in turn, we get obsessed by researching them. There are elements of obsession in our backgrounds as well. I had a kind of vaguely religious upbringing. Ben's family were like teddy boys and skinheads and all this kind of thing. Ben's dad was into rave culture, and that's all about group mentality. It's all about having a uniformity within a group—but that group standing out from the rest of society.
You guys also stay away from prints. Why is it always a concentration on material instead of print?
MD: I guess it's again a bit of a geeky thing. We're really interested in fabrication. We're also really interested in the way you can create light without color using layering systems and transparency.BC: We're looking into embroidery a lot at the moment because we feel it adds quality to the garment—more so than print.MD: Embroidering onto technical fabrications feels like the sort of aesthetic that we were talking about earlier: clashing two worlds together. This contrast is imperative to what we do, but it's always tonal and clean. We want the customers to be able to cross-merchandize their wardrobe season upon season. Besides, London is quite well known for print, and we wanted to set ourselves apart from that. We never wanted to be doing what was kind of saturated at the time, and when we started everyone was doing it.BC: We were told by a buyer once that we need to do more print, so we didn't. []
With the colors of your past collection, the brown mud with the jade, you moved away from black and white. This must have been liberating for you.
MD: We like using white, we like using black, but we never mix them together. In the early days, when Ben and I first started making clothes for ourselves, we used to do a few white prints on black garments, but we soon realized that it wasn't unique, it wasn't original, and it was just all over the place. And we've always had longevity in mind. We're always thinking about how we can produce something that is going to be around for a really long time—new pieces that become timeless classics. We're always trying to avoid trends. The minute we see something that someone else is doing, we tend to kind of go the opposite direction. We always do a concept color. For Fall/Winter 2016, the sheaf was the main symbol, and therefore we did a few wheat-colored garments. And same with Spring/Summer 2016—we showed an all-white collection but we also refabricated it all in coral to represent the inspiration, which referenced Hare Krishnas and other religious dress codes.
But it's never a pop of color, as with most fashion brands.How do you put these synthetic and neutral colors together so it looks cohesive?
BC: No, not really. To be honest, we have quite a limited palette. We're always in the blue, white, beige, black zone.MD: The brand identity has really become about making a subtle statement, and that's exactly what it is. It's not about being overly ostentatious, it's not necessarily about wanting to stand out in a crowd. Instead, it's about being noticed over time.BC: I mean, it's instinct.MD: Yeah, it is instinctive. It goes back to us being quite obsessive about uniformity.BC: And I think we realized a couple of seasons ago that although the research that we gather had always been pretty strong, it felt more real if we actually created our own imagery and research.MD: Because whenever we do a show, it's about a sensory experience. So, in order to make other people feel something, I think you need to experience and feel it yourself.
Do you think your customers are aware of the honesty of your imagery and products, and how reflective it is of the brand identity?
BC: I think some of them are.MD: Some are, some aren't.BC: We don't put all our information out there, but if you want to discover more and you want to understand more, there's plenty of material to go back through and find the connection between everything.MD: We don't like to bombard people with information. So, for example, on our Instagram, we only post once every two weeks. Same with press, we don't do every press opportunity that comes our way. We don't do every interview.BC: We don't share the research unless you come to the studio and actually see it for yourself.
I think that there's some code about how you wear your garments. It's always a full look—there's the bag, there's the hat, there's the top, there's the pants.So, what is someone committing to when they buy this uniform?
MD: Yes.MD: We just like stuff that matches, to be honest. [] That kind of maybe goes into the whole uniformity side of things.BC: But I think it's the same as creating these subcultures or these identities in groups. If you look at any decent subculture in the past, there's a full look, there's a head-to-toe look. You can't just wear a pair of braces and be a skinhead. You've got to have the right cut of jeans, the right boots, do you know what I mean? If you're committing to being a Cottweiler boy and you're going to dress head to toe in Cottweiler, it would be weird to put it with another brand. You could, of course, but you're committing to becoming part of the brand or group.