Cover Me
How Army Uniform Staples Infiltrated Civilian Life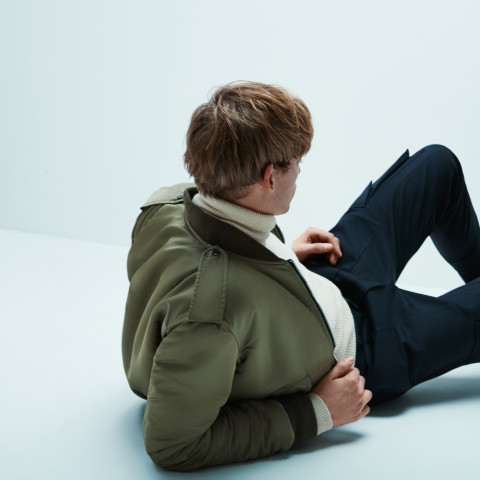 Fashion, at its core, is a progression of references to cultural events, historical people, and political ideas. For anyone involved, be it customers or commentators, the charm lies in tracing a garment's heritage. Where does it come from, what inspired it, and what was the environment in which it was developed?
In menswear, most pieces are focused on functional purpose and utilitarian details – and who shares that sentiment more than the army? The military has long been a source of fashion inspiration. It's not only excess pockets and zips and different shades of camouflage that form the attraction, but also an ongoing obsession with what the army stands for. Forget about the gruesome details of warfare, it's the sense of power uniforms radiate that designers look to. Structure, rigidness, and purpose are key words in the military as well as on the Parisian and Milanese catwalks.As long as men have gone to war, there's been a need for uniforms. They distinguish who's who, but they also create a sense of belonging. You're part of a club, a gang. The badges tell stories of brave accomplishment and hardship endured as part of a unit. Even when soldiers de-mobbed back into civilian life after the Second World War and brought the pieces they had learned to love with them, they represented something bigger. They had shared good and bad experiences – and their uniforms, deconstructed and repurposed for city life, were a testament to that.
Though the outerwear showcased here is not literally picked off privates and corporals, today's designers have borrowed key elements from military uniforms. These are 21st-century versions of field jackets worn in the 40s, wool coats from the 50s, bomber jackets sported in the 60s, and down jackets from the 70s. Their timeless appeal comes from the very reason they exist: because soldiers, whatever front they fought on, needed versatile and utilitarian clothes that would last and do the job. Men, looking to buy a new coat for the winter, seldom need to know much more than that a style is the result of 70 years of constant fabric development and design innovation. "If it was good enough for the boys on the front line, it's good enough for me."It's this demand for function that makes winter the most sartorial of seasons. Arguably, heavy coats in luxe materials are the pinnacle of design, especially in menswear: nowhere else in the male wardrobe are silhouette and shape so important or prominent. Oversized or body-hugging, coats are statement pieces in the truest sense. They might come off once you're inside, but until then they're the main event.
Every season there are undoubtedly a few themes and trends in coat color and material, or maybe a pattern or specific length defines the fashion fad. Nevertheless, most brands favor a few wardrobe staples: the kind of garments that never go out of fashion because they never were in fashion. Peacoats, bomber jackets, double-breasted greatcoats, and field jackets, to mention but a few styles, are menswear icons. They'll return cosmetically updated, but their true identities have more to do with style than fashion.And Fall 15 is no exception. If anything, this season only reinforces the point made so eloquently by aviator jackets, down coats, and bombers: never change a winning team. Labels like Alexander McQueen, Alexander Wang, Saint Laurent, and Costume National, as well as more conceptual designers such as Junya Watanabe, Haider Ackermann, and Maison Margiela, have all taken this dictate onboard.
The utilitarian purpose and agility of contemporary menswear ensures you can get on with life without doubting or questioning the quality of your coat. These jackets and their lineage mean you're in safe hands. The best ones will not only withstand battering winds, harsh rain, and sub-zero temperatures, but also stubborn trends. A good coat goes above and beyond fashion – it has function and style.