Craig Green Is Honing His Soul
The Bright Light of London Menswear on the Beauty of Uniforms and Expanding His Creative Universe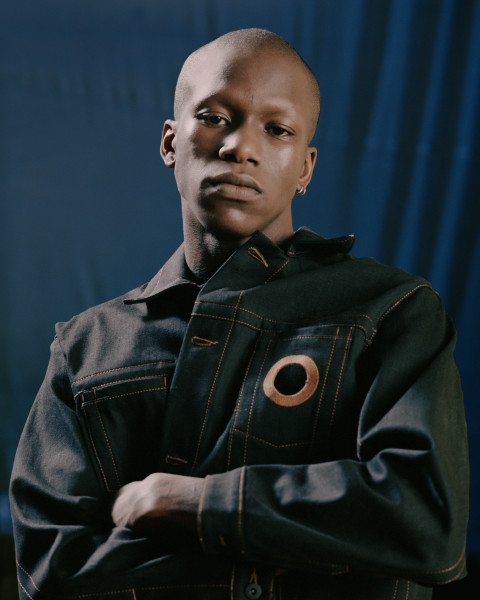 Craig Green is talking about uniforms. It's a winter morning and we are sat in a booth at Hoi Polloi in Shoreditch, east London, on our second pot of coffee already.
For many, uniforms are a symbol of wealth or power, but for Green, they are a leveller for the low-waged. "I remember at school when you had a non-uniform day," he says, "the poorer kids would feel really self-conscious because they'd have to wear normal clothes all of a sudden, compared to the rich kids who had flashy Nike trainers. I remember my mom saying it gets rid of that idea of what you have or how much money you have and it makes you as one. It can be seen as a negative thing because it's anti-expression, maybe, but then it can be seen as a protective thing emotionally, as well."
Such notions are at the heart of his label. From his first collection, Green—31, born and raised in Colindale, north London—has based his work around the silhouette of a worker's jacket. By doing so, he focuses not on the transparent aspirations of status, but on bringing ideas of community and commonality into a high fashion context. Often, his shows have felt like an expression of hard-to-vocalize emotions that are usually kept concealed, repressed to the detriment of the individual. In this way, his work manages to be both highly ambitious and humble.I should declare bias here: I live in Green's stuff. My first pieces were from his debut presentation, as part of Lulu Kennedy's Fashion East installations in January 2012, straight after he'd graduated from the MA program at Central Saint Martins. I bought two simple, raw cut pieces, one a cotton canvas t-shirt printed with white bands, the other a long-sleeve top of cheesecloth with a stripe of medical bandage painted white. There have been many favorites since: a navy patchwork sweater with denim woven into the yarn so that flecks of colour fade over time; a cotton sweater with a swirl of tie-dye; two little quilted jackets of washed silk; a thick knit sweater from Fall/Winter 2015 with a circular hole at the stomach. Each garment has intent, both in the ambition of its design and the practical matters of construction and wearability. And although each are from different seasons, there is a clear connection of thought between them.
Recently, Green has formalized his ideas of uniform, introducing a core collection that sits alongside the work he shows on the catwalk. This core collection continues between seasons, constant in its design. "It's based on the way I buy clothes, and how lots of men I know buy clothes," he says. "Finding something they like, they are creatures of habit—I don't know why. I'll buy the same pair of jeans 20 times over."The benefits of this approach are manifold. For one, it allows Green more space to explore in his famously directional shows, which often include ornate, sculptural pieces made from wood and plastic. "It gives us the freedom in the main line to be more experimental," he says. "To have that pure expression rather than having to worry about showing a pair of normal trousers or a jacket." The core collection is Green's version of heightened normality—boxy jackets of vertical quilting, bouclé sweaters, wide tailored pants, and loose-cut denim decorated with a circular back pocket cut-out, emphasized with golden stitching. The initial idea was to separate core from the main line, but that denim found its way into the Spring/Summer 2018 show, opening the show and providing a counterbalance to the experimentation that was to follow. This uniform look extrapolated from traditional workwear is effectively a base camp from which Green can stage ever-wilder creative expeditions.Green says the two lines have begun to inform one another practically, too. "Doing the core allows us to make sure the fit of the main line is better. We are structuring what our sizing is. The XL sizes are the sizes that sell out. I'm now a large, so it's for a bigger man than me, which I don't think many brands cater for in menswear. It's usually, like, dads have to go to Gant. They can't really buy a fashion jacket or something they think is exciting."
When we have spoken before, Craig defined his work as fashion and not luxury. It's a crucial distinction. These are garments made for the body to do things within, rather than garments that decorate the body in a display of power. "Almost every show that I think has been successful is almost 100 percent cotton, or a cotton mix, and never really intentionally. We buy other fabrics, or other glam things, or things we think are fab for the luxury man, and as the process goes on they get eliminated, and then we look at the show and we're like, 'Oh god, every single piece is cotton.'"It has been that way since his very first catwalk collection, held as part of the Fashion East collective show MAN. Many of the models walked the runway wearing planks of wood across their faces, like the outpourings of a mangled brain. Craig calls them "fence face". "I look back and I think it was one of my favourite shows, because I love how strong-headed it is in its basicness, in terms of colour, fabric, structure."
"I don't think we could do it now," he says. "There were raw screws on the inside that we just put little bits of foam over and painted them. If any one of those models had fallen over face first, I dread to think." That show saw garments and colors repeated and re-echoed, setting a template for how he has shown his collections since. "Even in the beginning of the process, it's like blocks of color on a wall, which is a very uniform, coded way of building the show. It was almost like we were making sets of a grouping or a cult," he says.This adherence to uniform and repetition is what gives Green's label its season-to-season continuity. "I always feel like there are two types of fashion brands," he says. "There are 'fashion' fashion brands that one season they're doing this, and then the next season they're doing the polar opposite. Then there are fashion brands with a clear story. They have a clear aesthetic and a point of view, to the point where they have ownership over that aesthetic."He knows exactly which he would rather be. "Sometimes we've bent to pressure that we should be a 'fashion' fashion brand," he says, "but I look back and the shows that I love are the ones that are so focused."But then, with his brand only five years old, Craig questions himself: "To be a young brand these days, do you have to be a 'fashion' fashion brand? How long do you have to build the aesthetic? How much time do you have? How repetitive can you be in honing that soul?" It is an open question.
We go back to those core collection jeans: "The idea of the hole came from a Chinese communist uniform," Green notes. But he is also referring to his own past: that Fall/Winter 2015 thick sweater with the hole in the stomach, like a handy portal for his favourite film character, the titular monster from . "I just love a circle, I don't know why. It's like a circle of people, it's like an air-hole, it's a bit sexual in its own strange way. It's like an emblem. I like the spiritual aspects of a circle."This talk of circles makes it clear: what Craig is seeking is balance. Does he see his collections in terms of cycles? "I used to see them in twos, but then I looked back right before the last show—I think they are actually threes. Spring/Summer 2018 is the beginning of another three. The previous three were almost nostalgic. They were kind of romantic in the washed silks, the towelling textures, the washed out tones, and the block prints. Spring/Summer 2018 felt like instead of twisting the past, it was twisting reality, or the now. It was more modern rather than nostalgic romanticism."
The show also was his first since he graduated from the NewGen scheme, the British Fashion Council's long-running supporter of young talent. It means from here on, Craig is standing on his own two feet, his business entirely independent. "It was the first one where we were out on our own," he says. "It was kind of a new beginning. A little bit."
Financial Times. Luncheon, i-D, Love Fantastic Man.