Creative Liaisons
From Hyein Seo to Stüssy, the Creative Strategist on South Korea's Ascent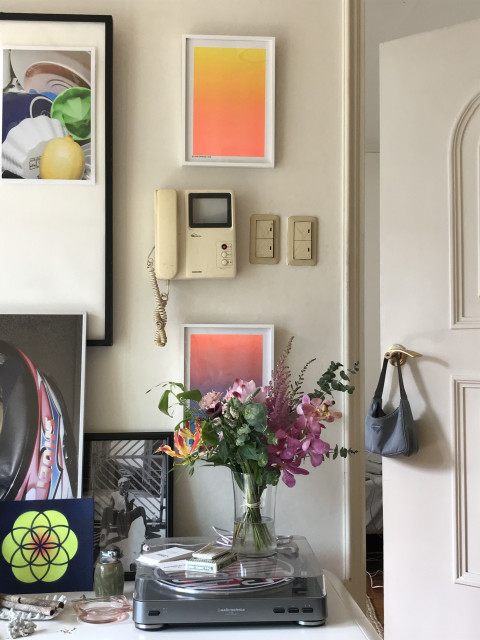 If there's one place that 2020 took mercy on, it might be South Korea. It is one of the highest ranked countries for its management of the COVID-19 global health crisis. It's the world's internet capital, and has given rise to the most organized and passionate generation of online activists. And it's the birthplace of creative geniuses like BTS and Bong Joon Ho. Korea is an emerging and exploding phenomenon, its cultural presence only continuing to grow and permeate globally. "For the past century, global culture has been Western-dominant," Kyuhee Baik tells me, "but Asia has a very long, refined history that has been overlooked."
Baik operates at the center of the country's fashion and creative scene. She splits her time between overseeing Stüssy Korea and strategizing for Hyein Seo. "I never thought I would work in fashion," she tells me, looking back on her days as a scholarship-granted anthropology student at Seoul National University, one of the region's most prestigious schools. "My biggest break was being headhunted by adidas. They had a new role for energy marketing, activating the brand in the local scene and community in Seoul." After almost two years working with the brand, Baik found herself consulting for a range of other companies spanning from fashion, hospitality, and media to food and beverage. She is the go-to liaison for global companies seeking to enter the Korean market, and Korean companies who want to launch abroad.After 12 years in Seoul, the 34-year-old from Calabasas has her eye set on planting roots in Korea once and for all. "Over the past several years, the demand for Korean culture has grown exponentially on a mass, commercial level in addition to more subverted, underground niches. Now, I know why I had stayed for so long." Baik talks about how she navigates working for multiple brands, exciting Asian talent on her radar now, and her most prized possessions.
I oversee the business and manage the brand in Korea. My first big task was cleaning up the local market. Stüssy was overly saturated in wholesale—too accessible and over-represented in Korea. I took back the distribution. Another big thing was developing and launching e-commerce here. Koreans are insanely online-savvy and spoiled with fast delivery times, so that was a huge challenge to tackle. You really need someone on the ground to look at the different channels of business and make sure that the brand experience is consistent and balanced across wholesale, retail and online. My biggest role with Stüssy is actually building genuine relationships with people that contribute to Seoul's creative landscape.
I first met Hyein at a Stüssy party in Seoul. She was still based in Antwerp at the time, but she moved her atelier here. That was also when I was itching to provide my business skill sets to other designers. Hyein Seo is on a rad trajectory, but the founders—both being from design backgrounds—needed to step away and see a bigger picture. You can't just have cool designs and be a business—
I was lucky because my parents were very understanding of being an immigrant family and embracing that their children [were] growing up in the U.S., which is very different from how they grew up. My dad's a minister, but he's very chill and sociable, which I think is a creative skill set. My mom is a journalist who runs the opinions column at . I never thought I would be into writing, but with my studies in cultural anthropology, I did a bit of that. I studied cultural anthropology and comparative literature with an emphasis in critical theory. Writing is definitely one of the hardest creative endeavors.
I would say that Korea is most on-point right now in terms of pop culture, whether it's music, fashion, food, beauty. Korean culture is really adaptable and relatable because Koreans are so digitally penetrated, constantly consuming culture 24/7. The new generation of fashion brands, like Hyein Seo and Kanghyuk, are bringing what they studied abroad and establishing their own agenda and contemporary aesthetic. And with social media, there's a lot more individualism that's being embraced in Korea. It wasn't like that before. It's a huge advantage to be in Korea now, but I don't think the Korean government or bigger corporations legitimately support the local creative scene. One thing that Shanghai does really well, for example, is supporting young fashion talent. Here, the market is still monopolized by big companies and old relationships. In addition to liasoning between the Western and Korean markets, I'm interested in doing that across Asia, like bridging the markets from Seoul to Hong Kong or Shanghai and Tokyo. For the past century, global culture has been Western-dominant, but Asia has a very long, refined history that has been overlooked. There's just this short period of modern history where the West was able to dominate that attention because of industrialization and capitalism. I see a lot of energy shifting to Asia, and that will only continue.
I learn a lot from the Dadaism Club girls. They cover a healthy spectrum and range of media from photography, video, and fashion. I love JICHOI, the fashion brand from one of the members of the collective, because it puts me in tune with what young adults want to wear and what they're making for themselves. There's also this graphic design collective called 42mxm, who recently used augmented reality in their work. You can download an app and hover your phone over their zine or poster and watch the typeface come alive.
A FEW FAVORITE THINGS
Print & polaroid by Chogiseok
HYPEBEAST Korea. i-D, VICE, Complex, Highsnobiety, Refinery29, office Magazine .