Decoding the CDG VaporMax
Gary Warnett on the Vanguard Sneaker and Reaching Peak Retro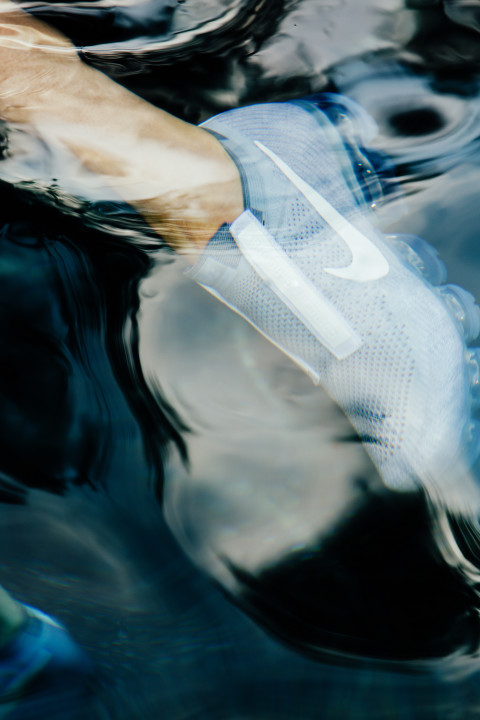 The COMME des GARÇONS Nike Air VaporMax has proven to be a sneaker success story since its February retail debut. The probable cause? A comforting sense of unfamiliarity.
In line with CDG's SS17 "invisible clothing" concept, Rei Kawakubo has offered little extra insight about the VaporMax. There are still few explanations from their side, no justifications, no anecdotal childhood memories — just the shoe.In a deeply referential world, it's easier to hurl the word innovation around than invent, just as it's easier to claim a culture than forward it. It's here that authentic newness is in short supply. That CDG first collaborated with Nike in 2000, at a point where their output was so defiantly next that it underperformed commercially — when the sports brand willfully went weird at top level with their cult Alpha Project collection — seemed like destiny.
When the Air Max 1 was introduced in 1987, its intent was to help the brand take a lead over its rivals with a new emphasis on the Nike Air system. The lead shoe in a pack that would be heavily marketed as a revolution was the first design to ever use the visible air system. Early prototypes experimented with the idea of walking on air bubbles, but that concept was impossible until now. The Air Max 1 was defiantly unusual compared to its competitors, from its form to its use of color. That same year, Rei's future husband Adrian Joffe joined CDG as commercial director, the Noir line debuted, their bi-annual magazine was planned and Jean-Michel Basquiat walked for them. Both companies were birthed in the 1960s (Nike in 1964 as Blue Ribbon Sports and COMME des GARÇONS in 1969), but between the latter's 1981 Paris debut, and the former's 1985 Air Jordan gamble and later Nike Air campaign, their reputations boomed in the 1980s.This particular release is a curious mix of minimalism and extravagance. At its core, the Air Max line has always been about the maximum, but right now it arrives into a marketplace that wants more through less. Not only is the VaporMax one of the most dramatically different mass-produced Nike designs in years, the decision to modify the shoe to laceless form especially for COMME des GARÇONS is a statement move that's only matched by the 2008 Junya Watanabe MAN modification of the classic Dunk into a biker-inspired zipped leather boot. Recent CDG approved alterations like transparent plastic on another Dunk (for a collection inspired by the naked notion of the ) or the rubber spiked moon-hiking DSM New York LunarTerra Arktos altered expectations, but the slip-on status of their VaporMax is a reimagined take that renders the shoe stealthier than its laced-up mass produced counterpart. Where partner branding used to be confined to those hidden sock liners, now there's bonus Helvetica along the upper too. The VaporMax silhouette speaks with clarity and an oddity reveals itself to be unexpectedly accessible.
There was plenty to take from the Rei Kawakubo retrospective at the Met this summer, but it was clear that COMME des GARÇONS aren't particularly interested in commemorating past triumphs. The company and the earlier names operating within it tend to speak with brevity, covering the necessary, but little more. The Nike for COMME des GARÇONS VaporMax was introduced alongside a white, hi-topped Air Moc on a Paris catwalk in October, 2016 as part of the SS17 show. CDG may have sketched the blueprint for others to run with, but they don't seem keen to join them.High-end reworking's, rather than out and out resurrections, restore a feeling, bringing back a time when curiosities like the bizarre Air Woven carried some cultural currency. Even consumers who barely existed in 2000 can still connect to that spirit. Perhaps we've reached peak retro. Is there anything from the archives that hasn't been brought back, chopped up, reworked or partnered on? Every aspect of culture seems to have been mined in a quest for content, cash and clicks. Having lapped ourselves with reissues of reissues, going off the tracks was necessary. It was only right that things took a left turn. The VaporMax's predecessors, like 2006's Air Max 360 and its big bubble follow-ups, wore their references to the past proudly, but this part of the series is driven by the principles that birthed the original Air Max iteration, but not its aesthetics. If we've been wallowing in what was for the last few decades, we seem to be catching up right now.The only remaining way is forward.