Destroy My Sweater: A Personal History in Knits
Christopher Barnard on Dawson's Creek, Fisherman Sweaters, and Teen Rebellion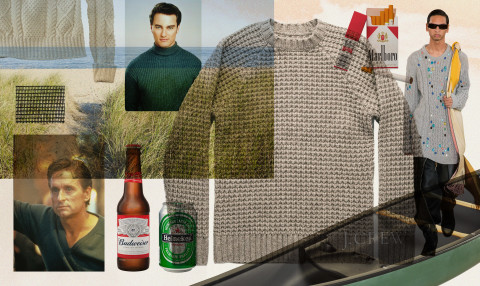 I started lying at sixteen. I mean, lying; as a matter of offense rather than defense. Not so much whoppers to impress, but artful elisions to my mother allowing me to leave the house without suspicion. Before zipping off into the midwestern night, newly-licensed in my soft-top Jeep, I would assure her of my destination (the house of someone from orchestra or student council). Then, I'd turn the other direction toward an unsupervised barn or river camp. That spring of 1998 I had my first Lights—Marlboro and Bud respectively.
It was also that spring that a J.Crew catalogue featuring the cast of landed in our mailbox. I remember having no idea who the four stars were (they were a departure from the retailer's usual willowy models), and the show was not yet the era-defining touchstone we know it as today. But it was their performative normality—cavorting in canoes and dangling off heaving willows—that seduced me into ordering a heather grey fisherman's sweater, over-the-phone with the help of a human operator. When it arrived, the yarn was thicker and scrubbier than I expected, but the fit was uncanny. The silhouette added instant bulk to my thin frame. I wore it all the time, mostly to counter my mother's admonition that buying an out-of-season sweater was an affront to practicality.
The fisherman style, originally engineered to redoubt north Atlantic squalls, was a logical garment in my world, a form of protection against the whirlpools of 90s teendom. It rendered an exaggerated volume, a note of butch camp, hypermasculinity on my less-so person. There was also a whisper of history and utility in its design: the sweater could be worn back to front since sailors were often dressing in the dawn, without the aid of light or time. This was a serviceable description of my 1998 bedroom as well.Over two decades later, designers are reiterating the fisherman sweater with vibrant, delicious daring. For FW19, Loewe's Jonathan Anderson affixed gemstones across the ancient pattern like a technicolor Viola washed ashore. Jacquemus' take on the traditional silhouette is drawn out and then collapsed into sensuous folds like gravy—more appetizing than repellant (of the elements), as originally designed. The SS20 shows revealed a delight in unraveling the knit fibers themselves. Vents and holes, loose and dramatically cut, letting frivolity in through the cracks. Anderson, again at his eponymous label, and Silvia Fendi enhanced these ruptures in the weave so much that the garments become more about their void.The physics of a woven sweater marry it to the body, fibers clinging inward and onto as opposed to outward into space. They have an implicit closeness to the wearer which makes their aptness for personality and charm all the more compelling.Conley Averett, designer of New York-based knitwear label Judy Turner, says that the most emotional components of a knit are revealed in the "hand feel, weight, and color." In a languid ochre and mustard striped cardigan jacket from the label's SS20 collection, there are detachable bows dependant on the wearer's mood for flourish. "It's meant to be a small detail that riffs on American pomp and circumstance," says Averett. Knits that employ decoration, as with Judy Turner but also Loewe or Thom Browne, do so in the context of the garments' work-a-day history. The sweaters were a utilitarian necessity for seafarers, or outdoor laborers, hunters and later sport, but over the last century they've gained a certain luxury signaling. What prep is complete without a cable knit or cricket sweater in a bureau somewhere? The seamen who wore their sweaters back to front had a latter day champion in Diana Vreeland, who claimed to wear hers in similar fashion, claiming it to be "so much more flattering." Mrs. Vreeland would have kept her bows on, too.Of course one's views of sweaters are not solely dictated from the ivory towers of mastheads or the humble demands of work. I imagine impressionable fashion psyches have been molded by witnessing Kristen Stewart in an ethereal white Chanel sweater on the red carpet, or the guileless and inscrutable pose of the Polo bear on a sweater (the innocent-seeming figure at the center of voracious streetwear and online hysteria).
The first sweater I ever truly lusted after was the fair isle vest worn by 80s ur-hunk Jake Ryan in John Hughes' teen fantasia, . The craft and tactility of the piece was as inviting and gorgeously subtle as the aw-shucks idol on which it lay so perfectly. The next signpost in my sweater coming-of-age was the plunging emerald V-neck that Michael Douglas wears to the dance club in . The ordinariness of the garment and the tawdry circumstances of the scene infused it with an unearned sex appeal, though I still consider trying a suggestive V-style for myself. There's a direct line from Douglas' falling-off eroticism in 1992 to the flayed looseness of knitwear's latest mood. As everything around us heats up (from the summer sun to the climate at large), we are drawn to impracticality and sensuality, and ultimately, back to our own bodies.I'm not sure what happened to my sweater because it ultimately betrayed me, the way only something close to you can. Coming home one morning from a night spent somewhere I shouldn't have been, I chucked it onto the floor of my room and crawled into bed. From whatever lie I had told on my way out the door, the truth was trapped in the fibers of that heritage crewneck. Cigarettes, light beer, and other 3AM teenage ambrosia told the story of my evening. Grounded and Jeepless for a month, I finally watched those kids from the catalog, truly thinking my life was over. It was a crucial lesson in covering my tracks, but also of knits. Not only do they reveal who you are in the present moment, but also where you have just been, in a way that other fabrics simply do not. Light a match, spray perfume, or lay with someone who has just done either in a fine-gauge cashmere or thick-stitch crochet and they are with your for days. Whether it's a bow placed so or the aroma of a night lived in a swirl of smoke, your knitwear will speak for you even when you wouldn't dare.