Dressing for the Westminster Dog Show with Michael the III
The Style Guru and Aspiring Dog Masseuse Shares 12 Winning Looks that Will Make You Best in Show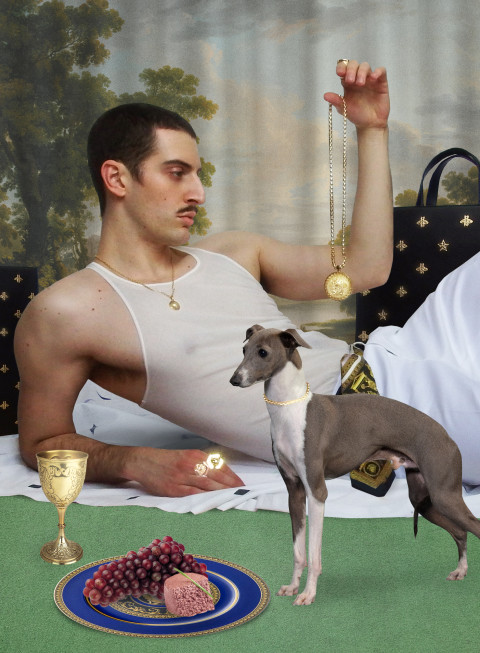 Are dogs the ultimate accessory? Or are we really their personal assistant, personal trainer, personal chef, therapist, social media manager, and hot-best-friend wrapped up into one? All at the low price of an unpaid intern. Still, today we must tackle a much more urgent question: How should a human dress for the upcoming Westminster Dog Show? Too much, and you'll overshadow your work of art. Not enough, and your dog might as well be a cat. It is of the utmost importance to dress appropriately for the breed.
Well, I'm here to guide you. My 12 examples will give you the learning and strategic mind needed to win . So pack up your lint rollers and we're off!
The Papillion is nature's other butterfly. If you're entering a dog like this, you're probably pretty fancy, and this charming companion dog deserves an owner whose sartorial standpoint is as grand as its history. Don't forget, the Papillon's ancestors sniffed the buttocks of European Royalty for centuries, so now is not the time to shy away from extravagance. Accessorize with something like — oh, I don't know — a colossal bow. A darling reference to your dog's iconic silhouette will alert judges to your furry friend's superior form. Take it to the next level by selecting a perfectly matched ensemble. Did King Louis XIV dress only from crotch to nipples? Certainly not! This is a head-to-painted-toenail look. If airs of importance and haughty remonstrances bother your competitors, that is problem.
A dog as massive and majestic as the St. Bernard is a big eater, with an even bigger heart (if movies are to be believed). Keep your contestant competitive by choosing accessories that can accommodate their heavy appetite. A string of bags with an array of dog-treats handily gets the job done. Are you feeling a touch pastoral in your mountain-dog-inspired getup? Great, and if anyone asks, you are wearing , or even , but never merely . This is the Westminster Dog Show, after all.
If your dog looks like she could double for a wig worn in an Oscar-nominated film, that's a sign that she's a pretty flashy gal. It is wise to play down the testiness of your personal style to strategically highlight the the creative genius behind your Lhasa Apso's trendy bob. Though she may have been developed by Dalai Lamas, she's left the monastery and is thinking of starting a pop career. She's a star. So put on your best polo and wear some cute shorts. As hard as it may be not to make it about yourself (I guess people have that issue), it's often in your best interest to let your pampered pooch get the glory.
Calm, casual, and coordinated: that's you and the , otherwise known as the handsome Pharaoh Hound. A dog that outdates the pyramids isn't intimidated by competition. His eyes match his fur. His fur matches his snout. His snout matches your tracksuit. And his makeup is . Your theme? Amber glamour. A day-to-night look that can go from Dog Show to DJ Booth. Nothing could frazzle you in an outfit this coordinated. Was that a former lover and his teacup Pomeranian who just walked by? How should you know? You were looking confidently into the distance.
As it goes, if you have a giant schnauzer, it helps to wear wide-leg trousers. The same can be said if a Giant Schnauzer is your pet. If you wish to enter such a formidable dog into competition, you better bring the drama. State your intentions with a statement pant. Take it a step further with a statement-belt and garnish the look with a pair of statement glasses. If you end up looking like an off-duty Bond-villain doing the one thing that still pleases him (winning ), then it's a job well done for you. I'm not saying you should intimidate your opponents, but you should intimidate your opponents.
In life and in dog shows, one does not merely dress a Chihuahua. One dresses a Chihuahua. A matching ensemble is next level athleticism here. Lead this tiny pack of Mexican cuties by choosing items that expose your Chihuahua's assets. The judges will be looking at everything: nose, toes, rump, junk. Make it easy, and most likely you and your little stud will win. If not, there's always gay night at your local dog bar.
You own a Cavalier King Charles Spaniel? What's your backstory? Well, your dog's breed has four names, you use them all, and you've named her something like Lucretia or Concertina. You're pretty fancy. You're the type who would wear white pants to a dog show. You likely have a dog handler for your fur-baby, and this allows you to gossip with the other ladies in white pants. Wear something elegant but comfortable and warm, you may come across as rather cold. Pretence will always help you in your final score. Still, your dog loves you, and you love her too; you spend as much on her as you do yourself. You're her momager after all, and though your loafers prevent you from being the one to jog her around the stadium, you are ready for the photo ops.
Dressing with a Dalmatian is just about one of the hardest tasks you can hope to overcome in this world. To start, stripes are out of the question. Patterns in general are difficult. And mixing too many colours into the fray can make you look like a contemporary art piece — and not the nice kind you enjoy in a funny sort of way. Well, what can I suggest other than red? Steal the spotlight from your spotted friend. Be the frenemy who wears red sequins to a black-and-white soirée. I'll let you in on a little secret: dogs can't really perceive the color red anyway. They have us beat in just about all other sensory attributes, but when it comes to dressing to impress, we're a tail above them. What's black and white and red all over with a little purple and some yellow, too? That's you on the winner's stand!
The Dogo Argentino is a wild card. Officially, this breed is not allowed to compete, but we think big here, we dream big here, and we have big dogs. So, if you're thinking of winning with a Dogo Argentino or any forbidden breed, you'll need to go out of your way to make a flashy introduction. Do you see what I did there? That pun was my . Here are a few suggestive measures: 1) Make calculated clothing choices. Think of you and your dog's personal brand. 2) Look and act tough, even though both of you are rather cuddly in the middle. 3) Do you still have that fog machine in your bedroom? Bring it. 4) From your entrance point, seduce the audience with a poof of smoke and the melodic sounds of ABBA's . 5) Let your dog enter, leaping out of Westminster obscurity and into competition. You may not end up winning , you actually might be disqualified right then and there, but you've won the hearts of millions of people watching at home and made a powerful, political statement.
There's no better accessory to an Italian Greyhound than a Roman nose. If, however, you were not blessed with this patrician feature, nor are you Gina Lollobrigida but still plan on entering an Italian Greyhound, there is still hope in the forms of Versace, Gucci, and Prada. Yes, you too can look like you've taken a stroll down Europe's hottest peninsula with just a few carefully selected golden accessories. I'm not saying you have to be a walking advertisement for Italy, but if you aren't, what differentiates you from just another greyhound? Honestly.
You're showing a Wire Fox Terrier. You've come to win, have you? This 14-time winner is the most successful breed ever seen at the Westminster Kennel Club Dog Show. The Terrier Group itself has won a total of 46 times (more than double the next highest group's score), so this adds up to feeling pretty cocky, am I right? I see even you've taken my advice and you've paired a Thom Browne sweater with a Thom Browne vest, with an embroidered tale of your glory. Yes, you're that kind of guy: self assured, prepared, yet conceptual. I like it, keep up what you're doing. I have no notes here.
Not everything about this contest needs to be so stressful. Can't it just be a normal day at Madison Square Garden competing with 2,999 other dogs at an event so prestigious it's been continuously held every year since 1877? Some breeds can take a more relaxed approach to this. For example: the Welsh Corgi. From behind, they can look like an extra-large hamster, or a furry potato. Beige and quite low to the ground, it's almost as if their infinite smiles beg you to sit back, take a hit, and take it easy. By legend, they are said to be gifts from the fairies. Pair your Corgi with opened, relaxed buttons. Corgis aren't scandalized by unleashed chest hair. Jeans also match the Corgi vibe. There's no need for pressed pants to impress anyone here, at least not with the low-hanging fruit of the dog world at your side.
Gayletter, The Editorial.