Emily Oberg Is Streetwear's Martha Stewart
On Selfies and Hype-Sensitivities: Molly Lambert Speaks With the Founder of Sporty & Rich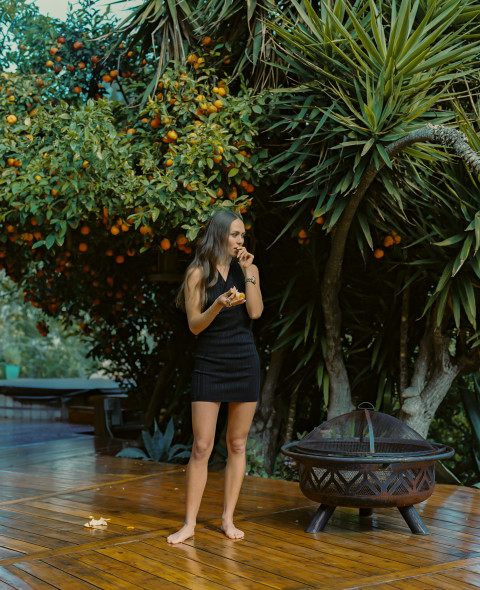 I meet Emily Oberg at Erewhon, a health food grocery store in West Hollywood. She's waiting for me at the juice bar wearing a lilac sweatshirt and a thin gold chain with a charm that says 1994. I offer to talk to her in the produce section-it's quiet there-and we set up next to a stand of perfectly stacked apples.
Oberg is sometimes called an influencer, but she's more like a lifestyle guru. She's a design nerd who discovered streetwear forums as a Canadian teen and helped build a blossoming industry from the ground up. Since building out Complex Magazine's video platform online, Oberg has worked as the creative lead of KITH Womens, and now works as a brand consultant while expanding on her own personal brand called Sporty & Rich. When I meet her she is gearing up to put out the third issue of , the magazine extension of her brand.
While Oberg's personal Instagram is selfie and streetwear focused, the Sporty & Rich account is her personal vision board representing the inside of her heather grey, 90s-and-Nike mind. A sampling of recent Sporty & Rich posts includes Claudia Schiffer beckoning from behind the bougainvillea dripping doorway of her house on an old cover, a vintage shot of three models in bikinis tumbling down sand dunes, and Larry David smoking a cigar.
It's exactly the way an aspirational fashion account should be: conjuring a fantasy lifestyle of seaside vacations, modern but cozy domestic scenes, curated with items for these occasions. Like a forest green Range Rover or a cone of sky blue "silk ice" softserve.As a longtime consumer of fashion magazines I found the aesthetic deeply soothing. In it Oberg brings back the tactile feeling of running your fingers over a glossy magazine shoot of the Amalfi coast in a you bought to read on the plane to somewhere less glamorous. As women's streetwear becomes an ever larger market in fashion, Oberg has established herself as a voice with a long-ambitious vision. With Sporty & Rich, it's easy to imagine her building an empire as a streetwear Martha Stewart, selling everything from foam rollers, chunky dad sneakers, worn-in sweatshirts to brutalist Estonian real estate.
I showed my brother the Sporty & Rich Instagram because he sends me stuff like 90s VMA photos and magazine covers. I was like, "You're gonna love this Instagram account."When did that become your business? Like the business of posting yourself?Do people reach out to you to sponsor you?What kind of brands don't you want to align yourself with?Do you feel like sportswear is a boys' club?
It's fun! It's like what I wish I could post on my own Instagram. But for me what performs well is selfies, so that's what I post. You know, it's like a business.Moving to New York, that's when it really became lucrative. A brand builder. I started to take outfit photos and then that's just what people wanted, and then that's what brands wanted.Yeah.Obviously alcohol brands, because I don't drink and I'm not really about that kind of life.Not anymore. The workout scene is so heavy with women, which is great. I think it's super female focused and a lot of these brands are having their own women's divisions and putting a lot of emphasis on that.
Have you met a lot of female designers?Especially when you're thinking about stuff that's sportswear, that's got to be functional on some level.No, they have no idea. They don't know that sports bras serve a purpose. Do you find that you're ever been underestimated by people because you're like a hot girl from the internet?
Working with KITH we had two female designers and when I meet with other brands there's a lot of females on the team which is great because sometimes you go to a brand and it's a man behind the women's design team and you're like, "I don't think you can really do this." Like when Hedi Slimane went to Céline, I was so rattled because I just don't think a man can design clothes for a woman like a woman can, you know? When she was there she made these sweaters with these huge holes in the sleeves to put her children's toys in. It's like, a man would never be able to think that way.Guys have no idea.Definitely. I feel like my whole career has been me trying to prove myself. I think that's why I've done so much and why I have so many projects going on. Since I started and since I got to New York it was kind of like, "Oh, she's just pretty. That's why she's here. That's why she has a job."
Are there ever times when you don't want to be taking selfies?Some people really do portray themselves accurately on the internet. I mean, do you think you're trying to present an aspirational version of yourself? Are you conscious of that? Is that what does well for you?That's really important. I've been thinking about that a lot too, I didn't have social media until I was in college and I was already a person. I can't imagine what it's like to grow up with cameras constantly. It does seem like the sort of Instagram look of the super done makeup and the lip injections-it has to go out at some point.
Of course. Sometimes it feels like a chore and a job. I'm like "Oh, I haven't taken a selfie in a while." But it's just because I don't want to. You know, sometimes you just want to be doing something with your friends.I always want to set a good example, especially for younger girls because I know they look up to me, not to sound cocky or anything. But when you have a platform of course people are looking at you. So, I always kind of speak about staying natural. You don't need to fix yourself or change your face to feel good.I'm curious to see where it's all going to go because I don't think it's sustainable.
But what they're really selling is happiness and self-confidence. I was thinking like, part of the reason why Rihanna was so successful with Fenty is because she's selling Rihanna's confidence. Kylie's kind of selling insecurity: you don't like what you look like so change it. And Rihanna's selling: everyone's beautiful.I think a lot of people post their best selfies when they're unhappiest.What do you do on a daily basis?Do you think that other influencers will transition into more senior roles in fashion?Is there an expiration date?
Accentuate what you already look like. Don't cover it up.Because they want that confidence boost from the "like" count.This past year I've been working on the magazine every single day. It takes a year because it's just me. It takes a long time to put it together. I design it myself. I do all the layout myself. So, I've been working on that. I work on new jobs for Sporty & Rich. And then consulting for brands. I'll be on retainer for some brands every month and I'll do photoshoots and editorials for them. Helping brands with their image, their messaging.I mean I think if they're talented and they have skills but I do think there are a lot of people out there who are just pretty, which is fine, but I don't think that's a career that has longevity.On the influencer? Totally. I mean, you're even seeing it now. Brands are not looking as much at the follower count as the quality of followers, the quality of the photos. Who you are, what you stand for, what you believe in, your messaging. They're kind of veering away from here's a million followers and more towards, who is she. So, that's good because I do feel there needs to be a lot more people out there who are standing for something and having a voice, especially in the time that we're living in and what's going on. How can you not?