First Stop: New York. Fashion Week Fall 2017 Ready-to-Wear Collections
New York Fashion Week Fall 2017 has kicked off this week. Supermodels, movie stars, reporters and captains of industry are flocking to the city that never sleeps. The "concrete jungle where dreams are made off" is making dreams both on and off the runway this season.
Off the Runway – Street Style
The crowds at #NYFW# are a big part of the spectacle. Whether you're going to the show – or just going to show off – this is the moment to bring your A-game out to the street. Fashion week is a party for fashion people after all. The only things that will make you shine (when everyone else is vying for attention) are your taste and what you're wearing. For a few precious days in February, the frigid wintery streets of New York (complete with blizzards this year) turn into a well-photographed catwalk.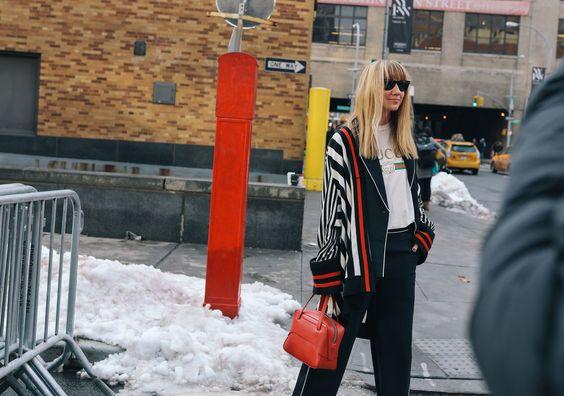 On the Runway – Designer Style
Alexander Wang
Alexander Wang's Fall 2017 fashion show took place at The RKO Hamilton Theater. The designer played up the "No After Party" theme in dramatic irony, transforming the venue into a party zone and featuring an all-black collection geared towards the party girl. Punk band tees. Boy cut hair. Kendall and Bella strutting down the runway became the highlight of this season.
Victoria Beckham
Victoria Beckham's 2017 Fall collection took inspiration from one of her own passing remarks, "I've never tried blazers with skirts." This season, we saw oversize suit jackets and chiffon skirts dominate the runway. The collection emphasized comfort above all else. But unlike the slouchy, flowy silhouettes of her clothes, VB handbags are definitive little squares.
Lacoste
Lacoste brought the cosmos down to earth – or clothes – taking you on a long vacation in The Milky Way. Other than intergalactic exploration, the collection features a fanciful montage of the trendiest fabric – velvet. Loose on the top, tight on the bottom style combo informed the shape of the Fall collection. After conquering New York, this old-school French brand is taking on Paris Fashion Week Spring 2018. Oh la la…
3.1 Phillip Lim
Phillip Lim decked out his show space in bold pinks and luscious crimsons. Yes, venues for fall wear can be this bright. In the collection, he infused subtle shades of rose pink, asymmetrical designs, and high-waisted baggy trousers to highlight the dichotomies of strength and femininity in seamless cohesion. Time to swap out the leggings come autumn. (At last!)
New York Fashion Week put on a spectacular show of eye-popping designs. Equally striking are the street style icons working their magic. Stay tuned for the next installment of Fashion Week – London.
All Duty Included—Best of Best from FARFETCH、NET-A-PORTER、LUISAVIAROMA、LANE CRAWFORD、FORZIERI