Fit Goals With Sean Wotherspoon, the Sustainable Sneakerhead
Meet the Round Two Founder, Nike Collaborator, and Vegan Hype Man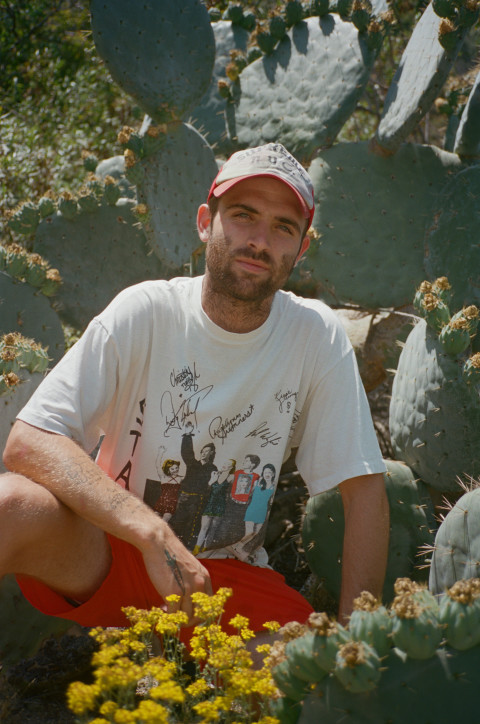 On a warm spring Sunday, Melrose Avenue is lined with slow-walking window shoppers, a sleepy light bending in the late afternoon. I approach the Round Two block of the street, a strip in which Sean Wotherspoon has opened a cluster of wildly popular clothing stores, and the pace changes. Entering the brand's vintage outlet, the energy is boisterous. People are hanging out, laughing, talking excitedly and complimenting each other's clothes, picking up vintage NBA t-shirts, O.J. Simpson trial memorabilia.
I meet Sean across the street, in the merch store that comprises one point of the Melrose prism (along with the vintage store and the "main store"). Early on, I start to think Sean might be the most positive person I've ever met. You hear about "good vibes," but I don't know how often you actually see them so opaquely. Sean radiates a goodness of heart, which fractures off of him like light off a House of Intuition crystal.Sean began collecting vintage clothes in Richmond, Virginia in 2013. As his collection grew, so did the demand for it. A personal collection grew into a storage locker and ultimately a small store, the first Round Two location. Now, with five stores (and counting) around the U.S., and an estimated annual revenue of over $20 million, Sean is making a robust living off of recycling. And while doing so, he's spreading the gospel of environmental sustainability, lauding the merits of a plant-based life, and demonstrating that even a hypebeast can go animal-free. "Breaking even with the world," Sean says, reflecting on his strategy, "That's what I've been trying to do. If you realize you are having a negative impact, the best thing to do is figure out how to even out with that." Here, he tells me how he's weighing the balance.
How did you get into vintage and reselling?And how did that develop into Round Two?So you were just accommodating for your personal interest.
Throughout high school, I worked at an outlet mall. We always loved the new Polo gear, the new Polo Olympic stuff. We didn't have many vintage or thrift stores, it wasn't really a thing we thought about much. I moved to Richmond, Virginia and realized there were vintage stores, tons of thrift stores that had this cool Polo stuff, but it was vintage, original 90s or 80s. I just fell in love with it.With my obsession with collecting and hoarding, I realized I needed to sell things either to support my habit or to make room. It wasn't even like I wanted it to be a business at first. It turned into a business in Richmond slowly from like, a Facebook page for my closet. And that grew into a storage unit, and then the storage unit turned into a small store.Yeah. And it ended being a pretty authentic way for us to step into the resale world.
The resale market is interesting, it represents this weird intersection right now—it's so hyped, but also really different from the traditional market in the sense that it's repurposing.Why do you think resale is getting so popular now? I read some article projecting that it was going to be bigger than retail.Are you still actively thrifting yourself?What's the best find, or "come up," you have in memory?The perfect stage of decay.
It teaches you things you may not have known about before. It's an expression. It's easy for people to hate on what's going on right now but it's just as easy to embrace it and find where you fit in.People call Round Two resale but I kind of hate it, because our focus isn't reselling things. When we started it wasn't like, "Oh, we have something that's worth more," it was always like, "We have something cool and we're able to see that and we want to offer it to someone who's never seen it before." We're having fun watching people discover. It's so much more than reselling, it's way beyond that.I'm travelling a lot so when I'm working with different companies, I'm going to all the flea markets, any second-hand stores, vintage stores.I always talk about this Tommy hat, Tommy Lotus racing. I got it for like 20 cents. We sold a similar one for $1000 or more. I'm finding more things that other people don't think are that sick but I'm like, "Noooo way." Two weeks ago I got a pair of 100% cotton Nike shorts from the 90s and they had this really perfect fade on them, embroidered swoosh. I've worn them like six times since, days in a row.Yeah. It might be a blank white shirt with a pocket on it that's worn perfectly.
It seems like people are way more into being super knowledgeable about what they wear, and the history of it. Or was that always a thing?Like with your Tommy Lotus hat, it's probably like a super niche amount of people that understand that value, which stems from its story.And people seem super excited about supporting brands that are more ethically aware.I think you're a big part of that—of resale and vegan sneakers becoming cool, sustainability becoming less intimidating.There are so many new plant-based materials.
No, it was never a thing. I would tell Nike all the time, the consumer now cares more than ever. No one wants product that has no story behind it, there's no substance there. I think it's amazing that everyone is fiending for these stories.Whether it's the history of the item or having something benefit a foundation or some kind of greater good, those are the stories the consumer loves now. You see so many brands feeding into it. I know people hate on it like, "People are trying to capitalize on sustainability." But it's like, "Great, let them." If they're taking that money and putting it into a plant-based initiative, isn't that what you want?It's all about not intimidating people, so they are able to make that choice, to try.I would love to think so. I'm trying. I push my message when I work with brands. I've noticed a lot less leather products coming out. With Nike and adidas, they're not really focused on a 100% italian leather product anymore. They are really starting to branch out.Mesh is the future. Pineapple leather, its unreal. It's so cool seeing this stuff come to fruition.
Let's talk about some of the brand collaborations you've done. Obviously a lot of people know you for your Nike collaboration, your corduroy Air Max 1/97.Do you think these brands seek you out because sustainability is so buzzy right now?How long have you been living plant-based?
My Nike shoe is fully vegan. It is a 100% plant-based shoe and I made a point of that. Every consulting meeting they would bring me into I'd be like, "Let's take the leather off. Replace it with something else. Even recycled leather." I'm working on a sneaker with Guess and it's fully vegan as well, all mesh. And we're doing a tracksuit to match. If a brand works with me, my project has to be plant-based. My payout is really being able to push that message and force the hand of a brand.Almost everyone's hit me up to do a shoe. I think brand's are definitely reaching out to me like, "Hey dude, you're helping make this cool, can you help us make it cool?" I'm down, if I see a brand shares similar values to me I would love to work with them and figure out how I can use their platform to influence a bit of plant-based veganism.I think six years now. I was vegetarian first, for a couple months, but then I realized I had to go full on with it. My fiance really pushed the whole thing. She gave me access to the knowledge, allowed me to realize why it is a good decision.
Are you raising your son vegan as well?I get an immense pleasure when I think about the cost-per-wear of my vintage clothes. Like cents to the wear.What are those videos where kids like tally up how much their outfit is worth? "How Much is Your Outfit?"I find it disturbing when young people are super materialistic like that. What does a sustainable fashion industry look like?
Yeah, from birth. He wears tons of vintage. We don't even buy him new clothes.I love that! I have a few outfits that I wear, where the kicks are maybe like 100$-200$ but then the shorts are like 5$ at the rag house, the shirt, 16$ at the rag house. And then I put a picture on Instagram and people are like "Damn, fit goals."Oh yeah, I've seen those. They total it up. I wish I could do that. I'd be like, "Shoes: 100$, Pants: 5$, Shirt: 16$!"In a dream scenario, the sustainable fashion industry would be checks and balances. Full transparency. I don't think a perfect world is possible, but we can do like 80%. Offer a plant-based product. You have to. Why not diversify your brand? You'll make more, it doesn't make any sense.
It really feels like the consumer can twist the arm with this.Even if brand's don't care on a personal, political, emotional level, they definitely care financially.
The consumer has the control of everything. That power is undeniable. I think that's why brands are rushing to do something sustainable. It's actually happening, everyone's realizing they have to break even. We owe the earth something, before it's too late. We have to pay our dues where they're owed with nature.If you can't get someone to care emotionally, get them to care financially. It's what you have to do.
SSENSE. Editorial Magazine.