From Offset to Arca: Pihakapi Designer Vejas Kruszewski is Revolutionizing Leather
The Youngest-Ever LVMH Winner on Bugs, Business, and Dressing the Part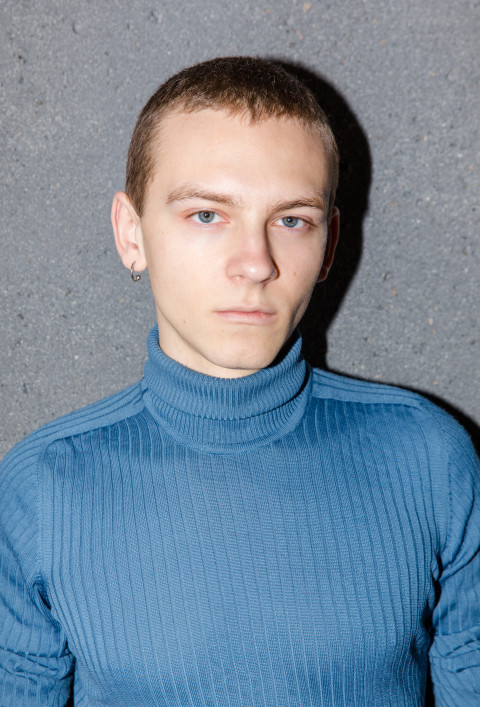 What happens when a Tuscan leather manufacturer that got its start in the late 70s, meets a 22-year-old Canadian design protégé? The result is Pihakapi, a label that is both traditional and experimental, able to dress both Offset and Arca, with fans and collaborators like model Hari Nef, photographer Joyce Sze Ng, and stylist Haley Wollens. In a fashion moment where designers are churning out leather goods in the form of chunky sneakers and micro-bags faster than the feed, Vejas Kruszewski is using the material to nurture storytelling and craftsmanship above all else, his thoughtful design ethos setting him apart from the rest.
In 2016, at the age of 19, Kruszewski won the LVMH Special Prize for his self-titled label, Vejas. He's the youngest designer to ever win the award, which included 150,000 euros in funding and a year of mentorship with top industry professionals. The judges identified his advanced understanding of technique—made even more impressive due to the fact that he's self-taught. The award launched him into the international spotlight, and Vogue deemed him a "wunderkind." Despite such early success, Kruszewski, now based in Paris, put Vejas on hold in early 2018 to pursue the opportunity as Creative Director for Pihakapi. Signature Vejas style is a cream-colored Pihakapi jacket made of thin leather, bonded to a cable knit sweater, creating a relief of the knit pattern underneath. He's wearing it the day we meet. It's the type of garment that only Kruszewski could dream up, an unconventional mix of fabrics turned into a luxe, yet subtle, design proposition. Geometric shapes manifest in the form of leather pockets and patches, top-stitched seams on pants, neo-western holster bags, and brown leather chaps that wrap around the hips.I spoke to Kruszewski at SSENSE Montreal, when he was back in his hometown to debut Character Studies, his new book. The publication sees four short stories from four of his favorite authors—including Durga Chew-Bose and Fiona Duncan—each centered around a single character and imagined with a corresponding editorial (by past SSENSE collaborators like photographer Jody Rogac and stylist Eugenie Dalland). The costumes, interpreted by Kruszewski, capture the designer's quiet sensibilities—the interiority of his craft and the playful appeal of his clothes. In a quiet corner of the space, we discussed his sources of inspiration, winning the LVMH Special Prize, and what's up next.
Your work for Pihakapi draws a lot from nature—shirt collars inspired by bull horns, earrings made out of beetle legs, leather thorns on the side of pants...Is the stag beetle earring a real beetle?Experimentation is a big part of your work. You told Vogue that when you first started you were trying to take familiar textiles and garments and twist them, making them sort of alien in a way.
There's this animalistic element. For Pihakapi the focus is leather, which comes from an animal, is a living material, and over time, changes texture. I take reference from that and let certain animal forms influence the silhouette or the shape of the clothes.It's real. We went to a store that sells dead bugs in Paris. We bought a bunch and dissected them. They all broke after.Yeah, exactly. But at the core there still has to be a functionality and wearability with something. I've never really identified with anything that's too conceptual to the point where you can't wear it.
When designing a collection, where do you turn for inspiration?Relationships often change the way you dress, whether you're aware of it or not!
I feel like the day-to-day of my job is very mundane. Negotiating talent fees, timing, deliveries, sales confirmations, coordination. I enjoy it, but sometimes I forget to dream. When I watch a movie, though, I get absorbed in a story and feel something new. When I'm designing a collection I go on Instagram a lot, too. I get inspired by the way people that are close to me dress. Francois [Kruszewski's partner], we're together all the time. He's changed the way that I dress myself.It's just like, after a while, if you have a close friend you adopt certain habits of theirs. I feel like it's the same only intensified with a relationship. We share clothes and sometimes we'll unconsciously dress the same. It's like, why are we both wearing grey pants with a black tank top? I think it's unavoidable.
You won the LVMH Special Prize for Vejas when you were still a teenager. What were things like after receiving that award?How were you able to find the confidence at such a young age to put Vejas on hold, despite its success?1 Granary talks a lot about the lack of support for young designers on the business side of things.
Scaling is really difficult after something like that. What LVMH really helped with was adding a sheen of legitimacy, because it's difficult as a brand from Canada, a place that isn't associated with fashion in terms of the international points of reference. It added legitimacy, credibility, and an elevated positioning. Today, a cosign can make all the difference. You can be really original with a unique point-of-view but you need that credibility at the same time.It was a difficult decision. I think that I've grown a lot since then and if I could go back I would have done some things differently. You can always be more considerate and intelligent in the ways in which you go about something. But sometimes you need to take one step back in order to take two steps forward in the future. What's difficult isn't creating the brand, but running a business. That's what creates the pressure, especially if you don't have a lot of capital behind you, the stress that every mistake could be what causes everything to fall apart.I feel like not talking about business creates this ongoing secrecy and shame over failure in some ways. Because anything that doesn't work out the way that you think is perceived as a failure.
With Pihakapi, your idea was to start by building the basics and to evolve naturally from there. For upcoming seasons, will you be exploring new concepts?Your design work often uses brown, beige, black, and cream. It feels as though you've developed a signature Vejas color palette.
For FW19, it's Grecian-inspired. We're experimenting with pleating, volume, and manipulation. We collaborated with Stefan Schwartzman, an artist that does gargoyle-esque illustrations, which ties into the animal theme. He did some drawings that will be printed on fabric. For the following season we're going to go quite simple. A leather jacket in one style but different colors, leather pants the same. Spring/Summer is so hard, because how do you work leather into a Spring/Summer wardrobe? I was thinking that if leather is considered a second skin, with all of this focus on tight-fitting activewear right now, it's almost like a second skin, too. So we're going to work with an Italian circular knitwear producer to do all of these super tight-fitting knits. Little knit bike shorts, tees, and tanks to mix in. With leather you can't run out of things to do, there's so many possibilities.For Pihakapi it's brown, cream, black, white, and then there's two colors that pop in. Last season it was purple and green. The first season was yellow, blue, and red. For FW19 it's robin's egg blue and cherry red. A collection would be really boring if it was just monochromatic. It creates a graphic proposition when you focus on two pops of color. It adds another dimension.
What about prints? You've never done a dairy cow print.Your publishing project has been a long time in the making. Where did the idea come from?
My mom had a cow print phase. We had this ceramic bowl that was an udder. Little nipples were the base. She had cow print earrings and oven mitts. I'm really into animal prints these days. I would like to design a new animal print, for an animal that doesn't exist.I had been thinking, what about doing a mini publication that's not to sell any product and has nothing to do with anything other than executing a concept? It's always been a dream of mine. I've always found it interesting when a designer does costumes and wardrobe for a movie. Dior did the costumes for the film by Pedro Almodóvar. Have you ever seen ? Raf [Simons] did the wardrobe for Tilda Swinton's character. It was all Raf Simons for Dior for Tilda and I thought it was so beautiful. It adds an emotional heft to a project and it's so desirable. You see it with life inside of it. On a runway you have a feeling of aspiration, you want to like that, but if you see clothing in a movie, you want to like that.
SSENSE.