Hender Scheme's Raw System
Ryo Kashiwazaki's Sneakers Mutate Classic Shapes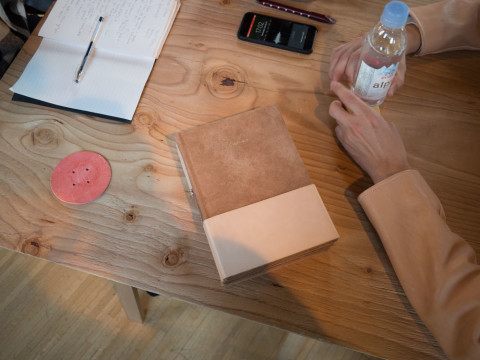 You recognize it a mile away—the natural leather of Hender Scheme's kicks, the color of nude, pink flesh. Designer Ryo Kashiwazaki's label rose to prominence with its "Hommage" line, which features his interpretations of some of the world's most popular, ubiquitous sneakers, rendered in a traditional, hand-crafted style earned through years of service in the shoemaking game. This tension between familiar and strange drives all of Kashiwazaki's work.
Kashiwazaki has built his creative life in Tokyo's Asakusa neighborhood. All the way at the end of the Ginza metro line, 40 or so minutes away from the noise and energy of Aoyama and Shibuya, Asakusa is the heart of Tokyo's leather industry. A maze of narrow streets and merchants dealing traditional goods—now mostly to tourists—Asakusa has been Kashiwazaki's home and laboratory since he began learning his trade. He has been an architect of the foot for about seven years, first as a cobbler, then as a label owner, working with the area's small factories to bring his ideas to life under the Hender Scheme banner. Like a shoe whisperer, Kashiwazaki's antenna are tuned to receive shapes and materials from the subconscious everyday. Choosing a stitching detail from a classic penny loafer or the sole of a vintage military boot, he chops, blends, and sculpts these parts into a new whole. This is engineered design that takes fashion into consideration but is far from hype sneaker boy ambitions.Hender Scheme's temporary showroom is in a grey concrete building on a nondescript street in Shibuya—so monastic, so Japanese. It's the perfect backdrop to view his biggest collection yet, entitled "Contemporary." I met the designer as he was showcasing his Fall/Winter 2017 collection and the latest "Hommage" line up. Kashiwazaki schooled me on zen and the art of the leather shoe game.
Hender Scheme—this brand name refers to gender. Why did you base your brand on this concept?Do you consider sexuality when you design? I ask because as you speak about gender, suddenly this flesh-colored motorcycle jacket became quite erotic.You are all the way out in Asakusa every day, aren't you? Pretty much the furthest place from fashion in Tokyo. Can you tell our international friends about the neighborhood?Historically, many leather shoe makers and factories are based in Asakusa, right?That was around when fast fashion was getting more popular in Japan, right? And you wanted to approach the opposite way? A made-by-hand brand over a mass-produced brand?That's the modern age, having and making that choice. Like the name of your collection this season says, "Contemporary."Is your process minimalist in spirit, stripping things until they are perfect? Do you try to make old shoes simpler to fit the modern age?The penny loafers, and other classic shoes are present here.How do you select the shoes that you revsit in the "Hommage" line?Democratic.In the beginning, you simply wanted to make shoes. How do you feel now? What's next?And striking that balance of contradictions is what you mean by the title "Contemporary"—you did it!Can you tell us which ones from the Fall/Winter 2017 collection you really put energy into or nerded out on with interesting processes?You must have a big shoe collection yourself.What's your best shoe care tip?
When I was studying psychology in college, one of my focuses was gender theory. 'H' follows 'G' in the alphabet, so Hender Scheme means "beyond gender scheme." There is the social norm of, for example, blue is for men and red is for women, or men work outside of the home and women stay home and do housekeeping. I wanted to design freely without considering this kind of social gender difference.I don't directly, but I might indirectly, because I unconsciously use inspirations from everyday life when I design rather than having a concept each season.In Tokyo, each area has its own vibe or lifestyle. Asakusa's located in the east and I'm from the western part. The west was a newly developed area, perfect for my parents' generation to commute to the center of Tokyo, with affordable rents. People don't deeply connect with each other there. In the east people are really connected and have lived there for several generations. It's the area where there are high-density connections, which are strengthened through things like matsuri.Yes, that's right. The leather culture exists along the river because water is used when tanning leather. These manufacturers took good care of me from when I started making shoes. I was only 19 years old or so, and there were not many young people working there. The more time I spent there, the more they taught me, and I started to feel that I wanted to give back. And I found that what I could give back was ideas and design. This is how I started my brand—hoping to communicate with people through my designs and bring projects to the craftsmen and factories.I wanted to be in the middle, to take an approach that's in between mass production and hand-manufacturing which allows making only one pair of shoes per month. I don't think either way is right or wrong.Exactly. We use both hands and machines. We may not be able to produce 1,000 pairs, but we can make 100 pairs. That's the size that Asakusa is good at, and we use their techniques to make interesting ideas into shapes.Using those kinds of typical models and making new expressions out of them is what I like and am good at. For example, the sneaker collection could surprise people by bringing a completely different approach to typical models that everybody has. Adding a bit of spice to something like penny loafers is our thing.For that collection, what's important is choosing the most typical ones. That's so people can compare what we make with the existing models. I'm not saying either is good or bad. I just want to deliver the fact that there could be an approach like ours. Mass products have got many good sides, like being stable in quality and affordable.Yes. But on the other hand, our versions can deliver some kind of new feeling or smell that the mass products wouldn't have. That's what I think is interesting. Looking at our products could make people imagine how they are made, by whom and where. It would be amazing if I could provide not only products but also imagination.Shoes are what I love, so I want to make more shoes. Clothing has got trends that move fast, but shoes have not been changed or updated from the very classics. I want to update them as much as I can while keeping the classics as my base.Yes, yes, exactly! I really think about it every time. I don't want to mix everything, for example, but I also don't want everything to be classic. What I want to offer is a great balance of classic and hybrid shoes, which I believe is my "Contemporary."The boots in the corner—they have details of army boots, but ironically they are not made to be functional. They're not "army" at all. And the ones that are second from the right are called "Mutation." They've got details of both dress shoes and sneakers. These kind of things are very us. I'm expressing contradictions in a pair of shoes.I used to be a cobbler, so I've seen so many shoes. Repairing shoes, that experience meant a lot to me. I don't own that many shoes and I only wear my own. I wear them every day and make minor changes.What's important is to wear them with love. We don't consider our products to be perfect when they are displayed in stores. Our philosophy is that our products can become perfect as people use them. They aren't perfection when they are made—I want to imagine them after they are used. In order to make it happen, I choose leather that can get better the more its used.