He's Got A Fast Car
Kerby Jean-Raymond's Pyer Moss Began On The Road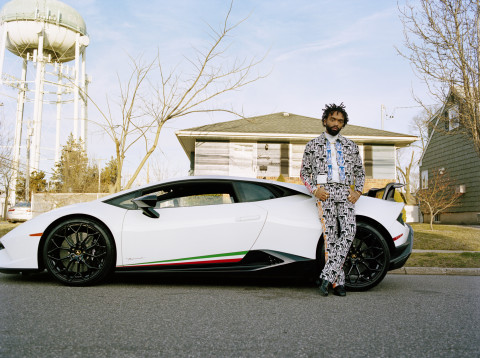 Kerby Jean-Raymond is a car guy. He has a need for speed, or rather, he seeks that almost winged, accelerative rush. But there's also the calm that comes with the high. That singular hum—fulfillment. Jean-Raymond has felt this way since buying his first car at a police auction. He was 15 years old. A champagne gold 1986 Mercedes 300E. is the word he uses to characterize that new-car feeling: "It was me stepping into adulthood. I had a car in high school which was very rare in Brooklyn." For Kerby, driving replicates the sort of solitude and heritable agency he first experienced as a child, riding in the backseat of his family's car, listening to his parents, Jean-Claude Jean-Raymond and Vania Moss-Pierre. "They never fought in cars," he says. "I felt safe." There were also the times he sat on the passenger side, assisting his father—an electrician who would install stereos in drug dealers' cars. These cars were Kerby's objects of desire.
"I'm realizing how all these things contributed to who I became," he explains over an early lunch at a restaurant in the basement of a Brooklyn hotel. "For me, seeing the Pathfinders with the BBS' on them and seeing the Acura Legends with the gold emblems, with the chrome wheels—that was a better life."In 2015, I saw Jean-Raymond transform behind the wheel. We were riding in his old Audi R8—he now alternates between an Aston Martin Superleggera, McLaren 720s, and a Porsche GT3RS—through Brooklyn to his aunt's Haitian restaurant on the west side of Manhattan. We moved swiftly through the city, as Jean-Raymond relaxed into the rhythm of the road. His speech, I noticed, became less guarded, the heaviness of his Brooklyn accent softened: on the road, he is vulnerable. The street, like the runway, is big with focus and pageantry, like the tensions that underpin his work.Jean-Raymond is hesitant to admit what cars have meant to him. In a culture where we are expected to monetize every aspect of our lives and turn passions into side hustles, the vehicles he takes pride in remain Jean-Raymond's pure diversion. They have brought him a sense of community, among the men and women who belong to the various car clubs he frequents, and an escape from his day job: Creative Director of Pyer Moss, the label he founded in 2013. In that role, he has shown what ambition can do, by positioning himself at the center of New York fashion.Pyer Moss represents a different kind of vehicle for him—one by which to search the past for forgotten black trailblazers, prosecuted and slain figures such as Trayvon Martin and Ota Benga (whose story of being put on display in a human exhibition at the Bronx Zoo in 1906 served as the inspiration for Jean-Raymond's SS16 collection), and black cowboys like the 19th-century, original Lone Ranger, Bass Reeves (who was the subject of celebration during his FW18 "American Also" collection). Pyer Moss services the runway to reframe history and heritage, making fashion—so often accused of being too concerned with a démodé sense of materiality—now synonymous with the fruits of organized, empowered community. The motley crew of black celebrities who have worn Pyer Moss, like Michelle Obama, Rihanna, Tracee Ellis Ross, Colin Kapernick, Lena Waithe, Chris Paul, and Wendy Williams, embody a shift in the culture, represent a growing community of people who, in Jean-Raymond's words, "know better."At the table, Jean-Raymond shakes his head, full of short, dark, messy locks, as a way to bat away my musings about cars being tied to man's most toxic traits. He is quick to explain that his growing preference for elite and expensive vehicles is not about peacocking success or impressing women, or padding his ego with emblems of masculine power. "A car guy," he says, "wants to be known for understanding and knowing cars. Another guy would want to be seen in those cars. I'm not the latter."Jean-Raymond's had momentum all along. While living a highly public life in the "nice-candles-ass" world of fashion has been destabilizing, often existential, the designer's love for cars has kept his history in sight, allowing him to stay focused, not only on what's next, but on something more essential: why and with whom.
I want to start by talking about your earliest memory in a car. How did it make you feel? How old were you?What did you envision your first car would be?Why?So what did that car represent?So you're talking about status, right?
I remember falling asleep in cars all the time with my mom and my dad, in the back seat. They never fought in cars, and I felt safe. I knew they wouldn't go up each other's heads because it was such a confined space. Being in a car's how I learned to speak to my dad—he was installing car radios, and I'd be sitting in the passenger seat playing with a Game Boy. He would tell me to pass him tools...and we would talk only about tools and cars and things like that. I figured out that was a way to get his attention, so I made it my business to learn everything I could. Eventually, it became my own passion.I envisioned going to the police auction. I wanted an Acura Legend, a black Acura Legend with gold emblems.Because that's what the drug dealers drove, and those were like the superstars in my neighborhood.A better life. I was in a one-bedroom apartment, facing brick walls. I had no light coming into my apartment. As I'm dealing with all these things in therapy and talking [them] out, I'm realizing how these things contributed to who I became, seeing those things, seeing the Pathfinders with the BBS' on them and the Acura Legends with the gold emblems, with the chrome wheels.My first car was a 1986 champagne gold Mercedes 300E, and that shit did not work. I remember driving it to my prom and the whole time it was leaking gas. You would watch the gas go down as you were driving it. That's just what the fuck it was. I remember it having an oil leak, so I took a MetroCard and some putty and patched the oil leak. It was shit like that. It was more important for me that I had a Mercedes than a working car. So I was already trying to upward-mobility my way out from an optic standpoint.
When did you make a connection between clothes and cars?Being at your last show at Kings Theater—it's funny what you're saying about trying to design worlds, when what you're doing is community-building.What did your early car communities provide for you? Were they blueprints for the type of communities you're trying to build now?You felt safe.
I think I always made the connection. I had this lofty idea that I was going to be this car designer slash fashion designer, and design worlds. Because I saw it happening—I saw Eddie Bauer doing Eddie Bauer Expeditions, and Coach doing Lexus'. I was like, "This could be me."I finally figured out my title. I'm a freeform artist. But my specialty is curating people. I rally people around the things that I enjoy—fashion, music, cars.My main car club, these were dudes that was Crips and Bloods and dealers. When we got around cars, all we talked about was cars. You'd have rival gangs get together around this shit. And they were tough guys. I felt protected by them as long as I knew my shit and I didn't ask any stupid questions.I still feel safe. I feel safe with my car club now because nobody asks me what I do. I've been apprehensive about merging these worlds. But this is the thing that's been keeping me sane, the thing that's been keeping me alive. If everything else has been driving me to the point of fucking insanity, all these other things that have brought me down to the point of real depression, or damn near self-harm—this has been the thing that's been keeping me wanting, looking forward to weekends.
Car culture tends to have a certain view on masculinity. Like when we look at music videos—it's very much: cars, girls, the girls dancing on top of the cars.In what ways?Exhaust notes. Who would've known...What car is that?Okay.
Those ain't car guys. In my experience, car culture has redefined masculinity for me.It's redefined family. For one, in my car club, there's really poor people, who just have one treasured item: their car. And then we have billionaires—literally billionaires—and we're all equal when it comes to car culture. We exactly the same. There's some people who buy to stunt. They are not part of that car club, they're part of a culture of stunting. We're talking about specific missions, hunting down things from a certain time period, certain exhaust notes that you want to hear from certain cars...Are you a British race car person? Are you an Italian race car person? Are you a French race car person? Are you a Japanese race car person? Do you value speed over comfort? A friend of mine just bought a Ferrari 250, short wheelbase, aluminum body Rossa for $12M at auction, and invited me over to come see it. Somebody else could have found the car on Bring A Trailer and paid $25,000, we all would've still congregated around it. It's classless. We got guys in our crew that can't afford the cars I can afford, but I look up to them because they've been building forced-induction Japanese race cars that can smoke mine. And I have one of the fastest cars in the world in my garage right now.McLaren 720S.I have three of the fastest cars in the world. Like if you go to the Wikipedia list, [of] the top 10, I have three.
How many cars do you own?Yeah.More than 10?What is the car that you've been unable to get? Or the car that haunts you?Why do you have to have it? What type of statement does it make?In this conversation, you've neatly separated car people and rap car people...Yep.
Currently?I don't want to talk about it.No, less than 10. Nowadays, I'm concerned about safety.If I say one, one car that I need to have is a Bugatti EB 110, which is a 1992 Bugatti. They just started importing them to the states.It's the most beautiful car I've ever seen in my life. It's artwork that nobody knows that they needed to have. God forbid rappers find out about it.I think rap, rock music, I mean celebrity car people—besides Jay Leno, Jerry Seinfeld—tend to do it as a means to show off. Their toxic masculinity is tied to that shit now. My confidence has never been tied to cars. As it pertains to how I approach people, my value in this world is not tethered to what I own.My love of cars and my love of industrial design is actually a love, it's a passion. Find that thing that you love versus finding that thing that you feel is going to make other people love you, because they're passionate about counting your dollars.
You don't really post your cars online—are you keeping that part of yourself for yourself?When you are a black body in this culture, you can't divorce yourself from the cultural references, from music and movies, and then the real, lived realities of people like Sandra Bland, of being pulled over...I wanted to note that duality: the thing that brings you the most comfort can also cause anxiety, and can potentially end your life.So what has kept you interested?In what way does it tether you back?Exactly.Pyer Moss signifies something that other labels helmed by black designers don't. It's almost like it directly follows the lineage of FUBU, of Phat Farm, of Sean John. In terms of the cultural impact, and the ways that people have a race-pride associated with wearing your clothes, when someone wears Pyer Moss, they know that there's a certain politic.
It just dawned on me that I might be famous, and it's kind of fucking terrifying. Whether it's in my head or not, I know that people kill people for $1,000—in the society in which we live, having cars is seen as a status symbol. And people can mistake your passion for an egregious display of wealth, and that makes people resent you. I'm trying to stay away from that.I also feel the most unsafe in cars.The other day me and Berlin got pulled over—Berlin is one of my best friends, he also works at Pyer Moss. We got pulled over because the cop wanted to see the car. I tell you, I was terrified for them three minutes before that cop came to the car. I live in fear of the police. I have every type of radar detector and every type of fucking everything. And it's not because I'm doing something crazy, I just want to know where the fuck they at. And it's always been that way.Half the time I'm thinking I don't want to deal with the pullovers, I don't want to deal with the fucking constant threat of police. I should just take Uber. But then I'll see somebody else driving a car, I'm like, "Damn, I need that." It's like some shit that I can't kick. It also tethers me back to where I grew up.I've been around so many people who are of this fashion, Hollywood, music world, that have lost their sense of reality. They don't even know what the fuck is going on and they're not grounded. They're not connected with real people. Besides connecting with my family, this is another way for me to have that sense of what's going on in non-fantasy land. Because we live in fantasy land—you get clothes for free, you travel business class. You don't know anything. What do you know? You don't know shit. You're just so removed. I'm so fucking removed.My work is rooted in people, and I'm not trying to become a product of my environment, no matter how lush or lavish that shit may be, because the work is so important. If Pyer Moss ceases to exist, a lot of people also do too. Part of me just misses street shit. We get so wrapped up in this fucking nice-candles-ass world. I can't forget that grit, I can't.It's like wearing [Pyer Moss] says, "I know better."
You famously went off at the CFDA Awards, saying, "I'm going to show whenever the fuck I want to show. I'm going to show under the conditions in which I want to show."It collapses hierarchies when you have everybody from the teenage kid, to Wendy Williams, to Chris Paul, to Tracee Ellis Ross, to Rihanna, all wearing your shit. It says something.When you say something, it's taken as "Kerby's a political artist" or "Kerby is radical." Whenever you make a statement, I don't necessarily see it as activism.A car is the perfect metaphor. The pertinacity for freedom is equal to a black man behind the wheel of the car.
Everything we've been thinking, we've been thinking to do.Should the things that you did for survival, or for your wealth level, exclude you from this conversation? Pyer Moss is how we meet in the middle.Am I the only one willing to tell the truth in public? That's the problem.Simply put, everything we enjoy can get us killed. Do I keep loving or do I try to keep living? You negotiate the in-between. I think that's how you can really sum up blackness in America. You want to go to a bar, but you want to be outside smoking a cigarette. You want to ride your car, take a long drive, but you're constantly in the state of threat. No experience is more indicative of that than being behind the wheel.
New York Times. The New Black Vanguard: Photography between Art and Fashion (Aperture). Paris Photo New York Young, Gifted and Black.