Hoop Dreams + Boys With Pearl Earrings
Lobe Adornment from Harry Styles to Shakespeare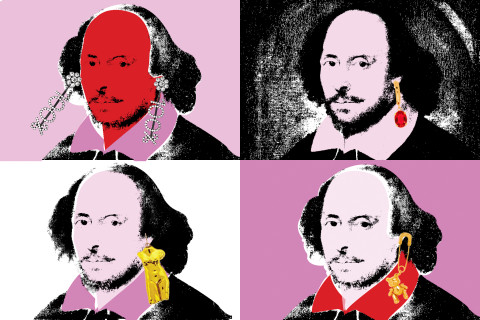 Modern male celebrities have embraced the earring in a big way. At the 2019 Met Gala, musician and known fashion plate, Harry Styles turned heads with a dangly Gucci pearl earring when he walked the pink carpet with designer Alessandro Michele. Actor Ashton Saunders expertly executed the camp theme (amidst so many fails) in custom Telfar, choosing to accessorize with a dangly pearl in one ear and a ruby in the other. Even Nick Jonas sported multiple ear cuffs in a Louis XIV-inspired Dior suit.
But a RING in my EAR? Couldn't be .Maybe because I came of age in the 90s, an era when celebrity men chose to adorn their ears with garish diamond monstrosities. The boy bands of the period, glitzy and unavoidable, glided across the TRL screen with colossal stones attached to their droopy lobes. A look corny white guys from Florida cribbed from the bonafide hip-hop artists of the time. Even in my chosen subculture of punk and hardcore, earrings had moved from rudimentary safety pins to giant saucer-like plugs. For emotionally stunted suburban males packed into sweaty rooms listening to chugging guitars, the oozing earlobe was a pièce de résistance. I somehow avoided that, although I did choose to pierce my labret and septum, two significant mistakes that I should not be admitting in a popular public forum.Personal feelings aside, earrings, of all shapes and sizes, remain popular, whether you're an art hottie stuck in the Old Celine vortex or merely Justin Bieber. Earrings in menswear have, over the centuries, symbolized everything: wealth, nobility, dissent, stylish flair, slavery, fertility, sadness.
But modern body modification has taken on a more straightforward sense of vanity. In the late 1960s and early 70s, hippies and gay men adopted earrings, turning the once-taboo look into a trend that truly took hold, crossing racial and cultural boundaries in the late 80s. A popular saying was, "Left is right, and right is wrong" referring to the ear one has chosen to pierce, as it was rumored that a hoop in the right ear meant you're gay and submissive. The lore sent straight bros into a tailspin, concerned that they might have pierced the wrong ear. Other theories on left ear vs. right ear began to surface: it meant a man is divorced and looking, or could even signal whether you were a Democrat or Republican.
In 2019, when a face tattoo is a teen Soundcloud rapper's right of passage, an ornate dangly earring seems almost understated. For Clarke Rudick, researcher at GB65 (who's worked with everyone from Madonna to Miu Miu), earrings, of all sorts, are a vital part of his look. "I've worn hoops, pearls, studs, and paperclips," he said. "I can't imagine myself without them." He finds earrings on other men to be nothing short of intriguing. "There's something about an earring on a man that says, "I've lived a few lives, and those lives might involve some wild gay sex, or they might just involve too much time spent at the skatepark."Artist Nick Sethi—whose work has intersected with fashion through brands like Helmut Lang, Nike and designer Grace Wales Bonner—has worn the same earrings since he was 18, but recently decided to switch it up. "I was in Rajasthan, India and saw a bunch of communities and tribes wearing special earrings, and eventually had a pair made for myself," he said. "They're a little wild, but I get compliments on them every day, so I'm not mad." Sethi also points out the role that social influence plays in lobe-based decoration. "Growing up mostly in subcultures like punk, nobody stuck to traditional fashion convention or normalized gender roles, and encouraged people to be and look true to how they feel," he said. "I had this same feeling in India recently, seeing men and women wearing the same styles of highly decorated earrings."
Writer Naomi Fry is vehemently opposed to a particular style, "The biggest turnoff since I was a young lass: men in too-large hoop earrings!" But a small hoop is a different story, "A good example of doing the look right is Ewan McGregor as Renton in ." For something more contemporary, look to Carhartt WIP's 90s garage-y SS19 lookbook, in which a male model demonstrates an expertly proportioned double-hoop look. Naomi makes a great point: look to your heroes and take some cues. Maybe a young goth-y Robert Smith should be the ear decoration North Star. Perhaps a mid-life crisis is fast approaching, and a Porsche is out of your price range; the addition of a young Johnny Depp hoop, could give you the edge you desperately crave! Maybe fashion is your hero! If so, why not get heads turning with a pair of Fellini-inspired, shoulder-grazing embroidered earrings from Moschino's FW19 collection.
Choosing the right style is imperative. You can't just pierce and go. Alternative or elegant, stud or dangle, gold or silver, polished or rough, the options are truly endless. A cross, a skull, an industrial-thick Martine Ali chain link dangler, a simple hoop, even a clothespin given a fashion spin courtesy of Ambush—what are you trying to convey? Are you a Gen Z bedroom-pop artist with bleached blonde hair, a muscle-bound Daddy type in cargo shorts and construction boots, or a wispy Midwestern-born bartender/sculptor clad in all black? Or maybe you just think it looks cool. That's perfectly ok. Musician Tom Krell, who records under the moniker How To Dress Well, chooses to sport a "chill a little gemstone" in his ear. He knew from a young age that wearing an earring made a statement, "It was like what the cool non-jock guy did so I was like, yep let's go." It can be that simple!
Writer and editor Sam Hine is currently flirting with the idea of getting his ear pierced for the first time. "Earrings always bring to my mind two great men of style: Shakespeare and John Galliano in the era when he dressed like a pirate. Shakespeare might not have actually worn earrings, but whoever painted the Chandos portrait made him look baller as fuck by giving him a fat gold ring in his left lobe," he said. Shakespeare certainly liked to have fun, and in the 1600s earrings were also emblematic of poetry, used to tag the ear of a "creative type." Many factors have kept Hine's lobes clean, "There was never a chance of getting my ear pierced growing up in the Chicago burbs," he said. Resistance was actually profitable, "When I was a teen my grandmother floated a not insignificant cash bribe in the event I turned 21 tat- and piercing-free. Easy money!" Now that Hine is of legal drinking age, a single ear piercing off-center in his left lobe is starting to look like a reality. Hine is considering jumping into the deep end, "I'm trying to go straight to a dangly pearl," he said. But he is no fool: "The trick, I think, will be to find one that feels personal to my style—like Shakespeare's." he said. "But I'll still take it out when I visit Grandma this summer." Stylish, but not stupid.
Public Announcement T: The New York Times Style Magazine, Vogue, GQ, Architectural Digest.