How Palm Angels Brought Stoner Futurism From L.A. to Milan
Francesco Ragazzi of Palm Angels on Holding Fast to Transatlantic Inspiration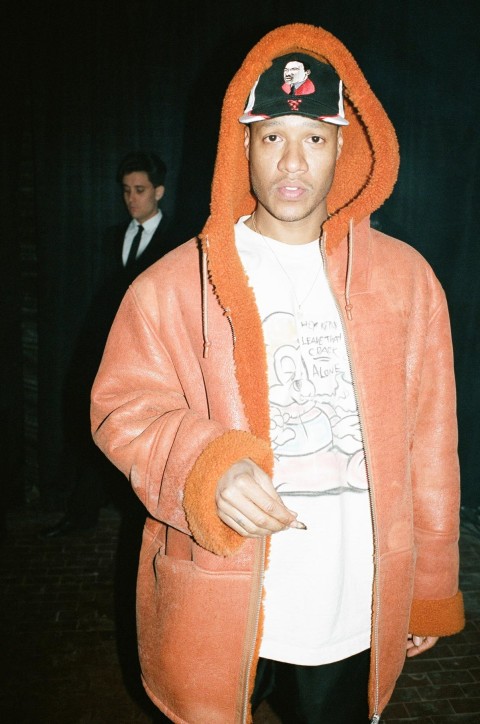 "I don't like it when people take inspiration from L.A. but don't really know what they're talking about," says photographer and designer Francesco Ragazzi. Los Angeles, with its myriad lifestyles spanning hyper-glossy celebrity to skatepark youth, has become a ground zero for "higher" fashion. Creatives from every industry—tech, beauty, and fashion—have warmed up to the City of Angels, celebrating it as a wellspring of inspiration—a sun-washed frontier for the creative pioneer. But Ragazzi insists there must be some lived experience to go with that inspiration. "I use a lot of marijuana symbology in Palm Angels," he explains. "You walk around in Los Angeles, and it's all you smell. You know?"
In early 2017, the ground feels especially fertile for new, more tender ways of thinking about borders and frontiers, and the designer is himself a good example. For Ragazzi, who also serves as Moncler's artistic director, creativity comes from cross-pollination between his native Milan and L.A. skate style. Witness: his galvanizing Palm Angels. Even though he designs it from an ocean away, Ragazzi recounts the origin story of his clothing line with a wistfulness for its Californian milieu: "I would sit there on Venice Beach. You had the sand, skating guys, and smoking. With every collection we do here in Milan, it's supposed to feel like that. To reflect that inspiration."
City-as-muse is not new, of course, and neither is this European fixation on the sun-stained West Coast as site of inspiration. The Los-Angeleno-Franco connection is strong, with the likes of Balmain's Olivier Rousteing and A.P.C.'s Jean Touitou pledging their transatlantic allegiance. More daringly, during his tenure at Saint Laurent, Hedi Slimane relocated the French house's design studio from Paris to Los Angeles. This move forged a new link, a rarefied skyway, between the two cities that is now extending to encompass Ragazzi's Milan into its fold. If L.A. is the "contemporary world" and Paris "the church"—as Slimane once put it—Milan might emerge as yet another link between fashion's old and new establishment, with L.A. at the beating center.
The more tangible origin story of the two year old brand is a book of photographs. After spending time in Ventura and Huntington Beaches photographing the skateboarding scene—which ended up in a book of the same name published by Rizzoli—Ragazzi decided to launch his So-Cal-infused collection from Milan. "I always stick with this idea of mixing my concept, mixing my Italian sensibility with the American one," says Ragazzi. "I've been in America maybe half of my life. And I like the idea of bringing back American culture to Italy." With small-scale collaborations leading up to the launch of the clothing line, Ragazzi worked with Mykita, Nick Fouquet, and Marcelo Burlon before the official debut of Palm Angels in Fall 2015.
Palm Angels is unapologetic casual-wear, informed by the ubiquitous pot smoke of L.A., grunge styling, bold logomania, and, of course, the city's skate subculture. There's an anarchic icon central to Palm Angels, too—one of Ragazzi's favorite photographs is one he took of a palm tree, burning in a vertical streak of fire. He coated his Fall 2017 runway show with that same image, and the clothes it surrounded—sweeping flared pants, hoods, chains, and face-masks—were a statement in antiestablishment frustration.
Standing outside the normative is familiar to Ragazzi, who doesn't assign himself to one place or the other. He lives between Florida and Italy, but goes to Los Angeles often—where he stays at the Chateau Marmont or the Beverly Hills Hotel, and does what most people do when there: indulges. And though he calls himself an "outsider" in "every place," this movement between Los Angeles and Milan is what energizes his vision of each. A bit of L.A.'s sun and malaise, a bit of Milan's more elevated wardrobe. The result is strange and lovely—like a joint and a shot of Italian espresso at the same time.