Hybrid Footwear
Charting a Moment in Crossbred Design
Shoes are breeding! What does it mean? As genres, seasons, and fashion cycles lose their grip, hybrid shoes reflect our fragmented reality. They acknowledge a breakdown of norms; they represent the interpolation of historical settings and cultural moments. Desert boots, penny loafers, alligator pumps, espadrilles, shower slides, and moon boots are no longer mutually exclusive.
In 2002, Manolo Blahnik released the Timberland-inspired stiletto boot that Beyoncé wore in the"'03 Bonnie & Clyde" video, and J. Lo rocked in "Jenny from the Block." Synonymous with the early noughties' convergence of high and low, these boots were a bellwether of fashion hybrids to come.Later that decade, released their now-legendary "Shoes in Shoes" editorial, which featured Timberlands stuffed into Tevas, Vibrams in Sketchers, and Issey Miyakes in YakTrax ice cleats. "Shoe layering is a cross-seasonal option for style hybrids, and a simple method for shoe size reassignment," explained.Now, in 2017, shoe pastiche is reaching its full potential, with a wide variety of brands releasing Frankenstein footwear. This time, it's more than just high and low. These shoes go East-West, past-future, tropical-arctic, and beyond. Here we present six pairs that express a new world order.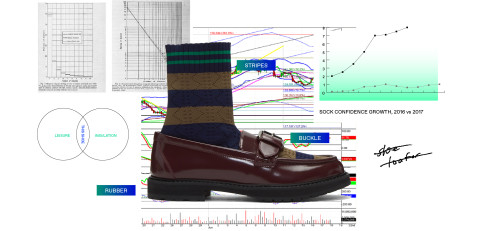 FENDI SCUBA SOCK LOAFERSThese take a mid-20th-century preppy schoolgirl look and make it even more perverse. The sock is not in fact a sock. It's something more substantial, with a performance texture more in line with Flyknits or Yeezys than a basic cotton tube. The hierarchy between sock and shoe has been weakening across the board. These are yet further evidence that the sock has begun to overthrow its master.
MIU MIU GREEN ECO SHEARLING MOON BOOTItalian manufacturer Tecnica launched the original Moon Boots in the early 70s after one of its designers watched the lunar landing. They went on to become a controversial trend throughout the 80s. This Miu Miu version breeds them with the form factor of a Buckingham Palace guard's helmet, the texture of a Nick Cave Soundsuit, and the color of mouthwash. Pin-buckle straps from their popular ballet flats hold the whole post-rational composition together.
MGSM BLACK PATENT FRINGE CHELSEA BOOTSThe most masculine of the bunch, it may appear that these are simply a penny loafer crossbred with a Chelsea boot—but do not be fooled. There are way more references lurking in this design. Moccasin fringe. Patent leather formality. Lug-sole ruggedness. This is an array of 20th century masculine identities all mixed into one. Vulcanized rubber played a crucial role in the original design of the Chelsea boot, because it allowed the creation of a boot that could be easily slipped on and off. It represented a certain devil-may-care slipperiness, now meeting its professional cousin in the form of a bourgeois loafer, which has taken on a more multipurpose, water-resistant surface texture.
CHLOE BEIGE SHEARLING CAMILLA SANDALSWith their dense shearling upper and springy cork platform, these slides subtly express the realities of extreme weather. At another point in history, these would not have been considered wearable—if only because a cork platform slide has traditionally found itself in more summery settings, clomping along a boardwalk, for example, where the shearling would've been totally out of place. These Chloe sandals, however, appear in the perfect literal and cultural climate: record-breaking schizophrenic weather and an internet landscape in which fuzzy slides have become somewhat of a meme in their own right.
VERSACE NAVY AND ORANGE LOGO STRAP SANDALSSexy, minimalist, open-toe stilettos that will take you from the locker room showers to the Nascar track. These have the silhouette of a celebrity favorite—the leg-lengthening ankle strap and slim heel that's familiar from thousands of paparazzi shots, an ankle emerging from the Range Rover on the descent into the flashing lights. Versace mixes that red carpet form with the rubbery tracking of a shower sandal and the colorway of an extreme sports vehicle, making for a particularly haute mutant hybrid.
MIU MIU SHEARLING PEARL ESPADRILLE FLATFORM SANDALSThe lushest espadrilles imaginable, these Miu Miu espadrilles erode almost too many binaries to account for. Breezy, open, flatform slides at once encircle the foot with fur, while the casual beach sandal collides with the urban upper-class air of pearls and rhinestones. Though a jute sole says "India" and shearling says "Ugg-stralia," Swarovski crystals (and Italian DNA) insist on Europe. They belong everywhere, and nowhere.