Inside the 90s Underground in New York City
Photographer Nick Waplington Captures the Energy of the City's Club Scene and Isaac Mizrahi's Studios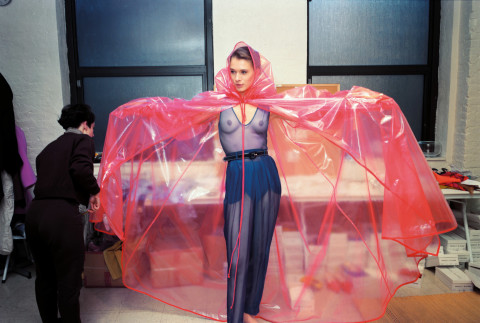 Between the buzz of haute couture ateliers and the basements of underground clubs like Save the Robots, it is hard to imagine anyone saw daylight in 1990s New York. From 1989 to 1993, British photographer Nick Waplington documented the extroverted yet exacting designer Isaac Mizrahi during his high fashion zenith, surrounded by supermodel muses such as Cindy Crawford and Christy Turlington. In , the supercharged ego of fashion is juxtaposed with the gritty id of the city's club scene. Scenes of Mizrahi obsessively ruffling pleats of black formalwear dresses and adjusting mint green capes on a 22-year-old Naomi Campbell during Fashion Week are met with club kids dancing in foot-high platform boots. From uptown glamour to downtown debauchery, each image is drenched in spontaneity and devoid of net-native self-consciousness. They are odes to being in the moment without broadcasting it to the world. Yet this moment would inevitably dissolve, and Mizrahi himself would become known more as a television personality than a fashion designer. Released 30 years after the fact in , Waplington's photographs present a memoir of wanton production.Dan Meththananda spoke to Waplington in Los Angeles about this insomniac, decadent chapter in New York and his unique position as an observer in the fashion world.
How did you decide to couple images from Isaac Mizrahi's fitting sessions with scenes from New York's underground scene?Are there any photos you are particularly fond of from those times?What was it like?
The late 80s to early 90s was an interesting period to live in New York. It was a very different city before the Giuliani cleanup, you know? While I was working with Isaac documenting his creative process, I took all these other pictures in my off-time. I had access to a lot of the underground clubs that were going on at the time. I took those pictures and just put them in a file and didn't look at them for 25 years.It was difficult to get permission to photograph at the Sound Factory. It was an incredible place, but extremely guarded. But eventually I found a way to get a camera in. So those were very special pictures. I don't think there were many pictures of those Sunday mornings, because it was only open on Sunday mornings.At the time, it was a gay afterhours club. It wasn't just gay. There were club kids in there as well, and the music was incredible. I'm not sure what time it would open. No one used to get there before five in the morning, and it wouldn't really get going until 6 or 7AM. I used to go every Sunday. I was literally going to bed early on Saturday night and dragging myself up in the morning, getting in a cab, and going over there to West 27th Street. The legendary DJ Junior Vasquez would play right the way through—these 12-, 14-, even 16-hour sets. It was the best club I've ever been to. The only thing that came close was DC-10, when it first started in Ibiza about 15 or 16 years ago. Things were a lot crazier then. Things are so fucking controlled now.
Do you think technology has changed how people act in front of the camera now that you can upload everything immediately?So drug dealers were the tastemakers back then.
Yes. Today, if you pull out a phone or camera, people are much more aware and picture savvy. Everyone—from me, to my mother, to my 11-year-old son—is on Instagram. It changed everything. But when I started making this work, there weren't even mobile phones. I remember pulling out a mobile phone in 1990 and being thrown out a pub in Brixton because the only people that had phones then were drug dealers.No one had them. And then six weeks later—at least in central London—everyone had one.
That seems a long way from the glamorous New York that you portray here. How did you come to meet Isaac Mizrahi?Looking at photos today, it seems like you were witnessing the fabrication of a new type of womanhood in those ateliers.
It was the art and fashion photographer, Richard Avedon, who set it up. It was the summer of 1989, and I was hanging out with Avedon a bit. Even though I wasn't involved in fashion, he thought I should do some pictures with Isaac, since we were both young and it would be a good match for us to work together. I met with Isaac, we did a trial, and it worked. I was living downtown at that time at the bottom of 5th Avenue, so I could walk through Washington Square Park to get to Isaac's studio. I documented him for the next three to four years, depending on when the fittings were. I would do a few weeks before the show, and then the show itself.You've got to remember, this is at a time when the models were actually over 20. So I was the same age as them. They used to come to my shows, my exhibitions, and I used to go clubbing with them. I used to go out drinking with some of them sometimes. The models were interested in my work. They used to come to my shows at Aperture and buy my books. They weren't like little skinny girls being chaperoned in groups of four or five. They were their own people, you know? I used to have quite good times with Michael Hutchence, who was dating Helena Christensen. I used to go out drinking late with him sometimes at afterhours bars in New York. It was a good laugh!
Was Isaac easy to get to know?Would you have called him a workaholic then?Could you have anticipated Isaac would have moved away from high fashion?
He always came to my exhibitions over the years, and we'd have coffee and we'd talk. But I was into skateboarding and techno, and his world was obviously more glitzy. His private life was very different to mine. He wasn't going out to skanky clubs.Photographing his process, I realized that it's extremely hard to create collection after collection, every six months. And nowadays the pressure is even greater because there's all these other collections they do. Because of the internet, people don't want to wait six months for it, so as soon as they have these shows, the clothes are ready to buy.Isaac has always had this very quick and sharp wit. He could have people roaring with laughter over anything. He's always been an extremely theatrical guy, and I was always surprised that he wasn't an actor. So when he moved into TV that came as no surprise to me at all.
Rather than being a fashion photographer, you're an art photographer that's been tangentially involved in fashion. How do you approach the field?Does fashion still fascinate you?
I'm not trying to make a living out of the fashion world. I'm not a fashion photographer. I make my living as an artist. I've never done a fashion shoot where there's been models and stylists. I've taken documentary photographs of a factory that makes fashion. And it could be any factory or workplace. It just happens to be that fashion people seem to find something in my work that they like.Fashion in itself never interested me at all! But when I made these pictures with Isaac, I enjoyed the scenario and the chaotic energy of what was going on in his atelier. Once, before a show, Madonna arrived with her entourage back before she became what she is now. I was drawn to that spectacle and the frenetic pace behind the scenes. But whether the clothes this year are blue, or they're pink, or heels are high, or dresses are low, I don't give a fuck, really. But that's why designers employ me. They're interested in my eye, and the things that I might see that people who are interested in fashion might miss.