Is Fashion Modern?
Visiting the MoMA's New Fashion Exhibition with Curator Paola Antonelli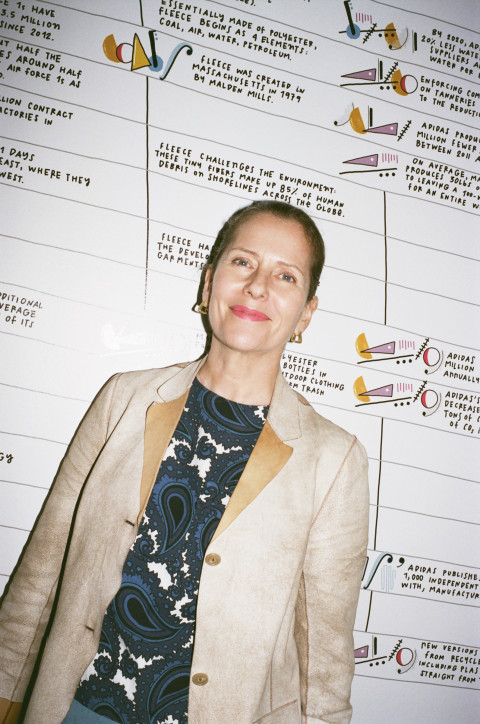 On October 1st, the Museum of Modern Art in New York City opened its first fashion-focused exhibition in 73 years. It features 111 different objects from the 20th and 21st centuries that were of world-changing significance. The exhibition piques curiosity before you even set foot in the building because of the oddness of its title: "Items: Is Fashion Modern?"
I can't recall ever seeing an exhibition title phrased as a question, much less one that could be interpreted in so many different ways. When I arrived at MoMA a few days before the show's official opening to meet with its principal curator Paola Antonelli, the title was the first thing I asked her about. Antonelli explained that it's an invocation of the title of the MoMA's last fashion exhibition, the 1944 show "Are Clothes Modern?" curated by Bernard Rudovsky."We wanted to create that connection, to poke fun at ourselves," Antonelli said as we entered the galleries. "Why has nothing happened ever since? The official explanations have to do with the fact that fashion was considered ephemeral, seasonal. But I think it might have more to do with patriarchal systems in academia and museums, and the fact that fashion was always considered more feminine and therefore kind of looked down upon."
The exhibition sprawls across the entirety of the MoMA's sixth floor, occupying four large galleries, two atria featuring additional graphics, and a gift shop. Over 350 pieces are on display. Grouped thematically, these objects crisscross the globe, going beyond clothing to include accessories, cosmetics, technology, and body modifications. They range from rare and luxurious, like a piece from Comme des Garçons' groundbreaking 1997 "Body Meets Dress—Dress Meets Body" collection, to utterly commonplace, like a tube of red lipstick. Variations on the little black dress appear adjacent to various types of undergarments. Vitrines hold everything from Margiela's iconic tabi shoe to high-concept nail art. A vintage Lacoste polo sits near a Colin Kaepernick jersey, tattoos are projected onto a mannequin, and newly-commissioned riffs on items like the Breton-striped shirt and the Aran sweater offer fresh takes on familiar classics."What we would really like is for people to feel that whatever they're learning is their own discovery," Antonelli told me as we paused by a display drawing attention to the similarities between Diane Von Furstenberg's wrap dress and the Indian sari. "We really want this exhibition to be about people going through and making up their own minds and understanding things their own way."
The breadth of objects on display encourages this sort of personalized experience. Visitors will gravitate towards what excites them. I found myself drawn to instances in which Antonelli and her team sought to expand what is typically considered "fashion"—a tube of sunscreen or the original Sony Walkman. Neither of these are garments, and neither's central aim is aesthetic impact, but both have fundamentally changed our visual experience of the world. Sunscreen gave us the freedom to disrobe and also enabled the fair-complexioned to darken their skin through tanning, while the Walkman made headphones a ubiquitous feature of contemporary life—one of the most significant aesthetic and experiential shifts of the past half-century.With so many objects included in the show, I was curious about how Antonelli and her team went about crafting the catalogue. She told me items had to meet two main criteria to be considered for inclusion.
"One is the idea of it being great design—it's still the MoMA, and this is a design show," Antonelli said. "The second is its relevance to the world, the idea of being influential in the past hundred years. You have inescapable items—a white t-shirt, Levi's 501s, you have Converse—and then you start sculpting. You want to make sure you're showing different parts of the world. You want to make sure you feature garments that speak about gender, that speak about politics, that speak about race, that speak about appropriation. There are some items that popped into mind immediately and some others that were generated by a need. Then there are some that are both."We stopped in front of a red Champion hoodie, isolated on its own wall."If you think about it," Antonelli continued, "The hoodie was everything we needed it to be. It's global, it's a great design, but also it's become this tragic political symbol."
She is referring to the symbolic weight the garment took on in the wake of the 2012 murder of Trayvon Martin by George Zimmerman. Zimmerman claimed it was the hoodie that made him feel threatened enough to fatally shoot Martin, and so it became an emblem of protest against racialized violence in America. Professional athletes and elected officials alike donned hoodies in solidarity, and David Hammons' 1993 piece appeared on the cover of poet Claudia Rankine's landmark work , a 2014 book that grappled with the ongoing legacy of violent racism. Yet the same garment has an entirely different connotation when worn by, for instance, Facebook founder Mark Zuckerberg, who's made it part of his personal uniform—shorthand for Silicon Valley's "disruptive" ethos. Here we see the limits of clothing's communicative potential: it does broad strokes very well, but struggles to convey complexity. It can obscure as much as it reveals, transmitting as much noise as signal. And this itself is a point worth making."What's nice is the ambiguity of so many different items," said Antonelli as we continued through the galleries. "The mini skirt, so many people will tell you it's about emancipation, but not necessarily—it's still about showing legs and it's still about attracting the other sex."
This ambiguity is a persistent feature of "Items." The push-pull between commerce and creativity is explored through a selection of graphic t-shirts projected onto mannequins. The blurred line between inspiration and appropriation is highlighted via, among other items, jackets from Dapper Dan's 90s heyday.The exhibition's final room is populated by examples of men's suiting spanning several decades, and, right by the exit—the final item in the exhibition—a plain, white t-shirt. Of course, the juxtaposition is purposeful. Antonelli explains: "In this day and age, the three-piece suit might be worn by the bodyguard, but the guy with the real power is wearing a white t-shirt. It's this upside-down movement of power." It's a neat curatorial flourish, and a sharp observation, but Antonelli's point resonated more deeply after we'd parted ways and I'd begun working my way back through the exhibition. Of all the people occupying this space, on a day where it was open strictly for a members-only preview, the ones dressed most formally were the MoMA employees standing sentinel in the galleries' corners. Perhaps this is what visitors are meant to take away from the show: a simple reminder to think critically about the clothes we wear and what they signify. The question in the title turned out to be rhetorical.