Is this Logomania?
Talking Streetwear and Conspicuous Consumption with Teenage Fashion Aficionado Leo Mandella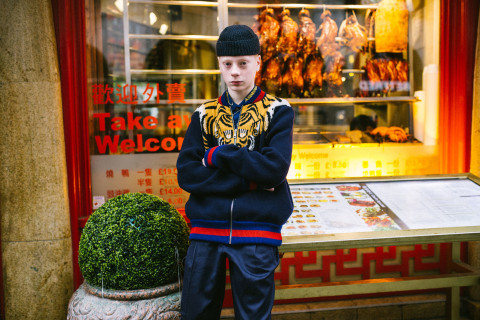 Take a scroll through 14-year-old Leo Mandella's Instagram and you'll find conspicuous consumption as a youth pastime. But Mandella, better known online as @gullyguyleo, isn't in the selfie game to rock as many logos as possible. For him, "doing gully" and being all-branded all the time is, at its core, about connecting with a community of likeminded streetwear lovers. He wears his heart and his logomania on his sleeve, hoping to find his people. "At first I was just watching from the outside, looking at streetwear photos on Instagram and really enjoying the culture behind it and the community that grows around it. I wanted to get involved," he says. "It's crazy how clothes can make such a connection between two people or 100 people."Nancy Won talks to the teenager about his Supreme obsession, finding his tribe, and the dangers of logo fatigue.
When people ask you what do you do, what do you tell them?How did you get into streetwear?
A lot of people ask me what my title is, but the thing is I haven't really got one. I sort of do whatever people want me to do—I can take photos, I can model, I can make clothes, design, everything. But if I had to choose one name for what I do it would probably be modelling, or posting pictures.I started out just watching it from the outside. I was never in it at all or involved in anything to do with it. I wasn't buying anything at that point, more just enjoying what people were wearing on Instagram. It was cool to see how people were talking and relating so much with each other over clothes! I never really got that before—I thought people just wore clothes and enjoyed it for themselves, but it really is a global community. You could literally be at home on your computer and be part of it.
So I know it can be really hard to get your hands on these items—not to mention expensive—how do you buy all your clothes?What are your favorite brands right now?
I normally get all my clothes from a streetwear forum like Supremetalk, where people post items they want to sell. Or sometimes Grailed and Depop. But the forums are the quickest and the most trustworthy. At the start it's really hard to buy items because they're so rare. Sometimes if you're lucky you can get them at retail price, but a lot of the time people want to make money. What a lot of people do is buy the clothes, wear them for a bit, and then when you're bored sell them for slightly more so you can make profit to buy more. I used to do this, but now I've gotten to the point where I can sell my clothes and still have clothes left and buy new ones, so it's worked tdt really nicely.Obviously one of my favourite brands is clearly Supreme, although recently I've started to go away from it a bit and into different brands. Gucci is really nice. I'm enjoying the vintage and new released pieces like the jeans with the snake. Number (N)ine is really cool, too.
Do you like mixing streetwear brands with high-fashion brands like Gucci?Why do you think people are so obsessed with the Supreme box logo?What do you think about people who say that you have to be a skater to be into Supreme?
Yeah! Gucci has such a name from rich people wearing it as formal wear, but it's recently started to make a big comeback into streetwear culture. It's really cool seeing how it's worn with maybe Supreme joggers or pairing a Gucci tee with a suit and tie.It's definitely hard to understand because the prices these thing go for—like literally a hoodie with a little box on it—are crazy! When I was less into Supreme, I was like, "So many people have this and I don't want to look like everybody else," but it's kind of hard to avoid when you get deep into Supreme. So for me, buying a box logo was kind of a big decision but people really liked it, and then as I found cooler, rarer colors, it got me a lot of attention. I actually like wearing the box logo now—it's so well-known that when you wear it, it almost acts as a way to show people you're interested in streetwear. If you're wearing a more low-key piece, people are less likely to know. So it's a cool way to show people you're in this tribe and it might start conversations or make connections.I hear that a lot, like, "If you're not skating then why are you wearing Supreme?" but I think people realized a long time ago that that's a stupid mentality to have. You can't really judge someone wearing a brand because they do or don't do a certain activity. It's like saying you can't wear Adidas if you don't play football. It's outdated.
Do you feel like the logo is starting to be overkill?Logos in general are bigger than ever—what do you think the appeal is?
I know what you mean, but I wouldn't say it's overkill.I guess it's just a way of showing that you're into something or that you've got this rare piece—sort of showing off. If people recognize it, you'll get noticed.
What do you think of the way Vetements and Gosha Rubchinskiy are subverting iconic known logos and doing their own flips on them?What do you think of the Supreme x Louis Vuitton collaboration?
Yeah, it's a huge thing brands are doing at the moment. Did you see the Vetements x Champion one they did? Or Demna [Gvasalia] wearing the IKEA logo? That's crazy. I don't know, maybe it's questioning what makes something cool. Like it just shows that people will pay money for something like an IKEA logo jumper, and the extent they'll go to when buying stuff. It's quite funny, but it can also get overdone and become a bit cringe if people get a bit bored of it.That is crazy! You were asking me earlier about how I mix high-end brands with streetwear brands and that is literally revolutionary. That fact that a streetwear, skate culture brand can collab with such a high-end rich mom stereotype brand—I think it's a revolutionary moment in fashion. I really want the denim jacket and maybe the bag but it's rumored to only launch at Louis Vuitton so apparently the prices are looking insane. The quality is going to be so much better but that comes with the annoyingness that it's going to be a lot more money.
You mentioned earlier that you're starting to get away from Supreme—are you feeling a bit of logo fatigue?Is it harder to be original now because everything happens so quickly on social media?
I'm not getting sick of logos, but I am getting sick of seeing everyone wearing the same logos all the time. But obviously with streetwear culture growing, it's hard to own a piece of clothing that not a lot of other people have. So it's more about showing your originality and wearing the same items in a different way from everyone else.Because people are always posting outfit pictures, it's obvious everyone's wearing the same thing, which makes it difficult to differentiate yourself. But at the same time, it's also a positive because if you have achieved wearing Supreme or Palace in a different way then it's good to get that on the internet and it will make its way around. So I guess the internet is good and bad—for showing originality and losing originality as well.