Jing Leng x Bergdorf Goodman
While snow drifts softly in the breeze in chilly New York March, the Fifth Avenue shops are full of spring breath. ModeSens partner, Bergdorf Goodman, invited me to check out the latest arrivals in their legendary store to prepare for the new season.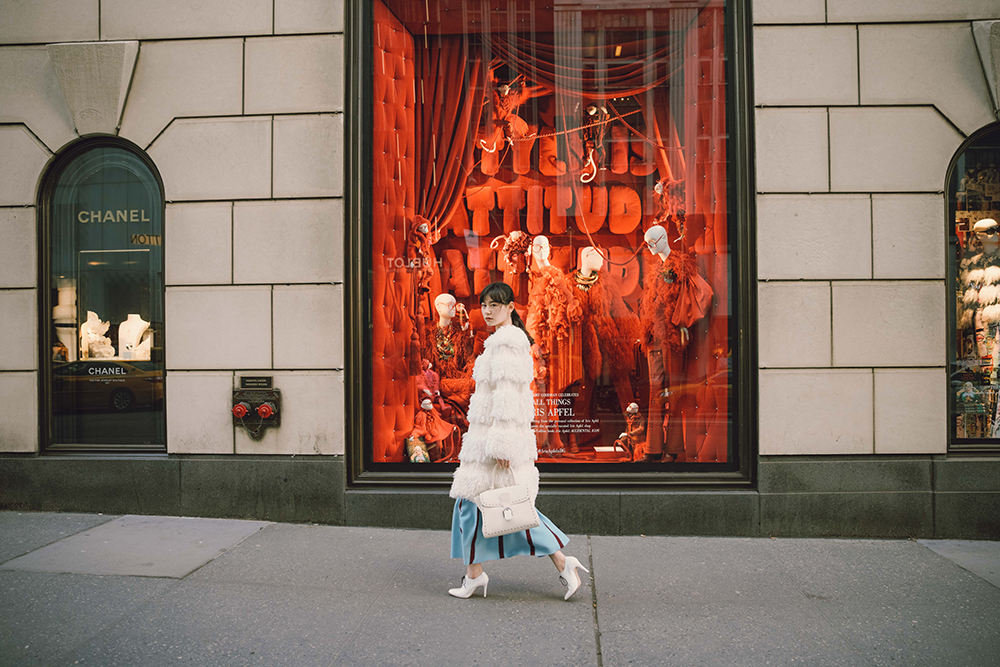 For those strapped into the urban rhythm of counting every minute, the opportunity to come out for a relaxing shopping trip is a rare luxury. While at BG, I styled three outfits that are perfect to welcome spring. I also chose one very special pair of white shoes after trying over 30 pairs from various designers. They will definitely take any spring outfit to the next level.
Dress GABRIELA HEARST Capote Striped Wool-Blend Midi Dress
Coat ANNA SUI
Bag Delvaux
Shoes CHANEL
Look1
The First Stop: "Linda's at BG"!
A gentle, romantic, relaxed and fun printed dress is always a must for spring and summer. Upon arrival at Bergdorf Goodman, we went straight to the fourth floor to visit the Linda's at BG boutique. The selection for the new season has been hand selected by BG Fashion Director, Linda Fargo. https://modesens.com/s/4B0/
Take a look at this print of red and white calla lilies. Both the chest and cuffs can be tied into bows. The red and white heart pendant necklace and white powder sandals pair perfectly. Of course, once perfectly dressed, you can head right to the 7th floor of the store to visit the BG Restaurant for some tea while enjoying the Manhattan views.
Necklace EDIE PARKER Large Enamel Heart Pendant
Dresses BORGO DE NOR Sonia Floral-Print Crepe De Chine Midi Dress
Shoes Christian Louboutin
Similar Styles
Flower skirts from left to right
MISA Desi Cold Shoulder Midi Dress
LISA MARIE FERNANDEZ Floral-Embroidered Cotton Midi Dress
PARKER Demi Floral-Print Silk Wrap Dress
Look2
The Second Stop: "Gucci Store" Workplace.
Do you like to wear suits in the workplace, but fear it's not fashionable enough? Glen Plaid is carrying through as a popular element for spring and summer women's clothing. This suit jacket is tailored to fit the waist with straight leg, high waisted pants. Throughout the entire outfit, there are beautiful pink flowers embroidered amongst the checks, with small green leaves as well, giving the outfit just a hint of spring warmth.
The jacket and trousers can be separated and matched with other outfits too. The colors and elements of the trousers are already very rich so they are perfect for matching with pure silk shirts and sandals of the same color.
Blazer GUCCI Prince Of Wales-Checked Wool-Blend Blazer
Shirt GUCCI Neckline-Tie Silk-Georgette Blouse
Trousers GUCCI Embroidered Floral Trousers
Shoes GUCCI Marmont Leather Block-Heel Sandal
Similar Styles
Blazer ALEXA CHUNG Flower-Embroidered Prince Of Wales-Checked Blazer
Trousers ALEXACHUNG Embroidered checked wool-blend wide-leg pants
Skirt ALEXA CHUNG Slit Front Wool Blend Pencil Skirt
Look 3
The Third Stop: #BGSelect Featuring The Season's Most Sought After Contemporary Pieces.
"So many beautiful clothes, which works for me?" "I love these bloggers, through their recommendations, I buy my clothes." Do you want to let the big-name bloggers choose the best for you? The 5th floor of Bergdorf Goodman is home to #BG Select, where the most avant garde and vanguard styles find their home, with the most stylish and cutting edge bloggers choosing new pieces like from their own closet.
This blue and white striped shirt is perfect for those who want to wear an oversized shape without adding too much bulk. The tapering in the pant legs, paired with white sneakers, allows the whole ensemble to carry a relaxed and cool vibe.
Tops MSGM Oversized Cotton Shirt
Pants FRAME Soft Straight-Leg Trousers
#BG select by Margaret Zhang
Similar Styles
Shirts from left to right
EQUIPMENT Arlette Pencil-Striped Poplin Shirt
VICTORIA VICTORIA BECKHAM Fluid Stripe-Print Silk Twill Shirt
Pants from left to right
DOVIMA PARIS Cruz Wide-Leg Crepe-Cady Trousers
MAISON MARGIELA Blue Crepe Trouser
VICTORIA VICTORIA BECKHAM Cyan Straight-Leg Twill Trousers
The Last Stop: BG's Designer Shoe Salon.
If you haven't jumped on board yet, now is the time. White shoes are an ongoing must-have trend.
Spring and summer shoes are best in white: white sneakers, white boots, white pumps, white sandals, and white mules. You can never have too many! Of the three looks I tried, I absolutely adored the white shoes outfit the most.
There are so many great designers to choose from to find your perfect pair. Manolo Blahnik's classic BB pump with a pointed toe and stiletto heel is a wardrobe essential. Jimmy Choo's off-white crystal embroidery is a must for weddings and parties. Christian Louboutin's heels with pvc elements and a T-back design are great for elegance. Excessiveness is perfect early spring with jeans or long skirts. Lastly, Alexander Birman's white boots are perfect for adding that exuberant flair.
CHRISTIAN LOUBOUTIN Nosy 100 Patent-Leather And Pvc T-Bar Pumps
AQUAZZURA Viviana Leather Ankle-Strap Pump
GIANVITO ROSSI Vires Knit Open-Toe Bootie
CELINE V Neck Pumps Black
Jimmy Choo Romy Fireworks Satin Pump
Alexandre Birman Kitti Point-Toe Leather Bootie
Manolo Blahnik BB Leather 105mm Pump
After a full day of shopping, I couldn't wait to take my new finds from BG home. Follow me on ModeSens to see more~
Jing
Photographer/Videographer: Lunuo Zhou
Production/Post-Production: Samuel Triplett