JingLeng x Stylebop
It's sweet and fragrant April, time to cast off the heavy coats, and bring in some light pastels for the warming weather. With light pink as my base, I style several outfits from STYLEBOP's new spring selection, to give you the best outfit ideas this month!
Look 1: Knitwear and lightwash jeans, easily styled and effortless.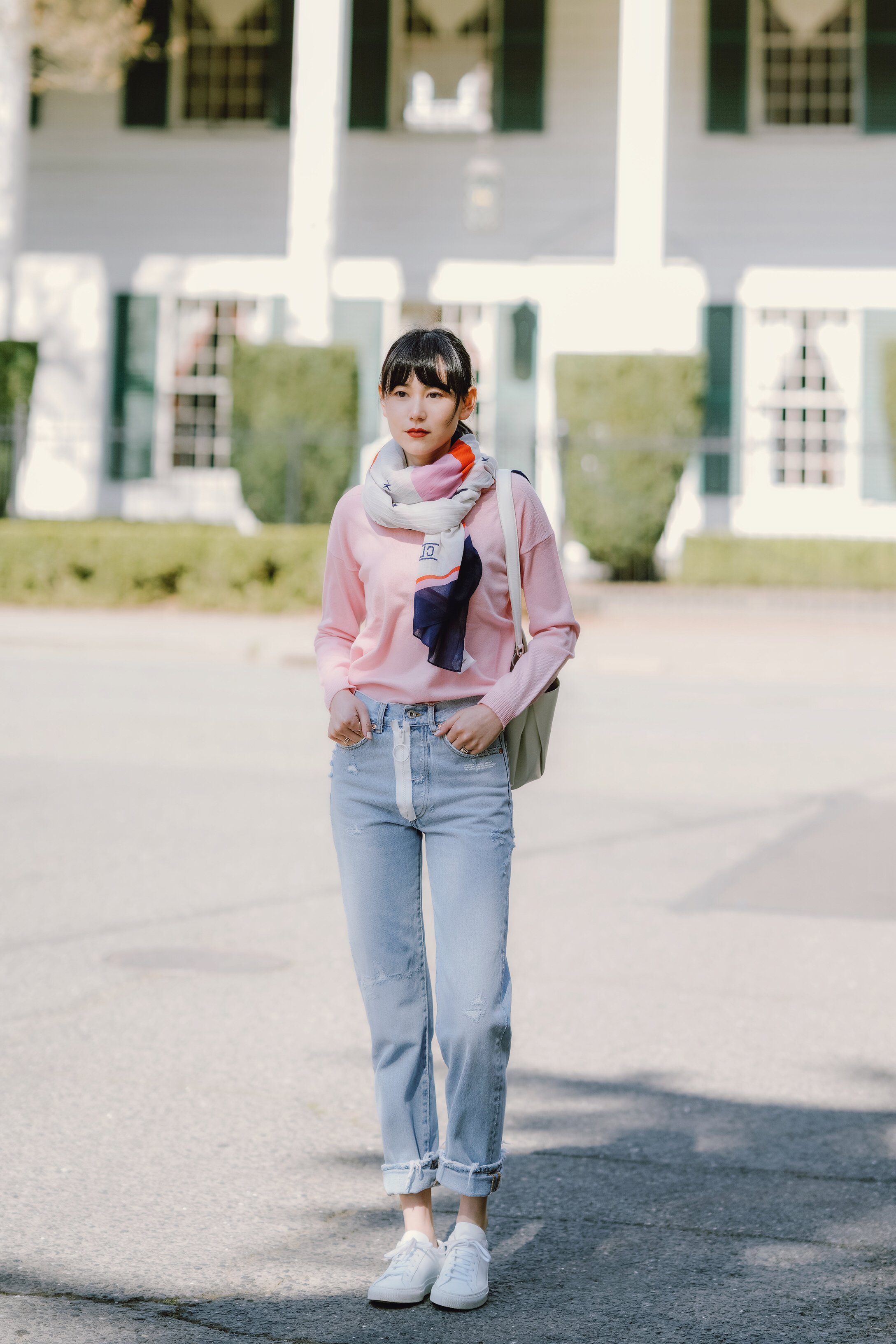 For those must have knits in your wardrobe, this spring I recommend aiming for light yellows, ice blues, faded pinks, and lilacs.
Style with either lightwash or khaki jeans, and some white sneakers or short pumps, shoulder a nice bucket bag, and you're good to go.
Top CLOSED Wool Pullover With Cashmer
Jeans OFF-WHITE Straight Leg Jeans
Scarf CLOSED Printed Cotton Scarf
Bucket bag JIL SANDER Small Tulip Leather Tote
Similar Styles
Knits from left to right
MARC JACOBS Ruffled Ribbed Wool Turtleneck Sweater
VICTORIA BECKHAM Cashmere-Blend Sweater
PRADA Intarsia wool and cashmere-blend sweater
Look 2: Romantic silhouettes, beauty in the workplace.
Spring 2018 colors are all about a refined reserved elegance, soft colors melding together, no longer relying on sharp contrasts in color blocking, but a more romantic blending together.
This light pink suit jacket, with pronounce shoulders and a fitted waist create a very deliberate and intriguing silhouette, strong lines melding perfectly with the soft pink tones. Paired with a pair of high-waisted lilac trousers, the straight legs create a very long silhouette, and a muted white knit blouse brings the entire ensemble together. Pastels from head to toe, this outfit can bring a smart elegance to the workplace.
Blazer BRANDON MAXWELL Double Faced Crepe Blazer
Trousers JOSEPH Beam Silk Pants
Bag PROENZA SCHOULER Ps11 Leather Wallet-On-Strap
Similar Styles
Blazers from left to right
THEORY Admiral Crepe Power Jacket
HALSTON HERITAGE Crinkled-Crepe Blazer
Similar Styles
Trousers from left to right
ELEANOR BALFOUR Sandra High Waisted Cuffed Pants
TIBI Pleated Crepe Tapered Pants
CHRISTOPHER KANE Pleat-Detail Wool-Crepe Trousers
Look 3: Stripes and tomboy vibes.
The clothes make the man (or woman, in this case), so its best to have equal parts softness and structure. Compared to the tight cropped and tailoring of traditional women's suits, a nice striped men's-style suit jacket, with a looser shape can help to make the shoulders look slimmer, and create a much cleaner and streamlined office look.
Add in a pair of slightly tapered highwater trousers to show off just a hint of ankle, with button accents along the pocket seams through the waist, and it will emphasize the body shape. Pair with a white T and some white trainers, and it's the perfect seemingly effortless outfit for the office.
Blazer VICTORIA VICTORIA BECKHAM Tailored Cotton Jacket
Trousers VICTORIA VICTORIA BECKHAM Striped Cotton Pants
T-shirt RE/DONE Cindy Crawford Cotton T-Shirt
Similar Styles
Blazers from left to right
FRAME True Stripe One-Button Blazer
FRAME Pink Striped Blazer Multi
VICTORIA, VICTORIA BECKHAM Pinstriped cotton-twill blazer
Look 4: Trench and dress combo.
Is your closet filled with drab black and khaki trenches? Waterproof, buckle belt, and double breasted keep the basic elements covered, so why not get into some brighter colors for a new spring trench?
If print dresses are a little too noisy for your style, go for a nice soft simple dress in two colors, holding a quiet beauty and gorgeousness.
On top rock a thin spaghetti strap tucked into a high-waisted skirt, to elongate the silhouette, and attract the eye right towards the color blocking. The small hook closure open on the back adds a small sexiness to the ensemble.
Dress TIBI Two-Tone Silk Crepe De Chine Midi Dress
Coat VICTORIA VICTORIA BECKHAM Drop Shoulder Wool Trench
Necklace MARC JACOBS Apple Necklace With Crystal Embellishment
Bracelet MARC JACOBS Ladybug Embellished Bracelet
Similar Styles
Dresses from left to right
DRIES VAN NOTEN Colorblock Sleeveless Scarf Dress
ALICE AND OLIVIA Rozlyn Pleat Colorblock Maxi Dress
AIDAN MATTOX Strapless Colorblock Popover Pleated Crepe Dress
Similar Styles
Coats from left to right
VIKA GAZINSKAYA Blue Midi Trench Coat
SIES MARJAN Bessie Crinkled-Vinyl Trench Coat
TIBI Belted Double-Breasted Trench Coat
Photographer/Videographer: Lunuo Zhou
Production/Editing/Post: Samuel Triplett