LEMAIRE: THE BRAND PUTTING LOW-KEY LUXURY ON THE MAP
Shared from SSENSE . Click here to read more
The ambiance of the Lemaire atelier in Paris is calm and unfussy when I arrive on a warm, overcast day in March. The brand had just shown their FW19 collection at Paris fashion week, and through a doorway I see racks of clothes in their signature, neutral palette—charcoal, shades of olive, fawn, cream.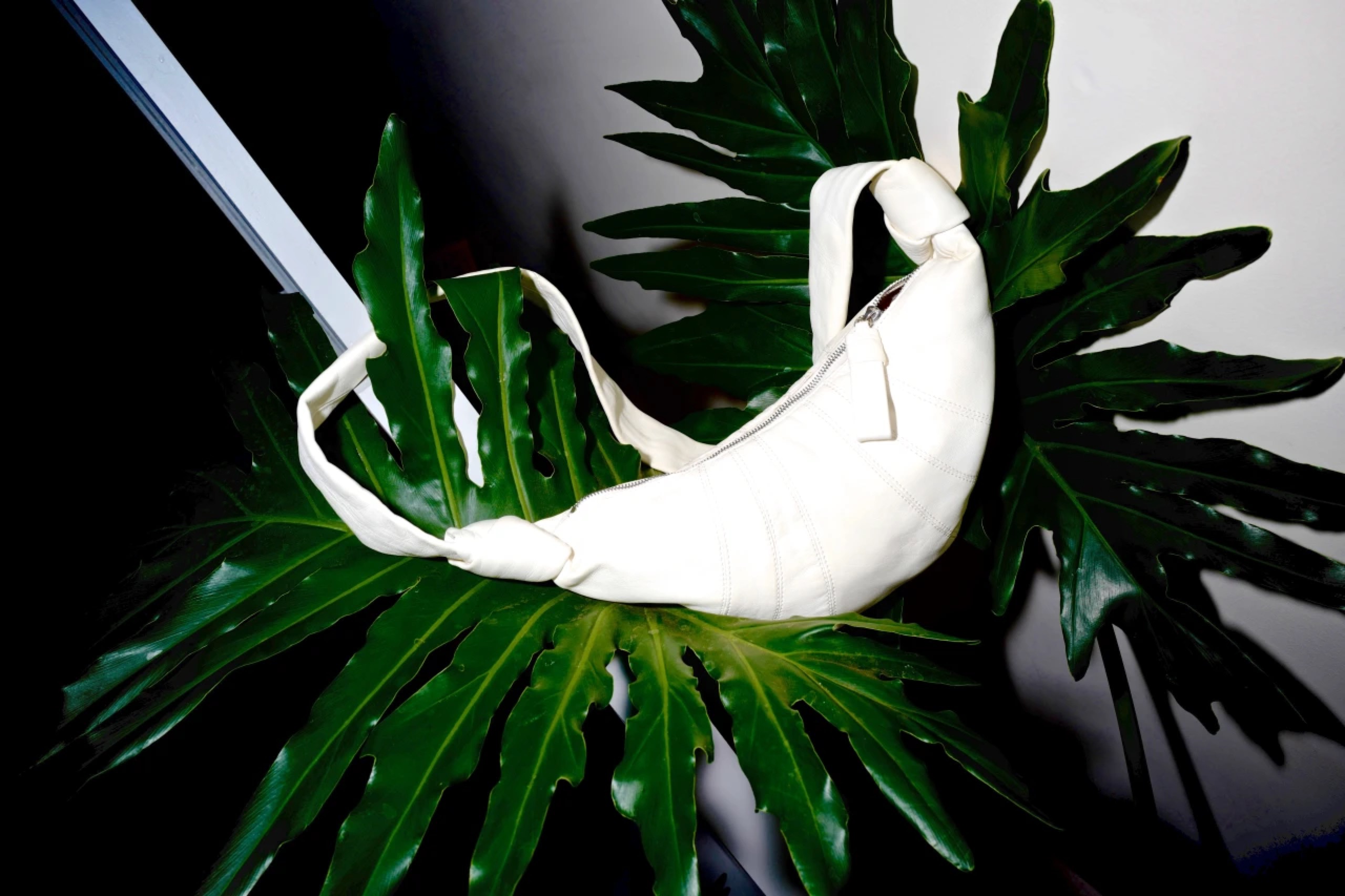 Draped dresses, square-shouldered blazers, and distinctive knits joined their usual roster of trench coats, pantsuits, and structured separates. The sunlight hits some carefully considered pops of color: reddish brown, forest green, and a saturated azure blue. After this brief reverie of colors and shapes, I am greeted by Christophe Lemaire and Sarah Linh Tran, the designers who created these garments.
Lemaire, founded by Christophe Lemaire in 1990, has undergone several iterations since its original inception almost 30 years ago. The brand received the prestigious ANDAM fellowship twice—an award dedicated to supporting emerging Paris-based designers won by the likes of Margiela, Bernhard Willhelm, and Y/Project. Posts as the creative director at Lacoste and Hermès followed. In 2014 he decided to return his full attention to his own line, this time co-designing with his partner Sarah Linh Tran. Their work together is lauded for its simplicity, elegance, and practicality, but the ingenuity of the brand also lies in its approach. Teamwork and collaboration are held sacred, in stark contrast to the prevailing myth of the auteur designer, a notion that is reminiscent of Martin Margiela's insistence upon recognizing the collaborative nature of fashion production, in the 1980s. 2019 sees the brand continue its collaboration with Uniqlo U, for example—a line of affordable, yet signature Lemaire silhouettes with a cult-following—as well as an anticipated denim capsule collection with SSENSE.
Craftsmanship and fabric quality also constitute a large part of their philosophy. In an age when fashion has become seeped in logo-mania and fueled by the powerful yet impotent force of celebrity and influencer-driven trends, Lemaire is an exception to what sometimes feels like an inescapable rule. Theirs is a vision that cuts through the mire of branding-reliant product, and produces clothing that is constructed for the day-to-day, not for a dazzling, social media optimized spectacle. In this regard, Lemaire could be considered, perhaps oddly, as renegade: the brand bucks the typical business model of "growth at all costs" (they're proudly independent), navigates the pressure to conform to trends without succumbing to it (preferring instead to modify their pre-existing silhouettes season over season), and focuses on building lasting relationships with customers (their tagged pictures on Instagram give a glimpse at the growing community of loyal Lemaire shoppers). Lemaire and Tran walk the tightrope between marketing and creative with an acuity born of great consideration, uniting two aspects of a brand that are often at odds. Lemaire is a breath of fresh air in this way: it is a relief to remember that at the end of the day, we're talking about clothes. Very beautiful, well-made clothes.
Eugenie Dalland
Christophe Lemaire and Sarah-Linh Tran
Tell me about your recent FW19 show, and how it came together. It seems kind of like putting on a play.
CL: It is!
ST: We stepped back a little bit and we thought, ok, we're doing clothes for everyday life, maybe we should think as simply as possible about how we want to present our clothes. So we presented at a location that is geographically close to us, Ecole Duperré [Duperré School of Applied Arts], that we have a partnership with for the masters class.
CL: We really liked the place itself, the architecture, the height, the light...
ST: We found interesting the idea of having models walk through the different rooms too, because the scale was like in everyday life. It was meant to create an intimate experience, a link between the models and the audience so you could appreciate the clothes from a close distance.
In a way it's less of a spectacle.
CL: Sometimes you feel like people in fashion are a bit ashamed to admit to doing just clothes, they need the "rock n' roll" alibi, the "artsy" alibi, to justify that they make clothes. No! We are very proud of making clothes, we try to make clothes that will bring solutions to people to feel and to express their individuality. So this is what we try to express in the shows.
I like that the collection features a mostly neutral color palette, but that there is a diversity in the fabrics and textures.
CL: We do not compromise with the quality of fabrics. Fabric cost is an important part of the garment cost. This is the beauty of being independent, you can maintain that philosophy which is not possible in a bigger structure with so much pressure from the sales people.
ST: Reliable fabric makes a reliable garment. The neutral color palette creates a very easy to mix wardrobe. It is playful and discrete at the same time.
CL: We like elegance, but we don't like when it's too precious and fragile.
I recently visited Le Corbusier's modernist villa in Poissy, the Villa Savoye, and was fascinated by how much the aesthetic was dictated by functionality, practicality. Do you find a parallel of this ethos in your own work?
CL: Of course functionality and reality is the base, but we also like the idea of something which is not purely utilitarian, and we try to bring this charm, which sometimes is in the details, in the stitching or in the choice of a button, which isn't purely functional. I'm a huge fan of Alvar Aalto, his houses I've visited are beautiful because you have this functionality but you also have this sensuality, maybe even more than in the Le Corbusier, which for me is not a social architect. So maybe it's this sensuality, this charm, I would even use this word of poetry, without trying to be too pretentious, that makes beautiful architecture or a beautiful object, or great clothes. When you have this combination of something rational and something irrational.
ST: It is true that designing a garment could be approached as creating a space to live in. So when we make our clothes, we take the time to wear them and experience them, think about the pockets, think about the side slits, think about how you're going to be able to put your hands in your pockets, how you're going to wrap yourself in the collar of a coat, how much room you have. Actually, we have a lot of customers that are architects!
CL: Daily gestures. Because in our relationship to clothes, it's not necessarily what you show to the outside world, but how you feel in the clothes which matters.
"MY BIGGEST REGRET IS TO HAVE NAMED THE BRAND BY MY NAME. TO BE HONEST, I CHOSE THIS NAME WHEN I WAS VERY YOUNG, I DIDN'T HAVE ANY OTHER IDEAS." – CHRISTOPHE LEMAIRE
This reminds me of Baudelaire's poem "Correspondences," that talks about, in general, the profound nature of communication of an idea between two perspectives, a creative call-and-response. Do you find that by approaching design as a team, you're able to generate ideas that might not have occurred to either of you on your own?
Both: Of course!
CL: We believe so much in teamwork. It's a kind of constant dialect. For us, this is why the "designer-as-genius" mythology is a bit absurd, because if you don't have a good pattern maker, good assistant, good team and good capacity of communicating, it doesn't go anywhere. The same idea won't become the same object at the end, because the root and the process and the quality of the communication, sometimes the tension of that communication, is part of the creation.
ST: And actually our creativity is also very inspired by the means we have, the capacity we have, and the constraints.
CL: My biggest regret is to have named the brand by my name. To be honest, I chose this name when I was very young, I didn't have any other ideas. For me this project is a concept, it's not something that I own by myself. I may have a certain part of the vision, but there's a community and other sensitivities and imaginations that nourish it.
What would you call it, if not Lemaire?
CL: A long time ago, I wanted to call it "habits" [clothes], and I loved this word because it also means "habiter" [to live, to reside]. But "Vetements" is now of course already taken, and anyway for other reasons I couldn't use this name. Another one was "uniform," which was much more controversial, there was a lot of ...
ST: ...debate! [Laughter]
Can you tell me about the capsule collection for SSENSE?
ST: We really like denim, so we decided to do an indigo programme based on the key volumes of the brand.
CL: We love denim not only because of the subconscious references to jeans and counter-culture, but because it's a great fabric. We like the idea of workwear in a more sophisticated shape.
ST: Also because of the way it's made, the factories that do denim have a very specific way of doing things that is very particular to denim. The finishing of the washes is very important. They have this sensitivity to it.
CL: We love the way it ages, the solidity of it.
One of your early experiences in fashion was working as an assistant to the designer Christian Lacroix. He also had a very singular perspective, but your aesthetics are so different. What insights did you gain from that experience?
CL: Well I started working in fashion when I was very young, I met Christian Lacroix when he was at Jean Patou, in the 1980s. I was just looking for a job basically! He brought this fresh approach, telling stories with a lot of references to literature and art, and the history of art. He is someone who is more than a fashion designer, because he had all this amazing culture and a sensual approach to color and texture. I learned a lot. Maybe I had a kind of complex relationship with fashion because I was interested in style and clothes, but I was definitely not excited by the fashion culture, I found it a bit superficial. But through Christian Lacroix I could see that you could come from another root and become a fashion designer, so it gave me confidence. I had a fear that you had to be a certain way to be legitimate, and I learned from him that you can come with your own background.
It sounds like this really informs who you are today as a designer, particularly because you've carved out a way of running a brand and not conforming to trends so much.
CL: Well there is a huge pressure, and that's why I wasn't comfortable for so long because I always had more interest in timelessness and consistency in style, a fascination for the character that has a certain personal uniform, and at the same time I was working for a business, and you have this pressure of always catching up with the zeitgeist. But this is why Lemaire is super interesting because I think we kind of succeed to have a certain consistency, you know, we're not telling a completely new story every season, but at the same time of course you have to be evolving, and understanding the trends. It's an evolution of moods. And at the end of the day we love fashion! So of course we are watching what is happening. I think the way we are driven by style, it's about opposing something that we have seen too many times, and we want something different. So it's a balance between having a spine, being consistent, and at the same time, to be very sensitive about what we're doing, and sensitive to trends and to l'air du temps.
That balance is so important, especially today when we're bombarded by so much information, especially digitally and by social media.
CL: Well I'm not a social media guy at all. Sarah Linh is much more agile with that, but I think it's about being critical and resisting. We very much question this soft tyranny of the ultra-liberal world where you have to follow, and you don't question things, you need to run, faster and faster and faster, you have no more time, there are more and more distractions, and you lose yourself in that. But it's ok to step back and to say no, and that's very much the way we think.
In an interview, you once referred to this pressure as a "disaster" which I think is a really valid judgement.
ST: The brand gained some visibility thanks to the early blogs. Our Instagram is an interesting tool to reach people that were not following the brand at the beginning. We can finally create and post content with a certain lightness that is favorable to experience new narratives.
CL: For me, social media is not the problem, the problem is the invasion of business.
How so?
CL: I think we live in a world that's in a late stage of capitalism where business is everywhere, in every single detail of our lives, and we are not even conscious of it because it has come so gradually. It's not only the mass of information, it's the ethic of what it means. I had this discussion recently, about the invasion of advertising, it contaminates and pollutes our way of thinking, our psychology, it creates so much confusion because you don't know what is reality and what is a lie, what is good and what is bad. At the end of the day, the internet, social media, there are great aspects of it. It's like individualism, it's great that we have more individualism, it wasn't great when who you are was so much determined by society and family, and social codes. So for me it's not the social media, it's more the dominating values of excessive capitalism. I think people are so insecure because we are in a world where we all have to reinvent ourselves. It's an interesting moment because some people raise a finger and say, wait, maybe we can question this mentality, this dominating idea that we always have to grow, that we always have to consume more.
With this in mind, what kind of advice would you give to a young designer?
CL: I think it's important to dream but it's important to understand reality. For instance, what we do is a business, and the new generation is probably more into this understanding, but what do you put behind the name of a business? What do you do with the business? Do you want to do something that you believe in? Or do you just want to get power and recognition? Or is it a way to, you know, bring something different, something that makes sense? Business in itself is not the problem, it's what you do about it, what you do with it.
Eugenie Dalland is a writer, and publishes Riot of Perfume magazine.
Shared from SSENSE . Click here to read more