Lisa Marie Fernandez
Swimwear's Next Wave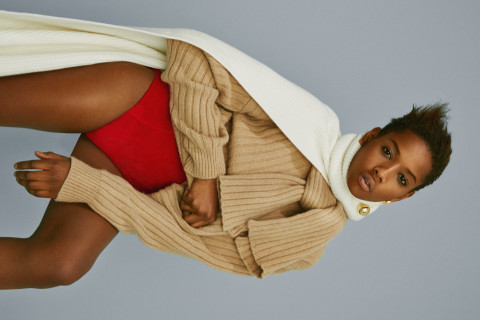 "It's associated with a great time," laughs swimwear designer Lisa Marie Fernandez. "You're going to spend time by the pool on weekends. You're going to relax. You're going to party." And she would know. The former stylist and market editor for Elle launched her namesake line in 2009 with a small collection of surf-inspired neoprene swimsuits that have since become a signature, and cites her year-round travels to beaches from Bali to Brighton as the inspiration for her endlessly adaptable designs.
We shot a few of her swimsuits the way we saw them: as a streamlined, sporty complement to forward-thinking ready-to-wear. Speaking over the phone from London, Fernandez had more to say about swimwear styling on and off the beach.
What, to you, defines a great swimsuit?You design activewear and ready-to-wear as well as swimwear. How does your approach for these different categories differ?Have you noticed any crossover between trends in swimwear and ready-to-wear?
I think the thing that's first and foremost is fit. Because it has to fit - there's no hiding it!We don't do ready-to-wear, we call it "destination wear" because it's clothing to take on holiday. Swimwear has to perform, and so does activewear: it's basically swimwear with arms and legs. Destination wear is a natural progression. The girls are wearing their bikini tops as little bandeaus underneath a shirt or blouse or tank top, and they're wearing one-pieces as bodysuits with jeans or jean shorts or skirts. If you're wearing our swimsuit outside the obvious places, you don't look out of place. It's definitely a fashion item.We don't react to what's going on with the runway because it's completely different. Swimwear fabric is very different than ready-to-wear and we're creating a lot of our fabrications. We have something in mind, then we go to our fabric manufacturer.
Was this the case with your neoprene swimwear? You were one of the first to introduce it.What new developments are you most inspired by right now?What are your favorite cities for swimwear styling?
We started with a luxury form of neoprene, not the scratchy one you make a wetsuit out of. At the time, no one was doing it. We experimented with the bonded fabrication and made sure it had all the properties of neoprene, except it's breathable. Neoprene fits the body incredibly. It gives you cleavage, sucks things in, and it just is super flattering. It's very James Bond. We have so many imposter brands now… it's unbelievable, how many imposter brands we have. [Laughs] But we do so many things now that neoprene's only part of our core business.We've done swimmable terrycloth. Also the gingham, which is an Italian fabrication. We have an Italian crepe. Most of our fabrications people aren't using in swimwear. That's where the newness comes in. Only through new fabrications can you have a new product in swimwear. It's like, the world doesn't need another floral tie triangle bikini! So we try to do something that we get excited about.I get most inspired traveling throughout the world. The person on the beach is very different in America or the South of France or Brighton. And you develop an eye. I've been a fashion editor and stylist my whole life – so I've been looking at things for a while now. And I definitely know when something is new. I have a sixth sense for something different.I'm traveling pretty much the whole year, off and on. And you never know where inspiration's going to come from! It could be Morocco, it could be Istanbul. And that doesn't mean it's going to be something that looks ethnic, either. A lot of people reference the past and history, but there are a lot of things going on now, today, that are quite interesting. And now we have Instagram, and we see so much every day without realizing how much we're taking in.
One thing we're seeing more and more of is activewear making up a bigger part of our wardrobes. Do you think swimwear is the next stage?Any tips on styling your swimwear for this kind of lifestyle?What must bring back a lot of memories for you is I've read you own over 380 swimsuits. That is a very impressive collection.
Activewear is part of a progression through fashion that's going away from ready-to-wear. People are still buying it, of course, but not as much as they used to. But they are buying into experiences – and they're traveling. Activewear and swimwear and destination wear, they're all part of that process: they're buying things to go do something. People used to live in their city and go on holiday once a year. But now people are traveling more than ever. You need clothing that can transition to different climates and cities.I think people should treat their swimwear as creatively as they do their ready-to-wear. Swimwear used to be an afterthought. But it becomes part of your experience, and you connect it in your mind with your holiday off: I wore this bathing suit when I was in the South of France, and I had this really memorable time. Swimwear is an emotional buy. It brings back memories.I would go to different places in the world and I would collect them. From Chanel to a $50 bathing suit from Brazil, and I love them all equally! Swimwear is easy to collect because it's so tiny. I don't need a vault for it.