Loewe Reborn
Jonathan Anderson Curates a New Beginning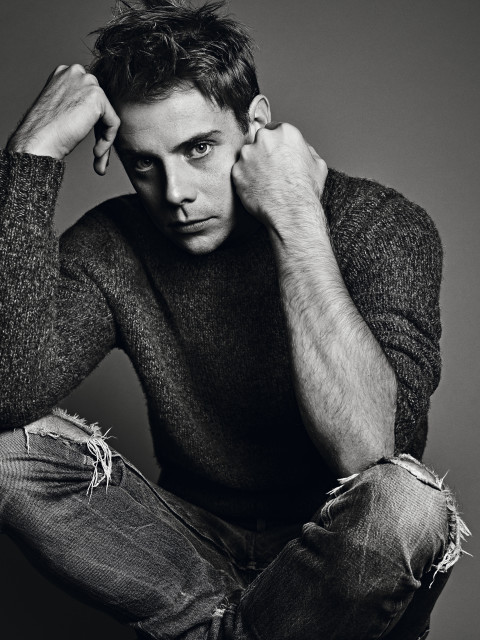 As a child, Jonathan Anderson's parents used to bring him on summer holidays to Ibiza. "I'd sit on Agua Blanca beach and see a culture that was so forward and free," recalls Anderson nearly twenty years later. "Those trips cultivated a lot of my fashion references." Which is why, when he was asked to take the reins at Loewe, the creative director didn't hesitate to relocate the brand's imagery to the idyllic, sun-kissed climes of his childhood retreat, using a seminal 1997 Vogue Italia image by Steven Meisel of the models Maggie Rizer and Amber Valletta on a beach in his initial proposal. "To me, that image was Loewe," he states. "It was instinctive and deeply personal."
"My association with Spain was Ibiza," Anderson explains. The boundary-pushing 30-year-old designer delves into the new sensuality and energy he's brought to Loewe: from its rebranding by M/M Paris and recasting of archival pieces to the label's new place in the cultural conversation. Here, an editorial shot by Janneke van Der Hagen and styled by Hanna Kelifa evokes the light and landscape of Ibiza – a tribute to the 168-year-old Madrid leather atelier's new spiritual headquarters.
What perception of Loewe did you have before you took on the job?
Before working for Loewe it was a relatively unknown brand to me. I discovered a beautiful heritage brand from my first undercover visit, and saw that behind it were the most amazing people and craftsmen.
Your parents owned a villa in Ibiza where you spent your childhood summers. What are your abiding memories of your time spent there? Why did Ibiza, rather than Madrid, seem a better place to relocate the brand in the public imagination?
From when I was a young boy my parents partly moved to Ibiza. The experience was very liberating, as there were women and men on the beach that were almost never clothed! When I joined Loewe, I had this idea to make it feel light. I wanted it to feel like it had modernity and a freedom.
You so completely redefined the identity of Loewe, starting with M/M Paris' branding and working with Jamie Hawkesworth, Benjamin Bruno, and Joe McKenna. Why was it important to start with a clean slate?
Yes, initially I wasn't even going to look at the archive because I believe brands should not be like museums, they have to be functional. But when I first went to the Loewe Museum I was impressed by the body of work that had been collecting over the years. How it had evolved through time fascinated me.
Why did you look towards New Wave and the 80s for the Fall 15 Loewe women's collection?
The Fall 15 collection revisits the woman introduced in the previous season, and adds new, functional pieces for a different facet of her life. There was a science-inspired aesthetic in the show; a moment of realistic futurism with everyday elements for a pragmatic and modern character.
Ultimately, what is your vision for the brand?
To me Loewe is a house with a cultural landscape, more than just a fashion brand. My role is like being a curator: trying to create a visual platform for the edited elements and styles that people feel a desire for, and that ultimately can come together to form a wardrobe.