Maisie Wilen: Business in the Front, Party All Over
The Kanye Co-Signed Label Is Building a Wardrobe of Wild Cards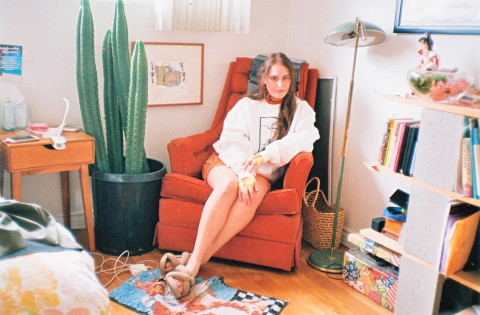 Watch any home tour with a high profile designer and expect to find lavish rugs, coffee table art books, and mid-century modern credenzas. 27-year-old Maisie Schloss' pink Los Feliz apartment (which doubles as a studio for her newly-established womenswear label, Maisie Wilen), is unusually magical: a fashion funhouse packed with stretchy contortionist-like uniforms and circus animal figurines. paraphernalia, ceramic swans, and baby-sized Yeezy Boosts coexist in perfect harmony. The atmosphere is a reflection of the Chicago-born designer's ethos: "One thing I struggle with when I get dressed is feeling like there's this dichotomy between looks that are more pretty or flattering, and looks that are cool," Schloss says. "I like to hit both of those worlds with my clothes."
Today, Schloss is wearing a vintage blue 70s dress with puffy sleeves, multi-colored chunky sneakers, and a butterfly hair clip tucked into her long, beachy hair. Her two cats, Tina and Zoe (who appear in portraits both pinned to her wall and tattooed on her arm), join us in the living room, where Tina is showing off a custom, bright yellow Maisie Wilen neck scarf. Zoe helps herself to a drink of my water and Schloss giggles sheepishly, offering a fresh glass along with a slew of apologies. Her loud, over-the-top aesthetics contradict her shy demeanour and quiet creative process—she prefers to work in silence while the rest of the city sleeps.
While employed at a swim and activewear company, Schloss caught the attention of Kanye West, who recruited her for the women's design team at his own cult brand, YEEZY. She spent three years there, honing her expertise of the label's notorious, curve-hugging silhouettes and 'it' girl repute—both of which she's brought to Maisie Wilen. She received West's first designer incubator grant, accompanied by endorsement from the entire Kardashian pack. While trends and design practices are tipping the scale back towards fine tailoring and minimalist styling, Schloss is pursuing and reinventing the party girl wardrobe with leotards layered under paint-by-number-inspired t-shirts. Her agenda is simple yet, in the fashion industry, often forgotten—she's focused on unadulterated fun.We're surrounded by loose sketches and bags of kaleidoscopic neon bodysuits, which Schloss tells me she'll be spending her afternoon sizing, sorting, and boxing. Since launching her first collection earlier this year, she's been a solo powerhouse, operating all aspects of the business; from production and creative design to filing quarterly taxes. A Parsons alumni and ex-New Yorker, Schloss is familiar with the chaotic pace of her industry and has quickly built a fanbase of VIPs and tastemakers including Jorja Smith, Charli XCX, Megan Rapinoe and Rowan Blanchard. Here, she opens up about her workspace, her love for Betsey Johnson, and creating custom looks for North West.
Can you tell me about your upbringing in Chicago?You created your label under your mother's maiden name. What kind of influence did she have on you?Who else did you look up to when you were young?Since moving to L.A., how would you describe your relationship to the city's nightlife scene?
I'm really grateful I grew up there—the big city, but with that Midwestern vibe. There were so many resources, good classes to take, and community. It wasn't like trying to be a fashion designer in New York, where it's too saturated. I started pretty young. I knew this was what I wanted to do.She wears a lot of unique pieces and one-offs that are a bit more special.When I was in middle school, I was obsessed with Betsey Johnson. I started taking fashion courses at School of Art Institution in Chicago, where I was introduced to Gaultier and Margiela, and I got really into Viktor & Rolf.My real wild card is in the South Bay, which has more of a relaxed, sporty vibe. The crowd is very…surfer guy. I love going out. The art and fashion communities are so tight-knit and really supportive of each other. I think about the women buying my clothes, and what will make them want to have fun.
Do you design with the party girl in mind? Bodycon silhouettes seem like a brand signature.In what ways?What movies have you been most impacted by?
They're easier to wear, and actually quite comfortable. With each season going forward, everything isn't necessarily going to be so tight. It worked this season because it matched with the inspiration and the mood. I was really drawn to images of rhythmic gymnasts. Their costumes have such interesting, abstract, and gestural prints, and they're usually super contorted in their photos. I love the ones with ribbons twinkling around them. I thought they were so graphically beautiful, and they related to my process.I work almost entirely on my computer. I'll compile images into folders, watch a lot of movies, read passages that might be relevant, and do as much research as possible to find as many diverse sources as I can. I'm super regimented and organized and I have crazy systems for everything, but at the same time, I make clothes that look playful and lighthearted.Last season, I was so into . Bob Fosse was the choreographer, and I love those scenes with the dancers. is my favorite.
I can picture your clothes making an appearance in Season Two of .Has there been a moment where you caught wind of someone wearing Maisie Wilen and had to pinch yourself?What's been the most challenging aspect of juggling so many responsibilities?In an interview with , you mentioned that it would be a dream of yours to dress Dolly Parton. What would you put her in?There are theories about her arms, that they're secretly covered with tattoos...No.
Jules is my favorite character, she has the best style. I would be pretty excited if they hit me up—I'm here!The time that North West wore her matching orange suit that I made in a mini size for her. I was literally in a dollar store and got the Instagram notification. I stopped everything I was doing, taking a million screengrabs, texting it to all my friends and freaking out. [Laughs]I'll be zipping around, not clearly focused on one task. It'll be like, "I did this, and then I cleaned my house! Then I drew 20 new styles, and wrote a bunch of emails." I get this manic energy, but I get everything done. Running a company is also my favorite part—learning about things I've never had visibility on, like filing quarterly taxes, or getting a trademark done. The more analytical, business-type tasks I've actually loved.I would customize one of my pieces for her, bedazzle it. I think the sleeveless dress from last season would look amazing on her.Do you think she has them?I don't think so either, but I like to imagine.