Marine Serre is Wild at Heart
From Counterculture to Epicenter with the LVMH Winner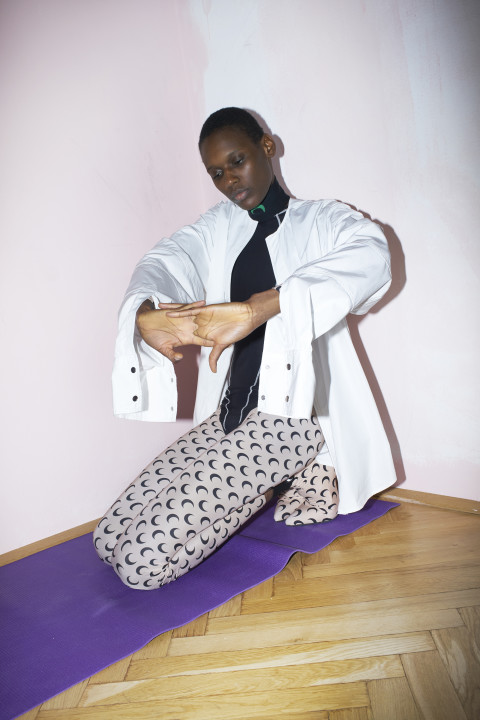 Paris has long been a deeply romantic city, full of inventors at the beginning of their careers, so driven and in love with what they want to achieve that they don't need much to survive. Remember the young poet Rimbaud, who had no place to sleep, but wrote some of his most beautiful prose while wandering the city. Or a twenty-something Picasso, squatting at his dark and dirty artist residence in the Montmartre district, painting . Or Azzedine Alaïa who, for twenty years, worked out of a tiny atelier dressing the most radiant women, from Greta Garbo to Stephanie Seymour. In 1965, Charles Aznavour, the French-Armenian composer sang "La Bohème," a song about the young believers from the 18th Arrondissement, to whom nothing else mattered more than their radical conviction. On an autumn day in 2017, Aznavour's lyrics are coming back to life, right here in the 18th Arrondissement, two blocks away from the final Metro stop of line 4, at Porte de Clignancourt.
Visiting Marine Serre and her boyfriend and business partner, Pepijn van Eeden, at their minuscule home-atelier reminded me of all the clichés and romantic idealizations about Paris and its creative debutants. The elevator takes me straight up into their apartment: a narrow hallway with two small rooms and a kitchenette. I am greeted by Marine and Pepijn, who make for an intriguing sight, their hair wet from showering. Marine is petite, with brown eyes and a cropped haircut. The 25-year-old French-born designer studied fashion in Brussels, where she met Pepijn, a tall, handsome Dutchman studying for a PhD in political science.It's 9am, the breakfast table is set with croissants, pain au chocolat, coffee, and orange juice. The room is framed by a clothes rail. There are two tables with sewing machines, an indoor plant, and a profusion of garments, fabrics, patterns, and shoes. "Sorry for the mess and the early start," says Marine, "but our team is coming soon. We are presenting our second collection in a few days, so we have a lot of work to do."This small apartment is an upgrade for Marine and Pepijn, who moved in only recently, after Marine won the LVMH Prize. Among the most prestigious of awards for young designers in fashion, the winner is awarded a mentorship and a prize of € 300,000. Marine won for her graduation show—" Radical Call for Love"—which she designed at La Cambre-Mode Brussels, one of Belgium's leading schools of art and design.Marine and Pepijn talk for the first time about their journey from student life in Brussels to the epicenter of the fashion world in Paris.
I'm from a small village in Central France, near Corrèze. When I realized I wanted to study fashion, I didn't want to go to Paris. It was too obvious. Also, I did not feel like living in the capital, so I went to Marseille. After two years, I was ready to move. I didn't know anything about the industry so I figured it would make sense to get a bit more involved. I was into garments and how they were made, but the rest, I had no idea. I was searching for good schools and Central Saint Martins was too expensive, so I went to Belgium. La Cambre is a public school, it was a really good fit.We met in my second year in Brussels, when I was still studying. We were in separate worlds, which was really inspiring.But you had an inclination and a passion for fashion, Pepijn. You were always dressing eccentrically.
I studied political science in Amsterdam. After I graduated, I moved to Brussels to do my PHD. When I met Marine I was working for the European Green Party.Because of Marine I became interested in fashion.In Amsterdam, I was part of the radical scene. Fashion is a form of expression and has also a political dimension.
I studied in Brussels for five years before graduating. As a result, I had headspace to really understand where I stood and what I wanted to do. I did a lot of internships during my studies: I worked at Alexander McQueen, at Martin Margiela, and at Dior during Raf Simons' reign. I didn't have a network in the Paris fashion scene, but I learned that if you work really hard you get something back from that. I was never afraid or too shy to apply to any of those houses. The only problem in the beginning was that my English was very bad. But I learned quickly, with Pepijn's support.
Marine's graduation show was a mad breakthrough moment. It was great being part of it, but I wasn't working on it. It's really her thing.
I started to work on "Radical Call For Love" after the attacks in Paris and Brussels. I was questioning myself: "What should I do as a designer today?' I wasn't just going to make skirts after such an event. I had always loved historical garments, especially from the 19th century, so I started to do some research in the public library in Brussels. I saw a connection between 19th century garments, Morocco, and the people in the streets. From that point, I worked organically forward. "Radical Call For Love" is about passion and values.
As lovers do, we talk a lot about Marine's work. Marine's way of working influences me and I influence Marine.
I don't think you make fashion alone. For example, the photographer that made the images of "Radical Call For Love" is one of my best friends. We developed the idea for the images together while going out and drinking beer. When I created "Radical Call For Love," I didn't think about launching a brand. I was making garments, I was interested in developing silhouettes and I wanted to be contemporary. I work with a lot of cuts that people can attach to sportswear, or even couture. I like hybrid garments and hybrid looks. But the most important thing is that you can wear my clothes every day on the street. For me, it is important to connect to reality. The relation with everyday life is very important, I am not interested in making complex clothes for no reason.Afterwards, I received a proposition from Balenciaga. That's why I moved to Paris.Then I met with The Broken Arm again; they asked me to do an installation in their window during fashion week, and to produce a small capsule collection exclusively for them. From then on, little by little, we started to build the brand together.I didn't realize the impact. I just thought, "This is nice, people want to dress in my clothes and buy them." I thought, "Let's take on the challenge because it's there." We accepted all the deals and then we started the production process. That was an intense time, as the team was composed of only two people. I was also working for Balenciaga, so basically we were only able to work on the brand in the evening and at night.I don't know if it was because of The Broken Arm windows or because some scouts had seen my graduation show, but I was contacted by a headhunter from LVMH who invited me to apply for the prize.
There were all these people from the fashion industry attending Marine's graduation show: The Broken Arm people, people from , Glenn Martens, Demna Gvasalia.I didn't question Marine's decision for a second. After so many years of studying, you need to earn money and gain practical experience.It was overwhelming. Everyone wanted to buy the collection but we didn't even know the prices yet. We were approached by SSENSE, Dover Street Market, Opening Ceremony, a store in China. It was quite crazy.And then LVMH came.We asked them how they knew about Marine, but they didn't tell us.
It was all a bit surreal, but I applied. I did a quick application because I thought I would never get it. There were 1200 applicants; I was the youngest one participating, and I had only one collection on the back of my experience, my graduation collection. I never thought about getting in, let alone winning the prize. But then we won it.I'm not making any compromises. When I compose the silhouette, I'm going straight to the point. When I mix sportswear with couture I make it look sharp because I really think all the details out. You can see it's honest. I love what I do and I'm working hard for it. I think people are touched by that.
It's a good story. It sounds romantic, but we work really hard and, as you can see, we wake up early in the morning. Most of the time we only get five hours sleep.Marine is tough.
I'm very disciplined. I think that comes from my tennis background. I played from three to 16-years-old, every day after school and on Sundays. There is a certain repetitiveness in the discipline of sport, and a certain repetitiveness in the discipline of fashion. Sport, and the culture around it, is still really important to me. You can see the references in my garments. I learned one important lesson playing tennis: take one ball at a time. I was young when I started, and I got very angry when I lost. I got good when I finally understood what my father meant when he said, "Take one ball after the other." That doesn't mean that I don't think about winning the match, but I don't think about the ball that is coming in two years. If I look at that ball instead of looking at the one that is coming now, I will lose the match. It's a way to keep focused and calm. It helps me to act. Things change so quickly: last year I was a student in Brussels, now I am a fashion designer in Paris.
Ha, true. And I am a businessman.
I remember when I had to explain in front of the LVMH jury—to the most famous people in fashion—who I am and what I want to do. I hesitated about where to start, so I smiled. That was a good start. Then Phoebe, Karl, and Nicolas all had a lot of questions about the business and production side. They all wanted to know if I could handle the production on my own, if I could deliver on time. I remember one of them saying, "Okay, amazing work, but how can you handle the hard business." "Yes, it's hard but I'm working to arrive there." When I went out, everyone was smiling.
We know that now everyone has high expectations, but we want to move forward organically.
The second collection is called "CORNERSTONES." It's not really a new collection, but an evolution of what I have been doing so far.One ball after the other.
We have a lot of exciting new things coming up. Soon we want to move; this apartment is too small. We need a proper atelier.--
032c, The Gentlewoman, Zeit Magazin, Purple, Libération. Älter Als Jesus.