Market Research: Balenciaga's "Triple S Sneaker"
Jamie Lauren Keiles Vs. This Year's Hottest Shoe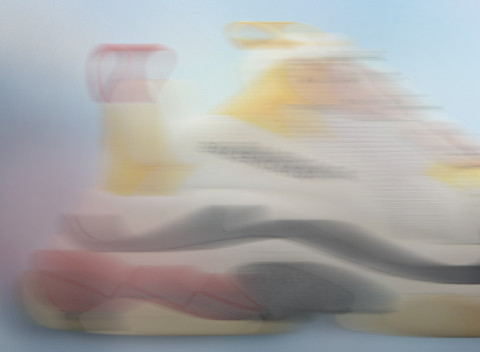 My free Balenciaga Triple S sneakers arrived in the kind of great cardboard box that sets the heart searching for something worth storing. The beefcake container had a toothy vellum finish and a heavy lid so prodigally deep that it gave a good fight, suction-wise, upon removal. The box had more in common with a footstool from Ikea than anything I might feel comfortable calling trash. Such a spectacle of packaging did not seem excessive compared to the shoes I found within.
The Balenciaga Triple S is a real layer cake of a sneaker: a confection in so many flavors of suede, stacked on three inches of nested rubber soles. At a cost of $850 (US dollars), they are easily the most expensive thing in my apartment, after my computer and the apartment itself. A pair can resell for as much as my whole wardrobe, which is only to concede that I am not a "fashion person" (or even well-dressed by Everlanian standards). I am definitely not someone who deserves to receive a pair of the year's hottest sneakers for free, but media is broken, life is unfair, and sometimes nerds do win in the end.
I debuted my Triple S' with baggy gray jeans and a burgundy Jerzees crewneck sweatshirt. My hope was to look so flagrantly shitty that people who chanced to look down at my feet might assume that I knew something about fashion. The soles came to meet their first outdoor dirt on the streets of my ordinary neighborhood in Queens. In search of a more appreciative context, I walked twenty minutes to a bookstore café, closer to the gentrifying border with Brooklyn. There I ran into an acquaintance from college, who noticed the shoes on my feet upon first sight. Overcome by the joy of being seen, I bent down and removed one sneaker from my foot to better give word of its illustrious features: the patches of primary colors on gray, the size "39" on the toe, and the price. This segued into a speech about class anxiety, and careers in the arts, and sometimes getting expensive things for free even though I made $28,000 last year. Returning the unmoored shoe to my foot, I didn't yet know that this very same act—removing the sneaker, delivering the speech—was doomed to recur at least five times that week.The next time I wore the sneaker was to Soho. Gazing at my own feet in the window of the train, I found myself convinced that two women speaking Mandarin were certainly fawning in awe over the shoe. Wearing the Triple S in public is a lot like being a D-list celeb: feeling paranoid that you aren't being noticed, then feeling annoyed when you actually are. I got off at Canal and walked up Mercer, past some guys vaping outside Philipp Plein. I felt high on entitlement in a way I recognized from a two-month phase last year when I was thin. There is great and shallow satisfaction to be found in meeting a baseline female beauty standard. The Triple S works like an optical illusion: so clumsy and overinflated that anything nearby appears agile and waifish. In this year of nostalgia—when I failed, yet again, to pull off the slip dress—it felt great to be offered the chance, as a woman, to focus my body ideal towards Mickey Mouse. But while the Triple S does make its wearer look dainty, the shoe does not feel agile on the foot. Returning home after a long day in the city, my feet felt tired, oversized, and swollen, much like the body of the Triple S itself.
The ethos of the sneaker has always been comfort. Since the plimsolls of the mid-nineteenth century, rubber-soled athletic shoes have served as a respite from rigid, pinching leather. Sneakers stayed that way for about a hundred years—a glorified canvas and rubber sock, perfect for casual middle-class leisure. But by the 1970s, amateur joggers needed more. A R&D-funded pursuit of performance gave rise to a vernacular of modern : cushioned leather uppers, nubby-textured soles, an Achilles notch at the top of the heel to account for expansion and contraction of the tendon. By the nineties, this language had idioms too: the pneumatic ball in the Reebok Pump, the packet of gas in the Nike Air Max heel. If these widgets did nothing for performance or support, then at least they still sold the worth of those ideals.
The Triple S is not a part of this tradition. It is hard to overstate how heavy these shoes are. According to the scale at my grocery store, the shoes weigh two pounds more than my Nike Pegasus running shoes, and still a half pound more than my Dr. Marten boots. Wearing the Triple S' on the street, I was forced to assume the slow, low gait of R. Crumb's guy. Running in the shoes at the YMCA, my mile time was six minutes slower than average, which is only to suggest, the Triple S is not a sneaker. Though the shoe is piled high with so much , it doesn't seem to care that its traits came to exist as a product of the search for more agility and comfort. So many soles, signifying nothing. The Triple S expresses the idea of a sneaker without ever becoming one. The art world term for this behavior is —one form of art describing another—a symphony embodying a painting of an island, a poem becoming a Grecian urn. Is the Triple S the first ekphrastic shoe? No. In 2001, Jennifer Lopez wore high-heeled Timbs in her video for "Jenny from the Block." Ugg sells fur-lined flip-flop thongs. If such shoes are less covetable than the holy Triple S, I imagine at least they might be as comfy.
The longer I dragged the Triple S' around New York, the more I came to resent what they meant—or rather what they didn't. I heard the voice of 's Xzibit: . My editor suggested I not look up the shoes, but I found myself reading about Balenciaga anyway. Under creative director Demna Gvasalia, it seems that the joke is always the same: make an article of clothing less like its ideal by making it look too much like its ideal. At Paris Fashion Week this year, the designer sent hyper-puffed puffers down the runway. At Vetements, he applied this same logic to a series of punchline-filled collaborations: a Juicy Couture sweatsuit as a full-body pajama, a Champion hoodie with the logo chopped-and-screwed. The formula is fun, but it's too easy to mock. Like any good meme, you can do it yourself: a set of yellow dish gloves, but with twenty-five thumbs; a maxi-pad, but it's only blue gel; some fuzzy bunny slippers, but the bunnies are GIANT.
If looking at the Triple S feels a bit like walking into a museum and thinking, "Wow, I could've have done that," then it's only because so many have done the same already. The tools of postmodernism—irony, self-reference, maximalism, and pastiche—have long since overflowed the art world. Warhol did the soup cans in 1962, welcoming the public into the idea that the trappings of everyday life might be toyed with. Since then, debuted as a populist pastiche, the mashup artist Girl Talk came and went, the maximalist turned twenty, and Super Bowl commercials started referencing themselves. Is a shoe that winks at the idea of a sneaker really any smarter than a parody t-shirt on the boardwalk? I would not pay $850 for the Balenciaga Triple S, but luckily, I did not have to.
The New York Times Magazine.