MARKET RESEARCH: JACQUEMUS' "SAC BLUE 'LE MINHO'"
Doreen St. Felix And The Bitter Tragedy Of The Micro Bag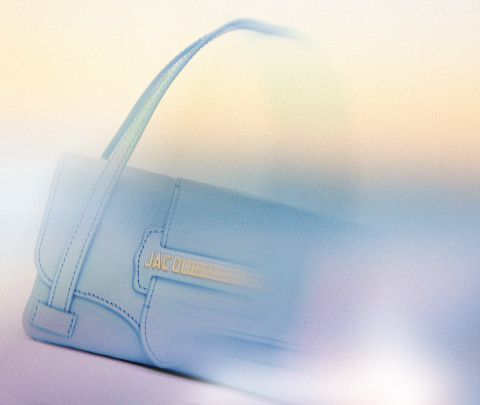 There have always been small bags. Monogrammed wristlets, first communion minaudières, evening puffs. They have always been objects of unbearable sincerity. A woman, or a girl, satisfying the requirements of a dress code, a religion, a marriage.The connotation of the new "micro," as in, "How Carrying a Celebrity-Approved Micro Bag Changed This Writer's Life," is crooked, in the middle distance—a movie poster mounted without a leveler. Possibly, editors everywhere draw to the nomenclature because it manages to conjure, at once, two opposite ideas: tech efficiency and nirvana. What looks breathtakingly non-functional dangling from the fingerpads of Priyanka Chopra and Kendall Jenner holds secret power for the professional woman as a spiritual motivator. The little expanse streamlines. "Micro" . It forces you to answer a question your vile, enabling tote lets you keep avoiding: what are the only objects in life you need? Cell phone, wallet—no wallet; just your debit, your Metrocard; you "never have cash"— keys, maybe a box of cigarettes. And if the pack causes the leather to bulge, you'll bum three.
"In real life," when it arrives, the micro bag is an ominous romance. The words "mini" or "baby," with their suggestions of innocence drowsily corrupted, are the heated, and truer, descriptors. The baby bag can't spell "efficient." It just wants to party. It wonders why it wasn't trending thirteen years ago, when Paris and Lindsay spilled out of Hummer limousines. And like them, its appeal lies in its potential to be tragic.I pull on the drawstring of a beige, protective pouch and root around for Le Sac Minho, by Jacquemus. It is gender-reveal blue. The beautiful is the long bastardization of "Lolita;" there has to be someone out there who has called baby bags "not feminist." I step in front of the mirror and hold the bag like girls do—influenced by its weight. (Pre-twentieth century, because it evoked the robes of the Virgin Mary, baby blue was once associated with female children). Wrist slack, shoulder loosened, right side lengthened.Le Minho retains the crowded architecture of a duffel, which highlights its sense of comedy. Three interior pouches, like a stack of wallets, are pressed down by a snap-stud. The double-handle won't permit the meat of a bicep; Le Minho is haunted by the reel of starlets steaming the Baguette in their armpits. Carrying it means swinging it. It sells an invaluable thing to the upper-class socialite, who is loath to admit that she is one: it conveys both glamour and the parody of it. Walking on the main drag in my borough, I anticipate that the swinging silhouette will make me look loud and clueless, unless it is a Sunday morning or a Friday night. Six and a half inches by four and a half inches. Funny how the accessories of the church and of the club share roughly the same dimensions.Its designer, the twenty-eight-year old Simon Porte Jacquemus, a handsome man from the French countryside whose face is the same width as his thigh, designs like the beaches are not eroding. And, on Instagram, the residence of his women, they are not. Resortwear, and the color beige, is an astoundingly cinephillic subject to take up at the end of the Anthropocene. (Subconsciously, Jacquemus knows something of the end-times; on Instagram, the portraits of back-turned, thong-tanned Europeans are always posted in threes). "It is a bit of an 80s film cliché," Jacquemus said of a book he put out, named after the French seaside town, . The browned, white girl "goes to the beach, she eats ice cream, she plays tennis, she falls in love. She is there but she doesn't know what she is doing there, she's a bit lost."After a day of loafing, dinner at the terracotta house calls her. She reaches for Le Minho, named for a river that runs through the biblically verdant province of Galicia, that connects to the Lethe, named for the "River of Unmindfulness," one of the five rivers of the underworld of Hades, or Le Carino, or Le Pitchou, or Le Chiquito, or Le Pequeno, named for diminutiveness. "Naïve" seems to recur more than any other word in Jacquemus' interviews about both the Jacquemus Woman and her creator, himself. "But I grew up so naïve." "I went from the fields to the big city," about Paris, "I was so naïve," of the label he started at nineteen. "My woman was so naïve when I started, but she became more sophisticated with time."
The Jacquemus woman is still naïve enough to believe that she is not white, but "European." Not so subtly embedded in its fabric, and in its Latinate name, is a rebuke of American largesse. The baby bag makes me feel like Alice, plunged through a warp. Last year, an accessories buyer at Selfridges said that women were attracted to the baby bag because they are a more "discreet way to wear fashion's big names." This is insane. Rihanna took the three-inch-tall egg-yolk Chiquito to the island nation of Barbados in September. A ceremony was held on the street she grew up on, which was renamed after her—Rihanna Drive—in 2017. There, she was appointed "Ambassador Extraordinary and Plenipotentiary." Holding it in two hands, Le Chiquito was as inconspicuous as a colonial crown jewel.For a few days, the item sat on my desk, which was once my boyfriend's dresser, bought from a woman who hoses down found furniture at her home near John F. Kennedy Airport. It is the same length as a series of old "pocket books" I own, but it laughs when you try to slip them in one of its wallets. Given the choice between leaving home with just it, or a larger bag that will accommodate , Ling Ma's novel about how a disease hastens the end of the world, I choose . The one event at which I thought it would be appropriate—a wedding on Martha's Vineyard—had passed before I owned it. Staring at me, it grew talismanic, in the sense of possessing unpredictable magic. One day, I asked it where it would like to go. I consulted it like a divining rod. I abandoned some work and dragged a Miu Miu skirt the color of Pepto Bismol up my thighs and smeared Vaseline on my eyelids.The accessories industry has inflated itself such that, at six hundred and ninety dollars, or less, depending on the color, Le Minho can credibly claim to be a democratic luxury item. On the subway, the Le Minho, fat with just a phone and gloss and tampons, screamed when I placed it next to me on the subway bench. I soothed it in my lap. It is as alive as the handbags of Hitchcock, leading women to temporary, then tragic material escape. I entered Serendipity 3, on the Upper East Side, plunked Le Minho on the table and asked for the famed frozen hot chocolate. The waiter nearly bowed. I drank the monstrosity. To the saccharine environment of filigreed chairs and fringed chandeliers, the specific candy of Le Minho does not relate. I keep searching for the right place. I asked my mother what time the Sunday service was again, and she told me, and I briefly considered it. I asked Alex if he would like to see a film at a boutique theatre and he replied that there was a giallo playing in the evening, Argento's first, . Everywhere, I feel unbalanced. I figure the only place it'll look correct is on someone else's Instagram grid.
Like almost everything, before the handbag was associated with women, it was associated with men. They were the ones going places. A pouch of chamois hide was found near Otzi the Iceman in the Alps in 1991. Jesus tasked Judas with carrying his money bag, and depending on the version in your hotel drawer, it was with a coin purse that Judas sealed Jesus' fate. Now, the bag is a psychoanalytic object. It is said to intensify a woman's sense of self: "What's inside your bag?" the magazines ask. The waitlists for "it-bags" are called crazes for a reason. Freud, observing the hysteric Dora, running her fingers over her "reticule," likened the compulsive act to masturbation. The bag endures political revulsion. I am of a generation in which the utilitarian it-bags are somber and demure and the item of feminist adoration is the pocket, Diana Vreeland would love to know.But Le Minho. Le Minho is brash and flirting with me. To Le Minho, I must seem not so fun. I don't take it to three-star restaurants or clubs downtown, even though Le Minho would like to see these places because it was made for the "Downtown Girl," though downtown is drowning. Horrifically, I sometimes tuck it into grocery bags next to onions and bags of rice, because it is too cumbersome to carry it otherwise. It is an inordinately controlling object. A maw. You don't just "pick it up and go." Once, I went to our local café, Loud Baby, to get an oat milk latte, wearing a black hoodie that I love and Le Minho, which I don't exactly. The barista cocked her head, as I pulled crumpled bills out. I felt my face burning.The ironizing effect of Le Minho could be useful when it wasn't overwhelming. One night, I am attending a fundraising dinner for an art non-profit. The ticket, which I could not afford, was gifted to me. I wear all-black, Le Minho hanging from nails painted electric-blue. A woman wearing a polka-dot skirt that evokes the sarong is staring at me. "You're a Jacquemus girl?" She asks, gesturing back and forth from the skirt to the bag, the skirt to the bag. For her, I am. The "Jacquemus" plaque, in gold-tone, is small enough that, from the distance, people would have to squint to make it out, but they won't need to. It is sold out everywhere.