Market Research: Kenzo
Chris Black is Really, Really Sensitive About Brands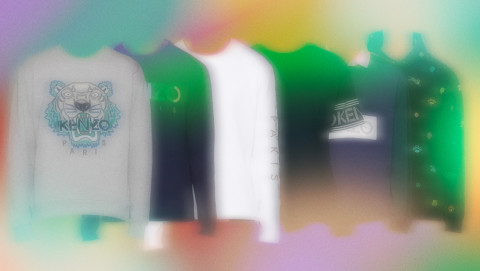 I suffer from a chronic condition that affects my everyday life in incalculable ways. I have been self-diagnosed as "brand sensitive." Unfortunately, this condition has affected almost every facet of my life. The era of vintage Levi's I buy, the Juice Press Greenlight smoothie I add almond butter to, the white Hanes socks with a hidden red logo, the macro plate from Souen that I subtract steamed kale from and add extra steamed carrots to. I cannot simply buy a pair of white sneakers, get a salad, or book a flight. I want only the best. When I buy new clothes, my first stop is my tailor on Orchard Street to have everything detagged. It looks better and feels cleaner.
I have drawn deep lines in the sand choosing to support only a handful of prestige brands that I feel represent my personal aesthetic. And not just my personal aesthetic, but my values! My principles! Show me a brand name and I'll show you a modern-day religion! Present to me a logo and I see sacred iconography! When I die, bury me in the Nike store.Which brings me to last month when my deep rooted principles were about to experience some humbling. When a DHL box arrived full of Kenzo at my apartment in the East Village (great brand!), the reality of what I had agreed to do set in.Kenzo wasn't on my approved list.
It certainly has the origin myth I require of my most treasured icons. Kenzo was founded in 1970 by Japanese designer Kenzo Takada and gained a following thanks to his merging of Japanese influences and high-end European construction. The witty over-the-top runway shows, colorful knitwear, and global outlook made Kenzo stand out amongst the more serious Parisian fashion hierarchy. In 2011, the brand was taken over by Opening Ceremony founders Humberto Leon and Carol Lim. The two immediately took steps to modernize the brand. It became more playful and fun, and much more accessible. They created loud and vibrant graphic-heavy garments that became popular with celebrities like Beyoncé and Rihanna, as well as bloggers like Chiara Ferragani. I love modernity. I love fun. But am I playful? Do I love accessibility—or do I love access?I decided to venture out for a walk in a Kenzo rugby, one of the more understated pieces. , I thought.
Anyways, the Kenzo rugby was done in classic colors. Hunter green, navy blue, varsity red. America, but make it Japan. The quality was quite nice and thick, it felt good on my body. The Kenzo logo was affixed to the front in a way that made me a walking billboard. Halfway to work, I ran into my young, fashion-conscious friend, Flynn. As a greeting, he said, "Why are you wearing that?" My worst fears were realized: I had assumed I was the only one really paying attention to the logos I so carefully selected. When I arrived at my office, Kelly, our young design intern, looked at me a little funny. She, too, was confused by my sartorial choice. I was explaining myself, a lot, in a way that I hadn't since high school when I had to explain why I was wearing a t-shirt that said Converge to my parents. My outfit was, you know, .I decided to take it a step further a few days later at the gym. I swapped my usual all-black look for a tasteful, white long-sleeve t-shirt with the Kenzo logo printed on the sleeve in dark green. I put on a black hooded sweatshirt on top. The fleece was soft and fit nicely, like caressing a bunny, maybe? (I don't really go to like, "the outdoors.") The sweatshirt was loud and featured a multi-colored all over print of various Kenzo motifs. Tigers, eyeballs, roses, in orange, pink, and purple. I looked like a giant bag of Skittles. Or a Soundcloud rapper named Skiddles.
As I bounded out of my apartment on Avenue A, a guy looked right at me and said "Nice sweatshirt!" He was being genuine! All-over print has always been extremely offensive to me, hard on the eyes, and just plain unnecessary. The hooded sweatshirt made me feel it was 2007 and Cobra Starship was playing the Jimmy Kimmel show. It was Kidrobot meets Billionaire Boys Club. It was the height of A Bathing Ape, where full-grown adult men were wearing all over print hoodies that zipped over their entire head, turning them into a fuckboy shark. I put it in my locker and hit the treadmill.Still, one question nagged. When was the last time someone had complimented something I was wearing?
The experience of wearing Kenzo, a brand I had never even considered, made me self-conscious in a way I had not been in a long time. Which in turn, made me examine why I held certain brands in such high regard. Wearing a colorful all over print Kenzo hoodie to Equinox made me feel like I was ~living on the edge~, when in reality I was just wearing a sweatshirt to a gym. My extreme brand loyalty was my own doing. After years and years of being combined with my cut-and-dried decisiveness, had lead me to this point. An adult-year-old man nervous about leaving the house in a very well-made sweater. Clothing makes us feel things. Hopefully, it makes us feel confident, beautiful, mature and poised. My feeling unsteady and insecure was not pleasant, but it was a testament to the power of brands, A LESSON I LOVE!If I am honest, I will never wear Kenzo, but it made me feel like a kid again. It was like the first day of sixth grade, anxious and unsure, waiting to be judged by my suburban peers in Conyers, GA. But this experiment did not cure my terminal case of brand sensitivity. I will continue to be demanding and picky, but now I have a better idea of why I behave that way. Every brand has an audience. It's about finding what works for you, aligning with a tribe you can relate to, brandishing a logo you can happily wear on your chest. Everything is not for everyone, and that is entirely ok. The most important personal brand of all isn't "you"—it's the brands that are closest to your heart.The box of Kenzo sits packed in my kitchen. Where it ends up next I don't know. But the fact that I didn't rid my residence of it immediately speaks volumes. Maybe I've grown.
Chris Black Public Announcement. GQ, T Magazine, Architectural Digest, Garage.