Market Research: Thom Browne's "Navy Center Back Stripe Blazer & Low-Rise Skinny"
Rembert Browne's Summer Of Suit feat. LeBron, America, And The Pope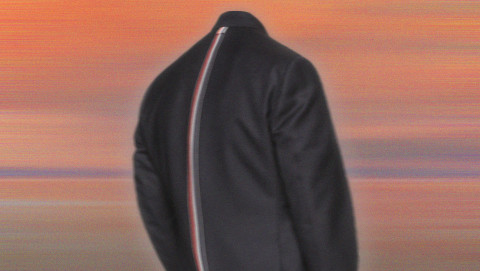 Like most roads that end with me, this story begins with Dwyane Wade. As reported in , the ex-Cavaliers guard sat with designer Thom Browne at the Manhattan restaurant Cipriani's in October of 2017. There, it was Browne who propositioned Wade with an idea: outfitting the entire Cavaliers team in his suits for the 2018 playoffs. The idea made its way to his then-teammate and BFF forever LeBron James — himself, a veteran of wearing Thom Browne. LeBron then proceeded to buy suits for each member of the team.
Fast forward to Game 2 of the 2018 NBA Finals. The entire team in Thom Browne, with LeBron most memorably wearing the signature jacket and shorts suit. Two weeks after that, the NBA Draft takes place. Guard Trae Young is drafted by the Dallas Mavericks (and traded to my hometown Atlanta Hawks). Walking on stage, he dons a burgundy Thom Browne-inspired shorts suit.The blazer and shorts pairing were officially trending, and of course, I had become a shameless follower of this Thom Browne wave. Walking up to what I thought was the Thom Browne store (the signage was just a hair larger than a business card), wearing all white (because it was Wimbledon), I nervously rang the TriBeCa doorbell — baby's first retail doorbell — both excited and nervous as to what lay on the other side.I was invited in. They knew my name. I was brought water, and then a Sprite. I took a seat on a very deep charcoal sofa, and was immediately reminded of a scene from . You remember the one, where Goldberg and Averman and Jesse Hall and Dwayne Robertson (the cowboy) talk their way into the Rodeo Dr. showroom, on the grounds that they are Aaron Spelling's grandkids? And then they get in, and are treated extremely well, until they eventually blow their cover and are thrown out into the street?I, too, expected the whole charade to crumble before I even experienced what I had come for: to be measured for my very own Thom Browne suit. The same designer worn by a range of celebrities, from Tom Cruise to Millie Bobby Brown to Wiz Khalifa and Eddie Redmayne. To Chance at The Grammy Awards in 2017, Ansel Elgort in leather gloves at the CFDA Awards, and The Weeknd at the airport. To Michelle Obama at the second inauguration.Thom Browne's silhouette is known for being slim, shrunken, and highly efficient. It's a workout in tailoring. His designs don't obviously conjure America or even make clear that Browne is a Pennsylvania-born American; the "h" in his first name not helping his case. That is until you notice his now-iconic red, white, and blue grosgrain stripe which he employs intelligently—inverse in tone to, for instance, throwing a flag on one's chest because We're America, the Once-Heavyweight Champion Of the World.I thought about all of this, after the fact. In the moment, however, I was in awe of a black woman named Miss Rose. Miss Rose was measuring me. Miss Rose was wearing a long gray Thom Browne shirt that was actually a dress. Miss Rose made me feel like I was getting fitted to have an audience with The Pope. Miss Rose was The Pope.I'd definitely had a suit tailored in the past, but this felt different. As the measurements were being taken, the suit going from my general size to my exact person, I was transforming from Zack Taylor to the Black Power Ranger.A week later, I was back at Thom Browne to pick up my suit. I tried it on and felt truly beautiful. Strong. The fit was unlike anything I'd experienced in a suit. It had weight, but it was not heavy. The fabric was thick and sturdy, an upgrade from anything I'd previously worn, analogous to going from a lifetime of debit cards to a Chase Sapphire. But more than anything, I was not moving inside of the suit. The suit moved me. The suit—here, I'll say it—the suit moved me. I'd definitely felt cool before, fly, even, but gorgeous? No. I was slowly animorphing into a different me.In addition to the suit, I took home a white Thom Browne button-down, a navy tie, a pair of Thom Browne shoes, and a tie clip designed like a miniature tennis racquet. Even the gray suit bag was nice — I couldn't believe this would live in my apartment.Arriving at the house, I hung it up. This was July 3rd. A few days went by and every time I'd look at it, I'd smile, just knowing it was in my possession. Each morning, I'd see it and then go back to deciding between my armada of t-shirts, above-the-knee shorts, long sleeve crew necks, and various staples of the charlatanical athleisure lifestyle. In mid-July, I packed for a long L.A. trip, spread over two weeks. I packed for every possible clothing scenario, hot to cold, beach to boardroom. Once I was all packed, I did one final sweep of my inventory and opened up my closet. There it was. I closed the closet door and headed to the airport.
Returning to New York City on July 20th, I'd now had a Thom Browne suit for almost 3 weeks, without taking it out of its suit bag. I hadn't had a proper reason to wear it. The following day, however— a wedding. It was time to stunt, so I wore every single Thom Browne item. The suit hugged me, but it did not fight back.After the wedding, I prepared to do my normal post-wedding routine of checking the damage on my weekend suit, apologizing to the suit, and then taking it to the cleaners. I was floored. Yes, my white shirt had taken some hits by way of neck sweat and women's makeup, but the suit…. No sign of looking like a two-piece Shar Pei. No need to dry-clean. I hung it back up.After weeks of travel, I was back in NYC. An office-less freelancer. These days result in three-hour stints at different locations, with my laptop and multiple notepads in tow. The first stop is usually the furthest away, followed by a trek back toward my neighborhood.One morning, it was hot, but it wasn't insufferable. None of my 80s R&B shirts or short shorts were doing it for me. Typically, I'd wear one statement piece that might attract attention or garner a laugh or a nod of approval, or even envy due to the grail-ness of the find. But on this morning, I was missing that feeling, of looking like a complete body of work. The suit was an experience in deep luxury and extreme confidence. The suit provided purpose. So could I wear it, just like that? Thom Browne on a Wednesday?I was shocked by the imposter syndrome this suit was eliciting from me. Would I be asked where I was going? Or who I was meeting with? Or what I had going on later? Or who had died? It was in this moment that I realized, perhaps, I wasn't trying to be someone I wasn't. Maybe — just maybe — I'd long craved changing who I could occasionally be. It was easy to say you were worried about what other people would think, but it takes voluntary discomfort to self-analyze whether or not you're happy with yourself. My clothes have always been an extension of my personality. I'd always wanted to be seen but never comfortable with making a statement.
Looking at the pile of discarded t-shirts that summed up the morning's indecision, I tucked in a plain white t-shirt into my suit pants, threw on the jacket, and added some white low top kicks and a faded blue hat from Katie and Conor's wedding that read "Katie and Conor are my friends."I went directly to one of my staple venues, Kinfolk, a coffee shop that turns into a bar that often turns into a party. There, familiar faces. The commentary about my attire wasn't one of confusion. The tone was more like, . I took a bus, a train, and a Lyft — enjoyed all of them, in my suit. I ate food, no spill. I made my way into two listening sessions, Mac Miller and YG, in my suit, sometimes keeping the jacket on.The next day, I had a panel in the afternoon. Sitting on stage, with people staring at me, I felt great. Then I went to a book party that doubled as a sweaty dance party. The look was continuing to feel right so I went to the club on a school night.Over the next week, I wore it three more times. Once to a screening. A second time, to a mid-week wedding, and then finally — on its last breath — to the grocery store. Thom Browne shoes, Thom Browne slacks, and a torn t-shirt. Who knew if it was a good look, but a look it most certainly was. Browne meets Browne, SS18. The frozen food aisle, my runway.Carrying my suit to the dry cleaners the next day, I felt like I was dropping my kid off on the first day of school. For as long as I can remember, I've needed things done fast. As quick as possible. At the last minute. But something had changed. A general, sort of cool and poised deceleration. I looked at the man across the counter and told him to take his time. "No rush," I said.