Menswear Critic Charlie Porter Thinks We Should "Buy Nothing"
The Financial Times' Menswear Critic on Nostalgia Cycles and What Comme Des Garçons Gets That Most Brands Don't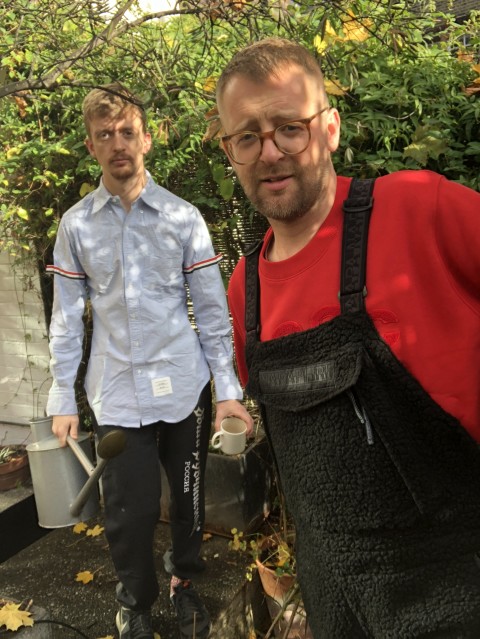 When fashion critic Charlie Porter posts runway imagery on his blog, he flips the photos upside-down.
The idea is to prompt the viewer to evaluate the clothes afresh, reassembling their understanding of the look piece-by-piece.
It's a simple gesture, but emblematic of his approach to fashion writing—equal parts playful and thoughtful, and always in search of an angle that will reveal what's hidden, whether in the garments themselves or in the ideas and energies that animate them.Porter grew up in the countryside near Peterborough—just north of London—and his first published writing was in his local paper, the . He recalls a youth spent hanging out at the mall, shopping for new magazines and records, and trips into London to dig through Kensington Market boutique Sign of the Times. He'd return to Peterborough with a bagful of t-shirts, DJ mixtapes, and club flyers he'd tack up on his bedroom walls—"So there was some sense of belonging to a thing," he says.After years spent covering fashion for generalist publications like and speciality titles like and , Porter abandoned the life of a full-time fashion mag editor, citing a creeping sense of commercial anxiety. "It was clear to me that however much I tried to make it about individual thought, it was there to try to make people buy stuff," he explains. "My absolute golden rule if I'm writing about clothing is that I have to be able to say that the best thing to do would be to buy nothing."Today, you can read his musings on fashion at the , where he holds the position of menswear critic, providing collection reviews, trend reports, and designer features. Writing at gives him another opportunity to interpret the industry for a broad audience, without the pressures that come with working for a title that relies on ad dollars from the brands it covers. He'll soon guest-edit an issue of , and he's currently working on a book project with Rizzoli, which he says is in too a early a stage to really discuss.I chatted with Porter over Skype, and he and his partner, artist/curator Richard Dodwell, took selfies while gardening at their home in Shoreditch.
We had a radio show on Sunday nights in the U.K., the chart program. It was so important to me, and I would write out the top 40. I guess lists of the charts would be the first time I wrote. I didn't keep a diary. But I always knew I wanted to be a journalist. Isn't that weird? It's weird that I'm editing this issue of now because I wrote to the editor when I was 15 or 16 saying, "You'll never guess what's happening in Peterborough." And he wrote back, "What's happening in Peterborough? Give us a call." I can't remember if I called him or not, but I stuck that note on my bedroom door like, "I have had contact with the outside world!" I either wanted to be a writer or own a newsagent. The thought of owning a newsagent to me was the most glamorous thing. Having all the magazines to read and being able to read them at my leisure.
I don't personally find it troubling because I don't care how other people deal with stuff. I can't work out whatever it is that psychologically makes people yearn for something that doesn't exist. I remember growing up in the 80s with the narrative that things were better in the 60s. I always found that so weird, because I loved everything. So, from an early age I thought that narrative was bullshit. But I also think it's completely understandable and fine for fashion and music to go through cycles and come back. It's clear that the 90s are back because those that are at design houses now and actually doing the work—the people in the studios, not the creative directors—grew up through the 1990s, and their influences are coming to the fore. I find that cycle pattern really interesting. And also, if you look at what the 90s were then it looks nothing like what people say the 90s are .
I suppose it was about understanding taste— though that sounds like me imposing things I now think I was doing that I didn't understand then. I suppose it was a way of feeling like an adult.
More and more, I judge brands or designers on their understanding of commerce as an ancient act. One of the reasons why Comme des Garçons is so extraordinary is because when I have a transaction with them, it feels like a really basic act. Do you see what I mean? There are so many brands who don't understand or don't have the feel for why humans are interacting in that way. Comme has it. I think Rick Owens has it. Some people who don't even have stores understand it—I think Craig Green understands it, the act and why it happens. Then there are many designers who I find deeply cynical, and I don't feel that pleasure in transaction. I wrote in the in my last Prada review about my frustration with the way Prada stores are now, and how it used to feel so much more like I was involved with them, and now I don't feel part of a dialogue.
I don't know if I care. Is that weird? Like, it's not my problem to solve. I'd rather be part of the experiment rather than be the one trying to dictate what it should be. I'm lucky enough to write for three titles that let me write at whatever length I want, and I work for a newspaper that will give me a whole page if it's the right idea. But I'm also interested in the language of an Instagram caption, what you can do with those words. I was talking with a friend about the Chris Kraus book on Kathy Acker, and it seems like the message of Kathy Acker was just to write, and write, and write, and write, and keep writing. And the form it takes is kind of irrelevant, because writing is writing, and thoughts are thoughts.
In the time of punk, and in my time, as well, garments were a way you transmitted information about yourself and your interests—what you cared about, what you believed in. Garments no longer need to have that performative function. All 16-year-old boys in Britain wear Palace. I'm obviously generalizing, but queer kids, skater kids, posh kids, poor kids—everyone wears Palace. How do you delineate the different groups of people wearing Palace? Clothing is no longer used in the same very simple, tribal way that I used it in my time. Now, it's become much more complex in it's role, so I actually think clothing has become more sophisticated. It's not dumbed down—the messages that are being sent out are more sophisticated, and weirder, and more complex than just you're goth, you're this, you're that.
I started working in fashion at a time when, as a writer, you were giving information. If you wanted to know about fashion shows then you had to read newspapers. That's no longer the case. The information is so readily available, and the role of writers has completely shifted. I think it's amazing. I have no nostalgia for that time. It was such a nightmare—you used to have to run back after a show to your hotel with dial-up internet and try and send 300 words on Dior. Or ring the copy desk that mostly just took football results, and be like, "Okay, Galliano, G-A-L-L-I-A-N-O. I'm going to say a lot of really stupid stuff now, if you don't understand please say so so I can spell it out to you. Like, I literally mean this stuff."
The luxury era really started in 96 or 97 when Galliano went to Givenchy, and then to Dior, and then McQueen went to Givenchy—when luxury brands hired young designers and creative directors and became very interested in selling fashion. It's been at a point for awhile where it feels like that fashion, whereas before it had kind of intersected with fashion, and used fashion, and fashion was part of it. I think there's quite often an assumption with a lot of people in the industry that you have to buy luxury goods to be able to buy fashion, and that isn't the case at all. Fashion exists as something else. Fashion is this thing that happens anyways, in the way people wear stuff, whatever it is. Which has nothing to do with luxury goods.
SSENSE. Vogue, T: The New York Times Style Magazine, The Fader,