Michael the III's Guide to Travel Fashion
The Official SSENSE Jet-Set Coquette Shows You How To Shine Worldwide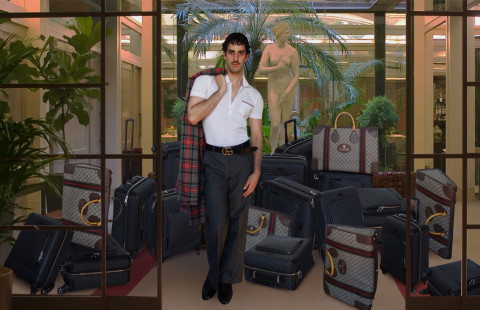 Did you know that in the world of travel there is something called "baggage check" and it has nothing to do with therapeutic self-help? That "customs" aren't just fun habits? Or that the appropriate response to, "Anything to declare?" isn't informing agents that a different haircut might better suit their face-shape? Traveling is one indignity after the next. I've slept in the presence of complete strangers. I've washed my hands in public sinks. I've drooled on a child's face. And yet, I've been able to pull off a certain type of glamour one might call "effortless." I call it "divine."
Inspired yet? Well, , this is only the introduction, anyway.
I reserve packing to the very last minute so I can attend to more pressing tasks like charitable volunteer work or refining my personal brand. We all procrastinate — I am no exception. And to procrastinate , I like to wear comfortable, stretchy clothing. My time spent on YouTube learning the art of tap dance may never be returned to me, but at least I know that moving forward, not a moment will be wasted having to repair a split seam just because has been working on their gluteus maximus.
Movement by car is perhaps the most common form of travel as well the most intimate. This is your only opportunity to stare wistfully out of the window like a gay Lauren Conrad en route to New York City. Who even really cares when you look this cute? I've paired comfortable sweatpants (an ancient symbol for relaxation) with an equally cozy yet decidedly fancy suede coat. I've garnished my head with a beret and red scarf, referencing my full-time job as a part-time artist's model. Hopefully this will answer anyone's questions about my trip. Well, what do you think?
When preparing for airport security, make sure to pack 'toys' at the top of your carry-on bag — the destigmatization of human sexuality is everyone's responsibility. Now that you've made your necessary political statements, head to a restroom to ensure you're sporting the right outfit for what you wish to achieve during your flight. If you're not in the mood to swap answers to such captivating questions as "" and "", wear a flexible hat you can fashion into a facial shield. If you're looking for love, wear clogs and place your foot into the aisle, tap thrice, remove your shoe, place a carnation between your toes, secure it with a bandana of your own color preference, then wait at the washroom. If you are looking to get some beauty sleep, as I tend to, dress for the occasion and wear billowing materials and appropriate headwear. Though I had a handsome passenger on my right with a hanky on his left foot the color of a robin's egg, I still chose sleep—he seemed very unaccommodating and, if I'm being honest, a bit self-centered.
Now that you've landed and begun dazzling locals, don't forget to think of the ex-boyfriends back home, those adoring admirers who, though they may be far, still require attention. After parading around Paris with time to spare, I sent a few postcards to remind the boys at home just how much fun I was having without them—nature's own Snapchat. You should feature your own likeness prominently on the cards. Let's be real: no one wants to see the Eiffel Tower yet again — they want to see at the Eiffel Tower.
Why not try one of the oldest forms of travel? The boat! Or, in my case, the cruise ship! If you're a social (yet stoic) butterfly as I am, faced with a long journey ahead, you'd do well to pack an ensemble that is tailored to attracting an open-sea romance. Normally I would do something like lie about who I am, but desperate times call for thirsty measures, and the sea is not going to cruise itself. Am I the captain of this ship? It really doesn't matter because I like the captain of this ship. A counterfeit captain is also one of the more alluring characters to play, should the voyage suddenly turn into an Agatha Christie novel. With this sartorial strategy and a little luck, you may meet someone, as I have: a lovely fellow, an heir to a veterinary fortune, a Virgo with Leo rising — someone I could really see myself with. So, as we parted ways three days later, I told him I'd send him a postcard.
Travelling by train may seem utterly (but not literally) pedestrian in a world of such innovation as blimps, hovercrafts, spaceships, bumper cars, and tandem bicycles. In reality, it is a peaceful means of travel—if only you could find the right gate. For maximum comfort while wandering around the station wondering where to go, I like to wear something that breathes, like a kilt with no underwear. Rose-colored glasses will conceal stress and help soothe it. Should you ever be travelling with actual luggage, tap someone on the shoulder, point and ask, "Can you watch my baby?" This either works or it doesn't, but it work. And so, once boarded and comfortably hogging the legroom of my fellow travellers, I was on my way by train from Cairo to Hong Kong. Don't ask me how, I just was.
After I arrived in Hong Kong, I had just enough time to meet a chihuahua with whom I had been chatting for several months on Instagram — he DMed me first, if you're wondering. Then I boarded my flight to Rome, our final destination where I stayed for a few weeks to collect these notes. Not much happened on this plane ride. I consumed far too much red wine (a glass) and consequently performed the entirety of the to a sold-out, captive audience. Your outfits after this stage should be decidedly mysterious. Conceal as much of your jet-lagged reality as possible, for it is a certainty that you will bump into the horticulturist of your second favorite ex-boyfriend at baggage claims, and it is true what they say about those who work with seeds: they gossip. You can start to remove layers as you find your way out of the crowd and into the sunshine of life, back to your home.
Once comfortably settled into the perfumed sanctity of your boudoir, you may take a moment to reflect on all that has transpired. Who is captain of the ship now that you're home? Did the handsome stranger get what he wanted on the airplane after all? Did you bring 11 or 12 rolling Gucci bags? Where to next? As you sip your amaretto and gaze into the nearest mirror, you can relax knowing that though these questions remain unanswered, there's no question that on your journey you looked absolutely amazing.