ModeSens Staff Picks|All You Need This Summer Are 3 Types of T-Shirts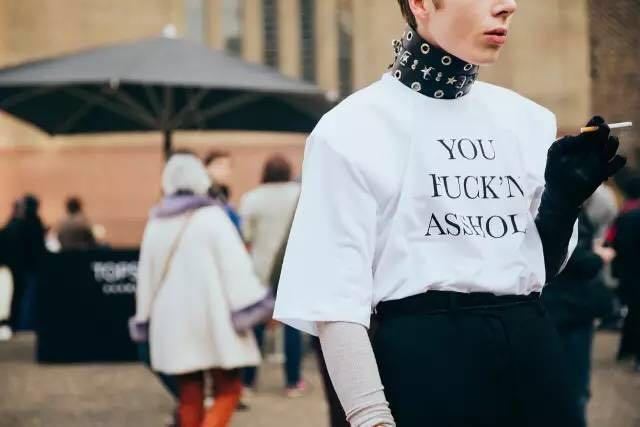 Tees, all I want for summer!
We are once again in the season where T-shirts dominate the streets. T-shirts are your must-haves for surviving the summer heat. Whether it's back to the basics – the pure white tee, simple logo tee, or funny graphics tee – the fashion-minded boys and girls must get their wardrobes ready for fun in the sun. A good T-shirt that is up to snuff in terms of style, color and texture makes ALL! THE! DIFFERENCE! to your outfit. Texture is the deciding factor that separates a stylish tee from an ordinary tee.
* TYPE 1 *
Solid-Color Tee
A white T-shirt is the perfect top for lazy days when you don't even want to think about what to wear. It is the most versatile of all T-shirts, whether you are pairing it with shorts or pants, there's nothing it can't go with. Fans of the pure white tee are all over the world. Recently, a Japanese store that sold white T-shirts exclusively became an instant hit with buyers. Eager shoppers lined up on the streets to get their hands on the limited edition. Hail to the white tee.
Thanks to the Bonsai bag, Simon Miller became an immediate favorite among street style stars and fashion editors. Headquartered in L.A., their brand inspiration came from the natural beauty of the American west coast. The Simon Miller girl prefers unpretentious, vintage, easy-to-wear clothes. So SM designs are all about comfort, importing quality materials from Japan and processing them in the U.S. A simple white tee is never as simple as it seems. The attention-to-detail in the manufacturing process is what makes it the kind of T-shirt that one "never wants to take off," and lends itself well for achieving that look of effortless chic.
SIMON MILLER
If you think the pure white T-shirt is too boring, then add some variation through architectural elements like ruffles or pleats. Both of which are the hottest thing this season.
MSGM
Soft lines disrupt the neutrality of a blank canvas. Monochromatic hues bring an atmosphere of romance and femininity.
Or try the sailor collar, an element that is often associated with young Asian girls (cue Sailor Moon). Cleverly, Chloé incorporated the charming sailor collar with the white T-shirt, the effect is beautifully classic. Even though editors at ModeSens can't afford this one, but it's too pretty, we wouldn't be doing it justice if we didn't recommend it to you.
CHLOÉ
Speaking of male style icons, Nick Wooster is definitely up there. He belongs in the league of dressing where the styles he's toyed with surpass the grains of rice you've eaten. Even so, the pure white tee is one of his favorites. The only problem is, he wears Rick Owens. Ouch.
RICK OWENS
A dozen in white. Another dozen in black.
Ouch. Ouch.
RICK OWENS
Whether you're a boy or a girl, you should have a few solid-color tees in your arsenal. When you don't know what to wear, you can always count on the white tee to save the day.
BELSTAFF
* TYPE 2 *
The Slogan Tee
The slogan T-shirt makes a statement. Print out your passions front and center, and wherever you go, the T-shirt acts as a walking billboard. Fashion is about celebrating different voices and different attitudes. So pick a word or a phrase that best represents you, and we'll get your message.
The slogan tee is a great summer purchase. The hottest item this season is a cute little number from the Danish brand Ganni, the Cherry Bomb Tee. It comes in both red and white. But the white tee is already sold out. As to who bought them? Take a look at fashion bloggers and fashion editors' Instagram feed and you'll know the answer.
GANNI
Vibrant yellow brings in the heat of sunshine and the freshness of lemons on a hot summer day. Written in French, the slogan "Saturday, 12:05" suggests it's time to play.
JOUR/NÉ
Or, have a bit of unconventional fun?
KENZO
If you have no statements to make, no worries. The logo tee is a great choice as well. Our idol Miroslava Duma loves logo tees.
Opening Ceremony placed their logo on the hems. Unlike Calvin Klein, who put their logo on their underwear, Opening Ceremony sewed their logo on the elastic hem of their cropped T-shirt, allowing a mere T-shirt to hug the curves. Even the Chinese style icon Jiang Shuying has the same tee in long sleeves.
OPENING CEREMONY
When it comes to men, the same rules apply. Stella McCartney's Spring 2017 menswear collection kicked off the show with the slogan tee.
STELLA MCCARTNEY
Or take a positive attitude toward life, swallow all the unhappiness, and pretend it never happened.
MCQ BY ALEXANDER MCQUEEN
* TYPE 3 *
The Graphic Tee
We've covered solid-color tees and slogan tees, the last T-shirt staple you need for your summer wardrobe is the graphic tee. Vintage cartoons are never out of style.
Or naughty graphics with suggestive undertones.
GANNI
Or simple geometric shapes, reminiscent of middle school geometry.
@OutfitGoals
GOLDEN GOOSE
For boys, your summer wardrobe selections are a bit limited, a dozen adorable graphic T-shirts are a must-have. They will guarantee your popularity with the ladies.
DIESEL
SAINT LAURENT
NEIL BARRETT
This concludes our ModeSens editors' picks for the day. What T-shirts have you got in your closet this summer?